Pasadena heart surgery patients warned of possible infections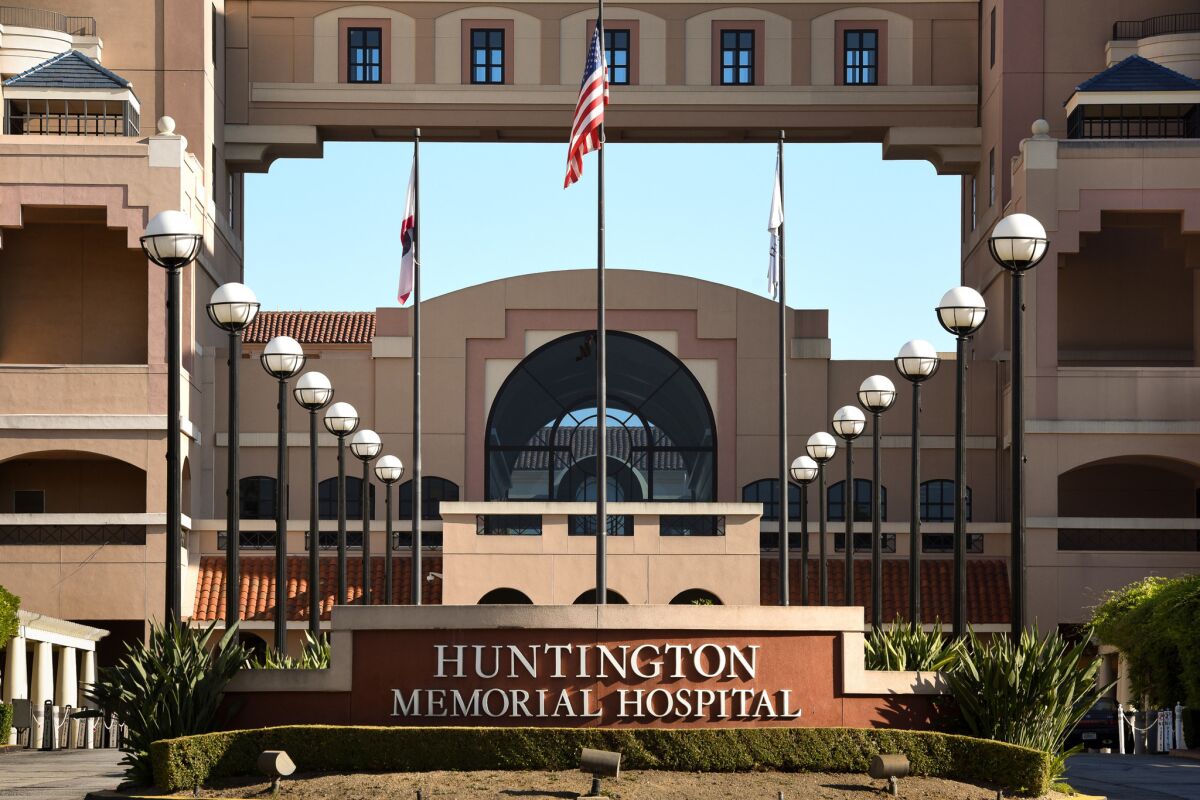 Pasadena's Huntington Hospital has sent letters to all patients having open heart surgery in the last four years warning them that they may have been infected with a dangerous bacteria.
The hospital is one of many across the country using a device that has been linked to dozens of infections in heart surgery patients, including some who died.
Federal health officials have estimated that the risk of getting an infection from the device is very low — between about 1 in 100 and 1 in 1,000.
Huntington officials said Friday that they had not yet found a patient who was sickened. They said they sent the letters on the advice of federal health officials, who have urged hospitals using the device to inform all patients at risk.
Fresno County health officials said Nov. 16 that they had been notified of an outbreak of the infections. They did not say where the outbreak occurred.
Two weeks later, state public health officials said they had received reports of two heart surgery patients who were sickened by the bacteria. They did not name the hospital or say whether the patients survived.
More than 250,000 heart bypass procedures are performed using the heater-cooler devices each year in the U.S., according to the federal Centers for Disease Control. The devices help keep a patient's blood and organs at a specific temperature during the operation.
About 60% of heart bypass procedures in the U.S. use the Sorin Stockert 3T heater-cooler device that has been linked to the bacteria.
Patients can become ill years after their procedure, making the infections difficult to diagnose. There is no test to determine whether a patient has been exposed to the slow-growing bacteria, federal officials said.
"You can have a ticking bomb in your chest and you don't know," said Lawrence Muscarella, a medical safety expert in Montgomeryville, Pa. "They may have symptoms and have no idea what they are from."
Officials say patients who have had open heart surgery should seek medical care if they experience night sweats, muscle aches, weight loss, fatigue or unexplained fever.
The bacteria, Mycobacterium chimaera, is often found in soil and water, where it rarely makes healthy people sick.
The heater-cooler devices have a tank that contains water that is not intended to come into direct contact with the patient. But if the water is contaminated with the bacteria it can become aerosolized in the operating room and enter a patient's open chest cavity, according to the Food and Drug Administration.
Federal officials say some of the devices may have been contaminated with the bacteria during manufacturing.
"Our hospital has followed this issue closely and has implemented CDC and FDA's recommendations as they have been issued," said Derek Clark, a spokesman for Huntington. "We encourage these patients to contact us with any questions or concerns."
Follow @melodypetersen on Twitter
ALSO
Wells Fargo quarterly earnings fall in wake of bogus-accounts scandal
Chargers' move shows California is over spending public money on the NFL
California farm labor board chairman quits in anger
---
Sign up for the California Politics newsletter to get exclusive analysis from our reporters.
You may occasionally receive promotional content from the Los Angeles Times.