Fall on your face? Jukin Media will pay for the video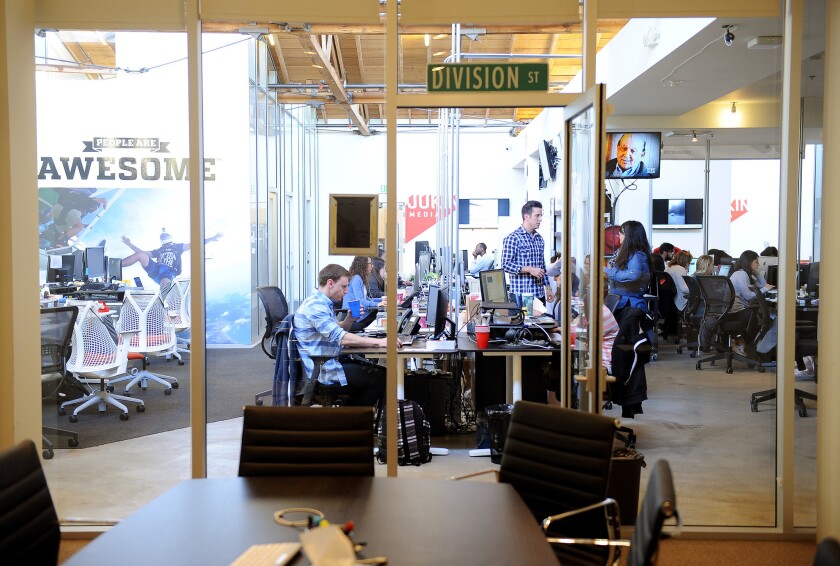 Video of a solid kick to the groin? That'll get you $250. A clip of a harrowing close call while skydiving? A cool $2,500.
For a six-figure payout, it has to be viral fodder -- like the Canadian globetrotter who, while trying to take a selfie, got kicked in the face by a passing train conductor in Peru.
Each pratfall has its price because companies like Jukin Media have built an improbable business model cutting deals for these snippets of human folly. A "fail" can rack up tens of millions of ad-generating views on YouTube. It can be sold to TV shows, news websites, brands and ad agencies.
See the most-read stories this hour >>
But first Jukin must find it -- and buy it.
"These videos are the pop culture, zeitgeist, water cooler moments of the week," said Jonathan Skogmo, Jukin's 33-year-old founder and chief executive. "There's a gold rush for this content."
Jukin's nerve center and headquarters is in Culver City, where many of its 130 employees hunker over computers searching for the next "Pizza rat" or "Girl getting attacked by a manatee."
Starting out of a two-bedroom West Hollywood apartment in 2009, the company now occupies 18,000 square feet of former industrial space outfitted with the obligatory hallmarks of a tech start-up -- exposed wood beam ceilings, a ping-pong table and a kegerator.
Flat-screen TVs surround the office displaying news tickers with Jukin's YouTube subscriber counts, which number in the millions.
When a hot video clip is acquired, Skogmo and his charges bang hotel counter-type bells like an alarm.
"It makes things fun and competitive," said Skogmo, who studied film at Columbia College in Chicago and grew up idolizing Steven Spielberg.
Broadly built and sporting a widow's peak and an ever-present 5 o'clock shadow, Skogmo looks more like a hockey journeyman than a media executive whose empire includes four viral video brands, three TV shows and more than 2 billion views last month.
He moved to Hollywood after school hoping to fulfill his dream to become a filmmaker but wound up taking odd jobs like cleaning out garages for a producer.
He landed his first TV gig in 2006 as a researcher for a derivative of "America's Funniest Home Videos" on CMT called "Country Fried Home Videos." Skogmo's job: reviewing submissions on VHS cassettes he picked up from a post office box.
See more of our top stories on Facebook >>
"For country fails we weren't necessarily using tractor clips," Skogmo said. "It could be a guy on a skateboard who fell, but you put country music behind it. All of a sudden it's a country video."
There was an inherent problem with the show. Each episode needed about 30 clips. But the tapes weren't coming in fast enough -- and what was on them often wasn't good enough either.
So Skogmo did something that seemed revolutionary at the time -- he searched the Internet.
That led him to a still-nascent YouTube and a trove of user-generated videos. Up until then "Country Fried Home Videos" relied on print ads and billboards at county fairs to solicit submissions. Now Skogmo could email and message video owners at will.
"By the end of the season, I ended up getting more videos than my supervising producers," Skogmo said. "Next thing you know, I'm producing the show."
Skogmo stayed on "Country Fried Home Videos" for four seasons before joining other clip shows like Discovery's "Destroyed in Seconds."
Then he had a eureka moment at a trade fair in Cannes in 2009. Sent to buy licensed content for a TV show, it occurred to him that the real money was in owning and licensing these digitally recorded moments of serendipity.
User-generated videos are like the caramel corn of the entertainment world. They're simple, satisfying and over in one quick bite. They also don't require much expense and aren't bound by different cultures.
"An ouch is an ouch in any language," Skogmo likes to say.
And there are a lot of ouches. Thanks to proliferation of cellphones and high-definition cameras and the irresistible urge to share them on social media, these clips are more popular and easier to find than ever before.
"For the first time in history, a 14-year-old kid with a GoPro can gain a mass appeal and distribution just like any television show," Skogmo said.
With Jukin (a Chicago term not unlike saying a party is "lit" or "banging"), Skogmo aims to lock down the best soon-to-be viral content on the Internet. He does this by offering creators one of two things: an outright purchase of the clip or a revenue-sharing deal.
The latter is more unpredictable but potentially more rewarding because creators can reap YouTube pre-roll ad revenue in perpetuity. They also get a cut of any licensing fee a TV show or website pays to use their clip.
It's a new twist on a market built by "America's Funniest Home Videos," which offered cash prizes to top clips. Jukin, however, pays for potential.
Jared Frank, better known as train kick selfie guy, is estimated to have earned anywhere from $30,000 to $250,000 after striking a revenue-sharing deal with Jukin to license the video to its stable of business partners like the Huffington Post and ABC News. (Skogmo declined to say how much individual clients have earned and Frank did not respond to a request for comment).
SIGN UP for the free California Inc. business newsletter >>
Competition for the best clips can be fierce. Outfits like Storyful, a Dublin, Ireland-based user-generated video agency owned by News Corp., aggressively pursue trending videos. Smaller competitors such as Viralnova, Viralhog and Newsflare also want the viral sensation du jour and often pay for the privilege.
That's why Jukin is staffed 24/7 between its Culver City headquarters and offices in New York and London.
Software alerts Jukin's researchers when a video clip is quickly amassing views on, say, Facebook, YouTube or Instagram, before the rest of the Internet notices. Fails are great, but cute babies, funny animals and clips featuring women in bikinis doing acrobatic or clumsy things are also desirable.
When a target is identified, the race begins to locate its creator. In the most extreme cases, Jukin has hired private investigators to track someone down.
It was the evening of April 11 when Cabot Phillips got a call on his seldom-used landline phone.
"I have no idea how they got my number," he said.
Phillips, 22, had posted a video earlier in the day that rocketed to 30,000 views in a matter of hours. In it, he and his brother prank his sister -- still drugged and woozy from a trip to the dentist -- into believing that there was an impending zombie apocalypse.
Now Jukin was calling, promising to make the video go viral and share the windfall – in this case, 70% for Phillips, 30% for Jukin. A one-time signing bonus was also on the table.
"They offered a pretty sizable upfront amount for someone like me fresh out of college," said Phillips, who declined to give details.
Later that night, more calls and emails started coming in requesting interviews and deals for the video, one of them from Storyful.
In the end, Phillips, a Leesburg, Va., native, chose Jukin because it offered the most favorable revenue split and pledged to defend the video against copyright violators.
"Brothers Convince Little Sister of Zombie Apocalypse" has garnered 20 million views and counting, and has earned Philips an appearance on "The Ellen DeGeneres Show," also one of Jukin's business partners.
Phillips said he is giving most of the earnings to his younger sister, who was gamely humiliated by the brush with Internet fame.
"People still stop us when we're out for dinner," Phillips said.
The clip was added to Jukin's searchable database for clients – a sort of e-commerce platform replete with a shopping cart for the company's 30,000 videos – where subscribers can search for themes like "dancing dogs" (49 results) or "dad fail" (187 results).
When a Jukin video appears on TV shows like "Good Morning America" and "Today," networks pay from $500 to $1,500 to license the clip. Websites like Huffington Post pay about 25% less for the same licenses.
Jukin creates three TV shows in-house -- "World's Funniest" on Fox, "Now That's Funny" on Channel 5 in Britain and a compilation of fail clips that runs in 220 markets worldwide -- and offers creators similar licensing agreements.
Jukin also places its video on YouTube and Facebook, where one of its biggest brands, Fail Army, counts 10.4 million subscribers and 7.4 million likes, respectively. Viral videos typically net $2 in pre-roll ad sales per 1,000 views -- and Jukin's most popular videos regularly rack up tens of millions of eyeballs.
Advertisers who want to use a Jukin clip in a commercial -- including Bank of America and Taco Bell -- must pay at least five figures. Through these revenue streams, Jukin says its video creators have collectively earned at least $5 million.
A big reason that Jukin can keep paying is that it polices the use of its licensed material. Jukin has one in-house attorney and a team of up to 12 staff members trawling the Web and TV for violators.
The company has filed a few lawsuits -- including in 2015 against digital network Defy Media alleging infringement on hundreds of Jukin videos. The two parties settled. Defy didn't respond to a request for comment.
"If you're a person who happened to create a viral cat video or fail video, Jukin is saying 'Hey, you've got one shot to make money off of it. Don't let someone else use it for their own channel and profit,' " said Eunice Shin, managing director at Manatt Digital Media, a consulting, venture and legal services firm. "It's a great model and it gives back to owners what is due."
Because Jukin cherry-picks some of the Web's hottest viral hits, policing has become big business, contributing a significant amount of revenue, company executives say.
"Before we came into town, it was the Wild West," Skogmo said. "People were using this content however they wanted and that's not right.
"I'm sure we are leaving a lot of money on the table because so many people are infringing," he added. "It's in the seven figures."
Skogmo won't say how much money Jukin is pulling in, only that the privately held company has long been profitable and continues to grow. It has doubled its workforce in the last year.
Jukin also hasn't been holding out its hat all that much, preferring to bootstrap its business. The company has raised $4 million – a pittance for a burgeoning tech company. Investors include the Disney-owned Makers Studio, Samsung and veteran Hollywood executive Peter Guber.
Jukin can expect to grow so long as it succeeds in persuading people like Matt Little to share their clips. The comedian and sometime bartender had the fortune of recording on his iPhone a New York subway rat's Sisyphean attempt at dragging away a slice of pizza. And with that the pizza rat meme was born.
"I had no idea this was a thing," said Little, 35, who was surprised when the sales pitches started pouring in. "I never heard of these companies. So I dismissed them at first thinking they were skeevy."
Jukin wooed him by assuring him that it would handle the promotion and licensing of his furry find. The payout was decent too -- not enough to plan a vacation, but sufficient to take care of some bills and provide some pocket money. Jukin gives Little access to a dashboard to monitor pizza rat's royalties. Little even had 75 pizza rat T-shirts made, but only sold six.
"The whole thing showed me the power of the Internet in a way you can only see from a first-person perspective," he said. "I'm going to be even more prepared if lightning strikes again."
MORE FROM BUSINESS
Makeover coming for food nutrition labels
Stocks climb in early trading, led by technology and banks
Why bids for Yahoo might come in $6 billion lower than expected
Twitter: @dhpierson
---
Must-read stories from the L.A. Times
Get the day's top news with our Today's Headlines newsletter, sent every weekday morning.
You may occasionally receive promotional content from the Los Angeles Times.