L.A. toy mogul scraps bid for Canadian Toys R Us stores, works to sweeten U.S. deal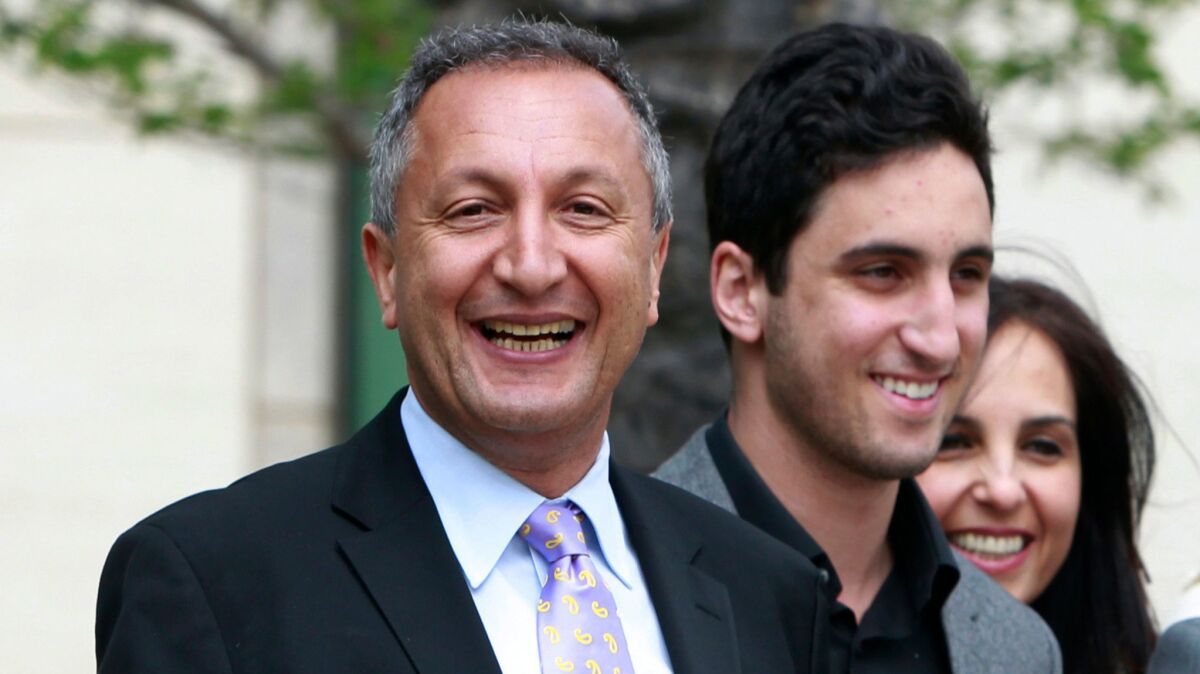 Los Angeles toy mogul Isaac Larian is abandoning efforts to buy the Canadian stores of Toys R Us and instead plans to sweeten his rejected bid for more than 200 U.S. outlets of the bankrupt retailer.
The Bratz doll maker told The Times on Sunday that he is satisfied that the 82 Canadian stores could be operated by Fairfax Financial Holdings Ltd. The Toronto investment firm, owned by billionaire Prem Watsa, reached a tentative deal last week with Toys R Us to buy the stores for $237 million.
Larian, 64, the billionaire owner of Van Nuys toy company MGA Entertainment Inc., had bid $215 million for the Canadian stores this month and could have submitted a higher bid on Monday through an auction being held in U.S. Bankruptcy Court. However, he said he respected Watsa, likening him to a Canadian Warren Buffett.
Larian said he had a conversation Sunday with Toys R Us bankruptcy advisors and will now focus on the U.S. stores. He added that he submitted a $6-million down payment in support of his Canadian bid but expects to get the money back once the Fairfax deal closes.
"I think they were genuinely serious about wanting to help me save what I can," Larian said of his conversation with the advisors. "I am optimistic."
Toys R Us is in the process of liquidating its 735 U.S. and Puerto Rican stores and rejected as inadequate a $675-million bid for 274 of the stores submitted April 13 by Larian and his group of investors.
Larian said he and his team will spend the next week re-assessing the value of the stores, as well as unspecified Toys R Us intellectual property he is seeking. The stores are holding liquidation sales, which he argues is progressively devaluing what is left of the chain.
The retailer is a key sales channel for toy makers, with Larian estimating it accounts for up to one-fifth of his company's sales. MGA also makes Little Tikes toys and the hit L.O.L. Surprise! dolls.
Toys R Us has struggled in recent years with some $5 billion in debt stemming from a 2007 leveraged buyout, as well as increased competition from discounters like Walmart and online competitors, especially Amazon.
Larian has estimated about 130,000 U.S. jobs are at risk if Toys R Us shuts down, including at suppliers, distribution centers, trucking companies and other firms tied to the retailer. They include MGA's Little Tikes plant in Hudson, Ohio. It makes children's wagons, furniture and other toys, employs 1,200 and sells 40% of its products through Toys R Us.
Toys R Us has some 3,750 employees in Canada whose jobs could be saved by the Fairfax deal.
The retailer has made progress in disposing of its overseas stores. It announced on Saturday that, if approved by the U.S. bankruptcy court, it has a deal with Irish toy retailer Smyths Toys to sell 93 of its stores and four online stores in Germany, Austria and Switzerland for about $100 million.
Attorneys for the company also have said in bankruptcy court that the retailer has received multiple bids topping $1 billion for its Asian stores.
Larian's effort to acquire the U.S. and Canadian stores started with a publicity blitz last month that featured a #SaveToysRUs crowdfunding campaign on GoFundMe. But the effort has raised less than $100,000 from donors. He has suggested he would like to transform the stores into a more interactive experience, where children can play with new toys.
Money for his combined $890-million bid for the U.S. and Canadian stores, he has said, came from him personally, other large undisclosed investors and bank financing. MGA is not participating in the deal.
Larian did not say Sunday how he would finance a sweetened bid for the U.S. stores, but said he remains compelled to save the chain.
"Toys R us, to me, is an American icon," he said. "I look forward to 100 years from now when nobody will know who the hell Isaac Larian was. 'He came up with L.O.L. Surprise!, Little Tikes and Bratz' — nobody is going to remember that.
"What they're going to remember is 'He was the guy who saved Toys R Us.' I hope so, anyway. Maybe I'm a dreamer, I don't know."
Twitter: @jaclyncosgrove
---
Sign up for the California Politics newsletter to get exclusive analysis from our reporters.
You may occasionally receive promotional content from the Los Angeles Times.