Broadcom's bid to take over Qualcomm is delayed for a national security review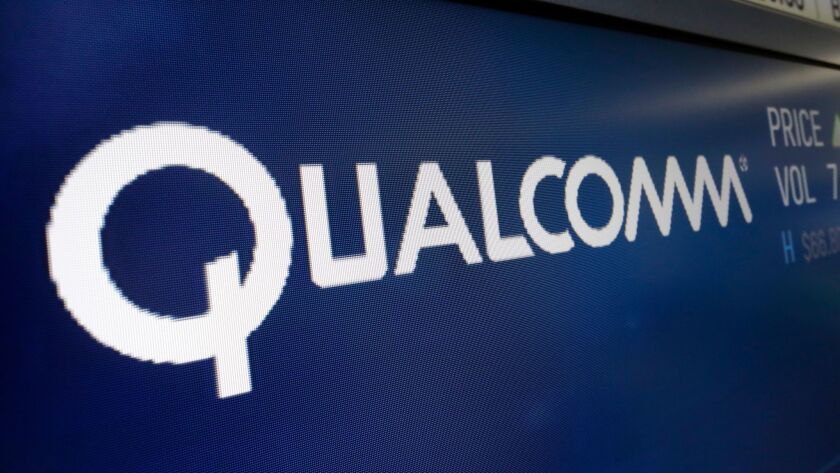 Qualcomm has been handed a 30-day reprieve from Broadcom's $117-billion hostile takeover bid so U.S. regulators can conduct a national security investigation of the potential deal.
In an unusual move late Sunday, the interagency Committee on Foreign Investment in the U.S. ordered Qualcomm to delay its annual shareholder meeting, which was scheduled for Tuesday.
Several lawmakers last week called for the agency to review Singapore-based Broadcom's possible takeover of Qualcomm on national security grounds.
"The Committee on Foreign Investment in the United States (CFIUS) issued an interim order to Qualcomm directing it to postpone its annual stockholders meeting and election of directors by 30 days," the U.S. Treasury Department, which heads the committee, said in a statement. "This measure will afford CFIUS the ability to investigate fully Broadcom's proposed acquisition of Qualcomm."
Broadcom has nominated six alternative candidates to Qualcomm's 11-member board of directors in a hostile takeover bid. The results of the voting were expected to be announced at Tuesday's annual meeting.
Bloomberg News reported Monday that all six of Broadcom's candidates had strong support, citing unnamed sources who had seen early vote totals.
Meanwhile, Qualcomm Chief Executive and board member Steve Mollenkopf had the second-lowest vote total of the combined 17 Qualcomm-Broadcom candidates, according to Bloomberg. Chairman Paul Jacobs, son of co-founder Irwin Jacobs, also was in danger of losing his seat.
Bloomberg noted that many of Qualcomm's largest shareholders had not cast ballots, and shareholders can change their votes at any time right up to the day of the annual meeting.
A new meeting date has not been scheduled, but Broadcom remained on the offensive Monday. It accused San Diego-based Qualcomm of "secretly" seeking a voluntary review by the foreign investment committee in January.
"This was a blatant, desperate act by Qualcomm to entrench its incumbent board of directors and prevent its own stockholders from voting for Broadcom's independent director nominees," Broadcom said in a statement.
Qualcomm did not deny seeking a review but accused Broadcom of using misleading rhetoric "to trivialize and ignore serious regulatory and national security issues."
"This is a very serious matter for both Qualcomm and Broadcom," the San Diego company said in a statement. "Broadcom's claims that the CFIUS inquiry was a surprise to them has no basis in fact. Broadcom has been interacting with CFIUS for weeks and made two written submissions to CFIUS."
Broadcom has pledged to move its headquarters to the U.S., which it believes would remove foreign investment committee jurisdiction. Broadcom shareholders are expected to vote on the move in early May.
"In our view, CFIUS investigation could be a moot point considering Broadcom is in the process of becoming a U.S.-based company on May 6," said Kevin Cassidy, a financial analyst with Stifel.
Broadcom noted its board of directors and senior management team consists almost entirely of Americans.
The company added, however, that it recognizes "the important role CFIUS plays in protecting our national security, and is fully committed to cooperating with CFIUS in any review."
Broadcom's proposed takeover of Qualcomm would be the largest deal ever in semiconductors, creating a chip juggernaut with a leading market position in many top chips used in smartphones.
The deal was expected to face tough scrutiny from competition regulators. But over the last week there has been an increasing call for the foreign investment committee to step in as well for security reasons.
U.S. Sen. John Cornyn (R-Texas), as well as Reps. Scott Peters (D-San Diego) and Duncan Hunter (R-Alpine) sent letters to Trump administration officials requesting a review by the agency.
They were joined late Friday by five other members of Congress, led by Rep. Mike Gallagher (R-Wis.).
"We cannot overstate the likely harm [from a Broadcom hostile takeover] that would result to Qualcomm, the U.S. company leading the development of 5G and other next-generation technologies, as well as to the United States security interests," the Gallagher letter said. "A disruption of Qualcomm's R&D efforts would in effect hand the growing competition for 5G to China."
It's uncommon for the foreign investment committee to launch a national security investigation so early, said UC Berkeley law professor Stavros Gadinis.
The agency "usually starts to review deals after they are agreed to," he said. "It is very rare for CFIUS to review deals still at the proposal stage."
Previously, Broadcom has said it would walk away from its $79-a-share offer to acquire Qualcomm should the annual meeting be delayed past March 6. But it now appears willing to continue to pursue its bid for Qualcomm through the foreign investment committee review, Bernstein Research analyst Stacy Rasgon said in a research note.
With the foreign investment committee examining the deal, Qualcomm now can work to close its pending $43-billion purchase of NXP Semiconductors to diversify its business beyond smartphones, attempt to make progress on patent licensing disputes with Apple and try to build a stronger case to shareholders to remain a stand-alone company, Rasgon said.
Qualcomm still is awaiting approval from regulators in China to acquire NXP. On Monday, it extended its $127.50-a-share tender offer until March 9.
Qualcomm may have been interested in delaying the shareholder meeting in hopes that it can get the NXP acquisition completed, said Cassidy, the Stifel analyst.
But it may not matter. "We are not certain that another 30 days will change [the] shareholders' vote," he said.
Qualcomm's shares slipped 73 cents, or 1.1%, to $64.01 on Monday. Broadcom's shares fell $3.89, or 1.5%, to $246.98. Both trade on the Nasdaq.
mike.freeman@sduniontribune.com;
---
UPDATES:
5:05 p.m.: This article was updated to add more context and more recent stock information.
This article was originally published at 7:35 a.m.
---