Sonos has its best and worst performances on the stock market, all in one day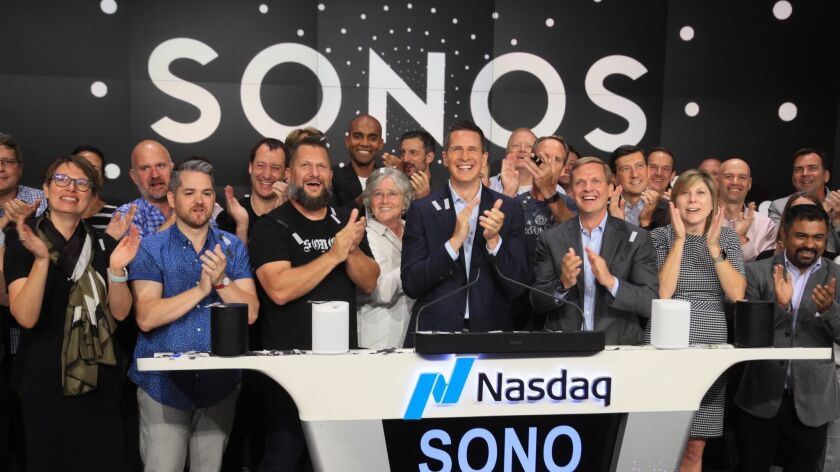 The stock of Sonos Inc. went on a roller-coaster ride Monday, climbing 13% in anticipation of its first earnings report as a public company — then crashing 15% in after-hour trading after the Santa Barbara-based maker of wireless home-audio equipment announced a $27-million loss.
That was almost double the loss Sonos had in the same quarter last year. The company met analysts' revenue expectations, reporting $208 million for its third fiscal quarter, but that was also down 7% compared with a year earlier.
The main question facing the start-up is whether its business will go the way of hardware companies such as Fitbit and GoPro — which have seen sharp declines in value and product launch delays after splashy initial public offerings — or join the ranks of more established high-tech hardware manufacturers such as Garmin and Logitech, with stable growth. Sonos priced its IPO at $15 on Aug. 2, and shares rose to $19.91 after the first day of trading.
Sonos was one of the first companies to develop a reliable wireless home audio system, and now it offers a range of products for customers who want hi-fi audio in every room in their house without having to fuss with miles of cables or dive into the relative merits of analog versus solid-state amplifiers.
In a letter to shareholders, Chief Executive Patrick Spence wrote that the timing of new product launches was to blame for the dip in revenue. He focused on potential growth from the company's recent expansion into the Japanese market — the second-largest music market in the world — a broader integration with streaming platforms, and the upcoming holiday season.
Brent Thill, an analyst with Jefferies, said it was fitting that the newly public company more or less evened out by Monday's end — the pre-release run-up was the stock's biggest one-day gain — given its steady growth. Revenues increased 11% through the nine months leading up to June, compared with the same period in 2017.
"They don't have any new gadget that's causing a stampede effect," Thill said, "but we think they're executing well."
Filings made in July, in preparation for the IPO, revealed that Sonos' smart speakers rely heavily on the technology of one of its biggest rivals in the market. Their voice recognition functionality, which allows users to control devices just by speaking, runs on Amazon's Alexa. The tech giant could decide to pull that integration, or start charging Sonos for the privilege, at any time.
Sonos speakers occupy a higher tier of the wireless home entertainment market than Amazon Echo or Google Home products. With prices for multi-room Sonos systems running into the thousands of dollars, the products are targeted toward customers who value a full home-theater experience.
"My 75-year-old parents are probably fine with the Amazon product for streaming their music," Thill said. "For certain consumers, that's not good enough."
The risk remains that a behemoth such as Amazon or Google could decide to compete in higher-end equipment and use its vast cash reserves to undercut the smaller company's prices and quickly dominate the segment.
For now, though, Amazon seems content to leave Sonos alone.
"Our sense is that Amazon sees Sonos as a channel," Thill said. "Sonos is in 7 million homes, and that gives Amazon a lot of inputs for commerce" since any Alexa-enabled speaker can be used to purchase products from Amazon.
Follow me on Twitter: @samaugustdean
---
Your guide to our new economic reality.
Get our free business newsletter for insights and tips for getting by.
You may occasionally receive promotional content from the Los Angeles Times.