Hollywood protests where fame and media meet: on the red carpet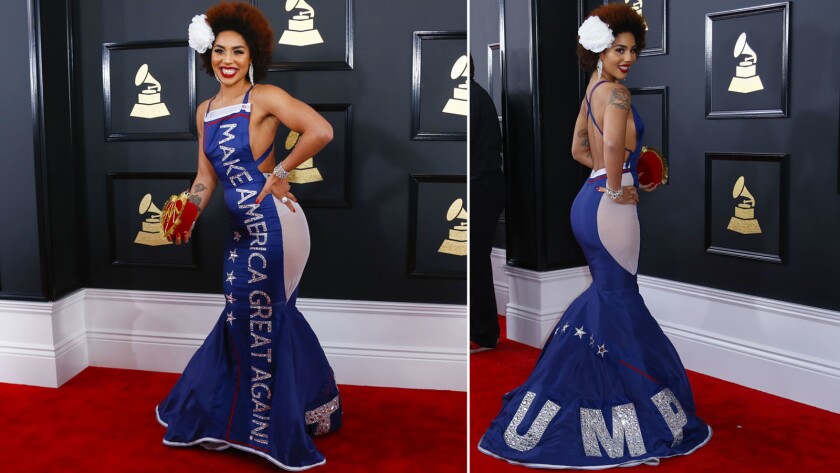 Fame and media attention intersect most intensely on the red carpet, be it at Sunday's Academy Awards or premieres or film festivals in any given year. That makes the carpet a great place for Hollywood celebrities to broadcast their message du jour.
Given the heated political climate, lots of opinions are expected to emanate from the 2017 Oscars red carpet.
For example, Brie Larson gave fair warning just hours before the eyes of the world turned to the Dolby Theatre, that she would be showing her support for the ACLU, GLAAD and Planned Parenthood. But will the ribbons and pins make it onto the carpet and into tonight's big show?
Ribbons have long been a way for awards show attendees to express themselves on the red carpet: pink for breast cancer awareness, red for AIDS awareness, green for depression and mental health issues, orange to bring attention to the push to close the prison at Guantanamo, and, this year, blue for the ACLU's awareness campaign.
Eva Longoria supported the Brown Ribbon Campaign, which was meant to show solidarity with the Latino entertainment community. Although purple is usually for Alzheimer's awareness, Denzel Washington wore a purple ribbon in 1993 to highlight urban violence. At the 2016 Tonys, the stars wore translucent silver ribbons to honor the victims of the Orlando nightclub massacre.
Think Hollywood doth protest too much? Check out a few red carpet statements — including Joy Villa's MAGA dress from the Grammys — that were about more than mere fashion.
Spirit at the Indie Spirits
On the eve of the Oscars at the 2017 Film Independent Spirit Awards in Santa Monica, "American Honey" actress Sasha Lane flashed a "Black Lives Matter" message during arrivals on the red carpet.
Backstage, "Moonlight" director Barry Jenkins had his arm around writer-actor Tarell Alvin McCraney, who wore a lapel pin in support of GLAAD.
"Manchester by the Sea" star Casey Affleck sported a lapel pin in support of the ACLU, and Jaden Piner had both GLAAD and Planned Parenthood pins in view on his lapel when he and Alex R. Hibbert accepted the Robert Altman Award for "Moonlight."
'Je Suis Charlie'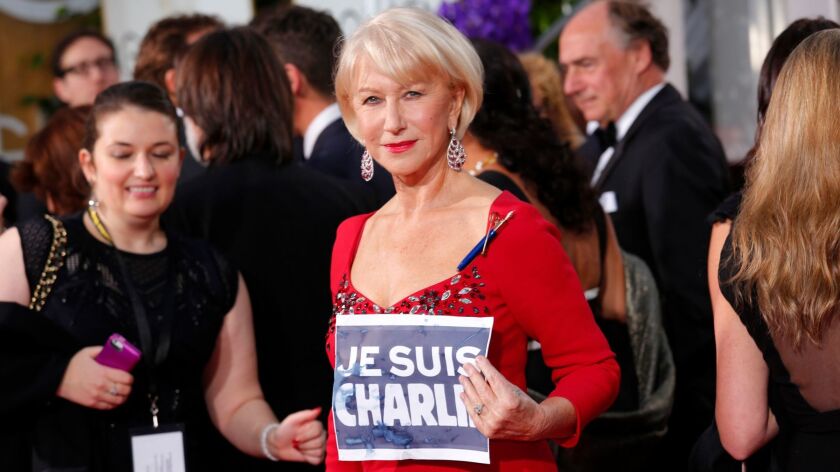 Going back a few years, Helen Mirren flashed a sign and George Clooney and wife Amal wore pins — hers was on her purse — at the Golden Globes in 2015 in support of the victims of the terrorist attack at the Charlie Hebdo magazine office in Paris.
'Bring back our girls'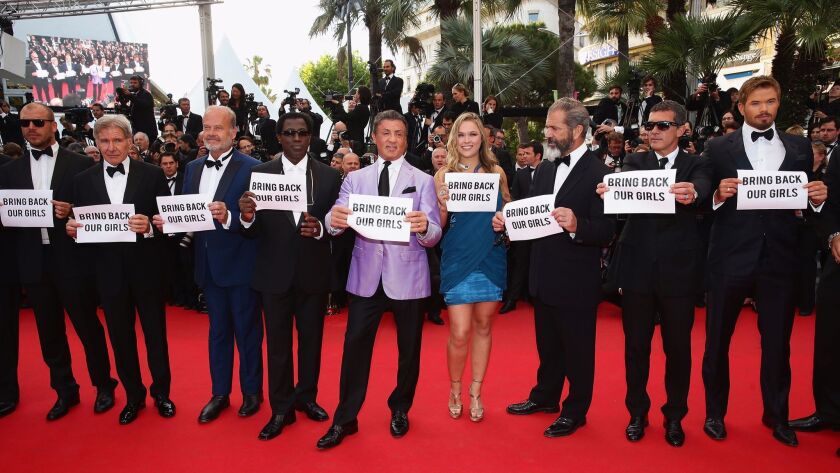 At the Cannes Film Festival in 2014, "The Expendables 3" director Patrick Hughes, from left, and actors Harrison Ford, Kelsey Grammer, Wesley Snipes, Sylvester Stallone, Ronda Rousey, Mel Gibson, Antonio Banderas and Kellan Lutz flashed signs recognizing the more than 200 Nigerian girls abducted from a secondary school by Boko Haram militants.
Refugees
"The Big Bang Theory" actor Simon Helberg and his wife, actress Jocelyn Towne, used signs and their own skin to get the serious message across on Jan. 29 at the 23rd Annual Screen Actors Guild Awards.
All about women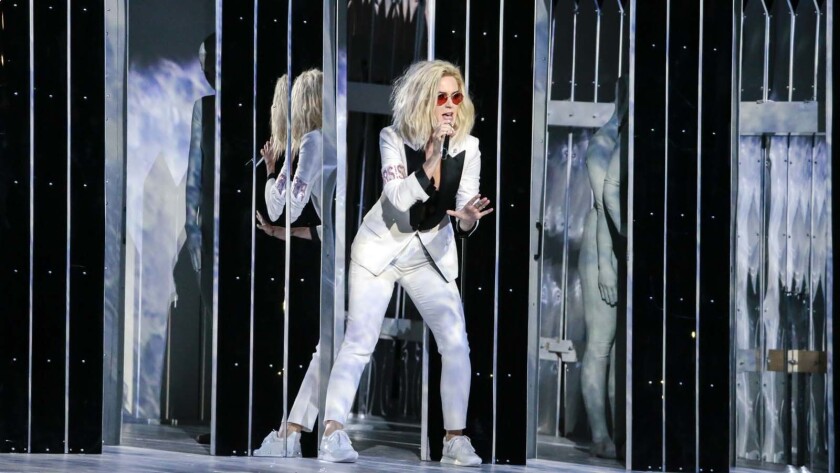 At the Grammy Awards, Katy Perry performed in a Hillary Clinton-esque pantsuit with a Planned Parenthood pin on her lapel and pink-sequined "Persist" armband in reference to Sen. Elizabeth Warren (D-Mass.) being silenced in the Senate.
Safety pins for solidarity
"I'll be wearing one of these tonight," Kerry Washington said on Instagram before this year's Screen Actors Guild Awards, posting a picture of a safety pin. "On my arm. To show solidarity. We will not stop fighting for our safety & the safety of our fellow citizens and human beings. #NoBanNoWall#safetypin."
The NSFW statement
Eagle eyes might spot a small pink circle at the top of the right side of Lola Kirke's 2017 SAG Awards dress. The pin bore a crude message to Republican Sen. Paul Ryan regarding the proposed defunding of Planned Parenthood.
"As a person with a platform, no matter what size it is, I think it's important to share your views and maybe elevate people that might agree with you, that maybe won't feel like they can have the same voice," Kirke explained later to Elle.
No punches pulled
Musicians Ryan Meyer, left, and Rich Meyer of the band Highly Suspect threw a spotlight on bandmate Johnny Stevens' statement at the the 59th Grammy Awards on Feb. 12.
It's not just Hollywood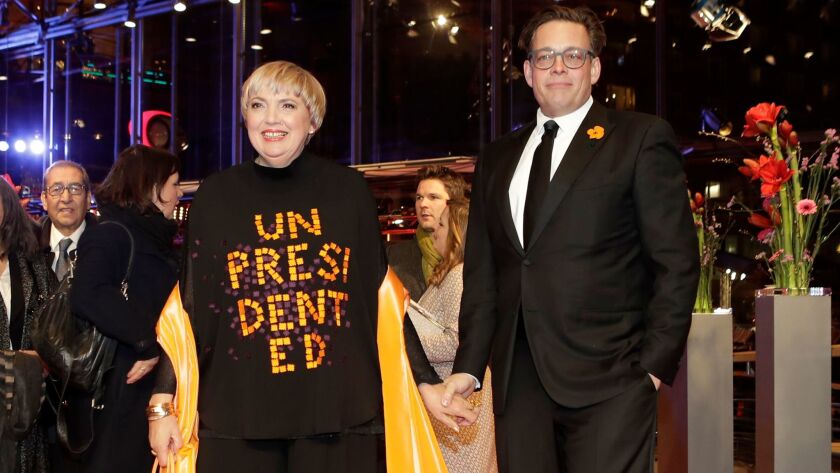 As she arrived for the "Django" premiere at the 2017 Berlinale Film Festival on Feb. 9 with politician Konstantin von Notz, right, Claudia Roth, deputy president of the German parliament, wore a top emblazoned with the word "unpresidented," an apparent reference to President Trump and one of his misspelled tweets.
---
From the Oscars to the Emmys.
Get the Envelope newsletter for exclusive awards season coverage, behind-the-scenes stories from the Envelope podcast and columnist Glenn Whipp's must-read analysis.
You may occasionally receive promotional content from the Los Angeles Times.