15 Images
Reality stars in trouble
Reality TV do's and don'ts
lat-adam-jasinski-big-brother-photo
It's been a bad week for reality.
First off, "Big Brother" winner Adam Jasinski was
charged with attempting to sell
thousands of oxycodone pills to a government witness in Massachusetts. The ninth-season winner confessed to buying the drugs with his $500,000 in prize money. He faces 20 years behind bars and a $1-million fine for attempting to distribute.
And the "balloon boy" saga continues to unfold as authorities investigate whether Richard and Mayumi Heene planned to release their homemade UFO and then claim their son Falcon was inside. Larimer County Sheriff Jim Alderden told the media that he believes the couple, who were previously featured on "Wife Swap,"
planned the hoax
two weeks in advance and he's recommending felony charges. Some believe they hoped the charade would help them launch a new reality show.
But these two are just the latest in the never-ending line of tabloid headlines generated by the ever-expanding members of the reality TV community. Take a look at some past standouts.
(CBS)
Ryan Jenkins
Claim to fame:
"Megan Wants a Millionaire"
Point of meltdown:
Ryan went on the lam after his wife Jasmine Fiore was found murdered and mutilated in Buena Park. He outran police and the Coast Guard as he made his escape to Canada, but later killed himself in a hotel room in British Columbia.
-- Emily Christianson, latimes.com
(Associated Press)
Alex Da Silva
Claim to fame:
"So You Think You Can Dance"
Point of meltdown:
Da Silva found himself in trouble with the law in August 2009, when he was arrested on suspicion of sexually assaulting four women between 2002 and 2009. The
charges included four counts
of forcible rape, two counts of assault with intent to commit rape and two counts of sexual penetration by a foreign object. The women were believed to be dancers or aspiring dancers who met him in class. This was the choreographer's second arrest on similar charges.
-- Emily Christianson, latimes.com
(Lawrence K. Ho / Los Angeles Times)
Susan Boyle
Claim to fame:
"Britain's Got Talent"
"
Point of meltdown:
After finishing second in the highly anticipated finale, Boyle was taken to a nearby hospital to have her mental capacities checked. The British tabloids alleged erratic, even abusive behavior leading up to the performance. Apparently, Boyle stayed in an upscale clinic mostly associated with celebrities. Now, back on her feet, she plans to release her debut album in November 2009.
-- Mia Jones,
chubbyjones.com
(AFP / Getty Images)
Kelly Bensimon
Claim to fame:
"The Real Housewives of New York City"
Point of meltdown:
On March 5, in the middle of the show's second season run on Bravo, Bensimon was arrested and charged with assaulting her then-boyfriend, Nicholas Stefanov. Stefanov was photographed with bruises on his face but Bensimon pleaded not guilty and insisted the two were barely dating at the time of the alleged incident. The case was adjourned in June 2009, and as long as Bensimon doesn't have another "incident" in the following six to 12 months, the misdemeanor charges will be formally dismissed.
--Kate Stanhope,
latimes.com
(Heidi Gutman / Bravo)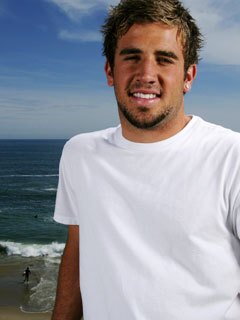 Jason Wahler
Claim to fame:
"
Laguna Beach
" and "The Hills"
Point of meltdown:
After breaking up with girlfriend (and "Hills" star)
Lauren Conrad
in summer 2006, Wahler spiraled deeper into an alcohol problem and was charged with battery in September 2006 and assault in April 2007. Days after his second arrest, Wahler took his second stab at rehab and successfully completed an inpatient treatment program in Orange County.
-- Kate Stanhope,
latimes.com
(MTV)
Kenley Collins
Claim to Fame
:
"Project Runway"
Point of meltdown:
Apart from the hissy fits she had on the show, we'd call attacking her sleeping fiance with a variety of objects, including a laptop, three apples and an actual cat, a meltdown.
-- Brill Bundy,
Zap2it
(Bravo)
Nikki McKibbin
Claim to fame:
"American Idol"
Point of meltdown:
Her post-"Idol" problems with drugs and alcohol led to her participating in the reality shows "Celebrity Rehab with Dr. Drew" and "Sober House." Of course kicking her habits and dealing with her mother's death have led to another problem: weight gain. McKibbin's meltdown might still be happening.
-- Brill Bundy,
Zap2it
(Zap2it)
Daisy de la Hoya
Claim to fame:
"Rock of Love"
,
"Daisy of Love"
Point of Meltdown:
Exhaustion strikes again! The Rock of Love cast-off now has her own show where she gets to pick a suitor from a bevy of buff himbos. Daisy was rushed to the hospital on May 8 after friends overheard her making "strange noises" in the early hours of the morning, according to TMZ. Emergency personnel found her yelling and thrashing, and it reportedly took multiple people to load her into the ambulance. So, drug overdose? Nope -- her reps assured the public that the poor girl was suffering from that downfall of d-listers, exhaustion -- with an added dash of fatigue-induced delirium. Daisy has since recovered and is now putting eligible bachelors through their paces on the paintball range.
--Sarah Jersild
CW Source
(Steve Granitz/WireImage)
Anna Nicole Smith
Claim to fame:
"The Anna Nicole Show"
Point of Meltdown:
The 2004 American Music Awards. Poor Anna Nicole... where do we even start? The Playboy model/famous widow/reality star/TrimSpa spokesperson had a rocky road throughout her time in the public eye, culminating in her death by accidental drug overdose in 2007. But the first time the general public got a sense that something was really wrong with Anna Nicole was her appearance at the American Music Awards in 2004, nine months after her reality show on E! had been canceled. Anna's speech was slurred, she seemed woozy, and at one point during her live presentation she threw up her arms and asked the crowd if they liked her body, then babbled about TrimSpa. Her reps denied that she was under the influence of any controlled substances, but instead blamed post-workout pain. We're inclined to doubt that explanation.
--Sarah Jersild
CW Source
(Frank Micelotta/Getty Images)
Jessica Sierra
Claim to Fame:
"American Idol"
Point of meltdown:
The "Idol" finalist from Season 4 had a challenging time after leaving the show. In November 2007 she was sentenced to 12 months' probation after pleading no contest to battery and cocaine possession. She was later arrested at a
Florida
bar for disorderly intoxication, resisting arrest without violence and violation of the conditions of her probation. She enrolled in rehab and participated in VH1's "Celebrity Rehab with Dr. Drew" alongside contestants such as Brigitte Nielsen and
Daniel Baldwin
. She is reportedly clean and sober.
--Lora Victorio,
Latimes.com
(Kevin Winter / Getty Images)
Jonny Fairplay (Jon Dalton)
Claim to Fame:
"Survivor: Pearl Islands"
Point of meltdown:
Things came to a head for this notorious schemer in 2007 at Fox Reality Channel's "Really Awards." He and Danny Bonaduce got into a brawl onstage after a fair amount of booing and mocking at Fairplay's expense. The known liar couldn't take Bonaduce's jabs and jumped on him bear-hug style, only to be thrown to the floor by Bonaduce. The reality star allegedly needed some dental work after the smackdown and even tried filing assault charges.
-- Emily Christianson,
latimes.com
(Frazer Harrison / Getty Images)
Nick Hogan (Nicholas Allan Bollea)
Claim to Fame:
"Hogan Knows Best"
Point of meltdown:
The youngest of the Hogan bunch had the need for speed and after a series of traffic violations landed in hot water. In August 2007 the teen and his friends were allegedly racing to a Florida steakhouse for dinner when his Toyota Supra fishtailed and crashed. Hogan was charged with a felony for reckless driving and operating a vehicle under the influence. He served five months of his eight-month sentence. His passenger, John Graziano, wasn't so lucky. The young Marine could require medical care for the rest of his life.
-- Emily Christianson,
latimes.com
(Frederick M. Brown / Getty Images)
Shanon Thomas
Claim to Fame:
"The Biggest Loser" season 7
Point of Meltdown:
After being sent home to fend for herself, Shanon was arrested for assaulting one of her housemates. The Detroit native was upset over the volume level the man living in her basement was watching his TV at. When yelling at him didn't do the trick, she did what she had to do and threw a bag of flour in his face. In her defense, she was probably incredibly hungry.
-- Mia Jones
ChubbyJones.com
(NBC)