Samantha Bee talks her show's multiple Emmy nods and the healing power of 'Call the Midwife'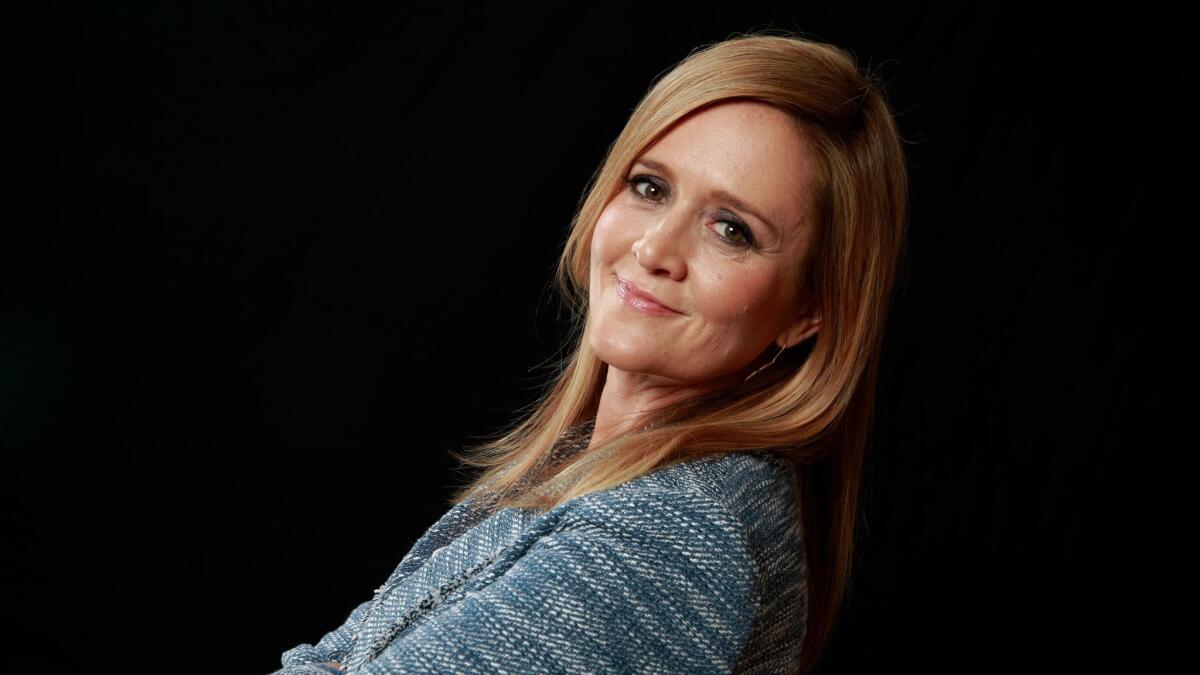 One of three alumni of "The Daily Show" to be nominated in the variety talk category, Samantha Bee and her weekly series "Full Frontal" have become required viewing for those in search of the sharpest political satire on television. Here she talks about her nominations, which also included a variety special nod for her show's "Not the White House Correspondents' Dinner."
How are you feeling about the nominations for "Full Frontal"?
Hold on. Jason [Jones] bought be this giant bucket of, you know, Gator gum — like Gatorade gum. It's like a really weird approximation of it. And I chew it obsessively. I have a barrel on my desk. It's a bucket with 200 pieces of it. OK, I spit it out.
What a morning. This is really exciting. I'm really happy. It's not the reason why you do television. But it is a beautiful, exciting acknowledgement of the hard work and the grit that everybody puts into the show, for real.
"Not the White House Correspondents' Dinner" was nominated too.
I know! I was really happy about that. We worked so hard on that. We were really proud of it. It's nice to be recognized.
So set the scene this morning.
I was at the office. We were having a field department meeting. We were talking about possible field pieces. I think everybody at the back of their heads was silently acknowledging that the 11:30 hour had passed. And so, no one was really super focused on the meeting, but also we weren't watching it or paying attention to it.
And then I heard the little yelp from down the hall. And then Ed, one of the amazing graphics guys, poked his head out and said [does quiet voice], "Nomination received for variety show."
We took it in and then it took a little while to ramp up the celebration. We felt a sense of relief and gratitude. Then we got really excited. It takes a minute. You have to situate yourself. And then we had champagne. Every quality office has at least a couple of bottles chilling at any time. We popped a couple of bottles. We ordered pizza. Is there any other way to celebrate?
There's a lot of great political comedy at the moment. Why do you think your show has broken through?
I can't really get into the heads of Academy members. I do think our show just broke through the noise a little bit. I think people responded to it. We have such a strong point of view, I think people responded to that, and we've had amazing attention from the press, so that's been really gratifying and that's certainly helped our cause.
Our dinner was more high-profile than we ever thought it could have been. The political climate has set the table for us a little bit, and we've tried to step up to the challenge. And so here we are. I'm just happy. I'm just excited. I don't really know what to say. I haven't really had this experience. We were nominated last year for writing, but this is nice, the overall recognition. It feels like a great next step.
It's a year for a lot of shows about women in general. Have you caught any of them?
Yeah, I love "The Handmaid's Tale." It's so good. I went to see "Wonder Woman" with my daughter and I cried through the whole thing. It has been a tremendous year for women's stories and I'm happy to be a part of that wave. It's not a passing fancy. It's just happening, which is great. There will be more women in late night, which is great. I'm excited to be a part of it. I'm so excited for everyone here, for the whole team. They're so happy. They deserve recognition. They deserve to go to an awesome party.
What other shows have you been watching?
I caught up on "Fargo" this year and loved it. I binged it from the beginning. All three seasons. I loved "Orange Is The New Black" this year. I love "Black Mirror," always. I'm so happy to see "San Junipero" [episode of "Black Mirror"] nominated.
It's so dorky, but I watched every season of "Call the Midwife." I binged the whole series. It really assuaged a lot of my pain this year. It took me to another time, another place, it's peaceful and beautiful. I truly loved it. I was so sad when I finished this latest season. I'm not sure I still know what to do with myself.
Everyone's got a real can-do attitude, everyone kind of bristles with activity and good will. It's a palate cleanser. Babies are born, terrible things happen. There's a lot of elbow grease. I really respond to that. Midwives on bicycles. Nuns. I love everything with nuns. I just love nuns.
It doesn't seem relaxing that a show about nuns and midwives would be just the tonic that I needed at the end of the day. But I really did cry when I was done.