16 Images
Films that jumped to Broadway
With stage direction by Julie Taymor and a score by
U2's
Bono
and the Edge, a planned "Spider-Man" musical is among the most troubled productions in Broadway history.
(Columbia Pictures)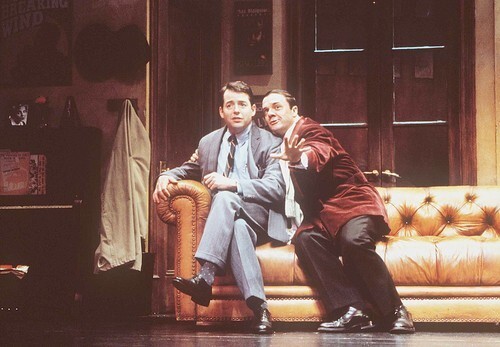 Perhaps the most lucrative (and thus most inspirational) example of movies being adapted for the stage was Mel Brooks' "The Producers," which starred Matthew Broderick and Nathan Lane. The show finally closed in January 2007 after a six-year run, but Brooks fans didn't need to wait long, "Young Frankenstein" opened the following November.
(Paul Kolnik)
Monty Python alum Eric Idle brought the comedy troupe's cult film "The Holy Grail" to the stage as "Spamalot" in 2005, starring David Hyde Pierce, Hank Azaria, Christopher Sieber, Steve Rosen and Tim Curry. The production then moved to Vegas, closing in July 2008.
(Newsday / ARI MINTZ)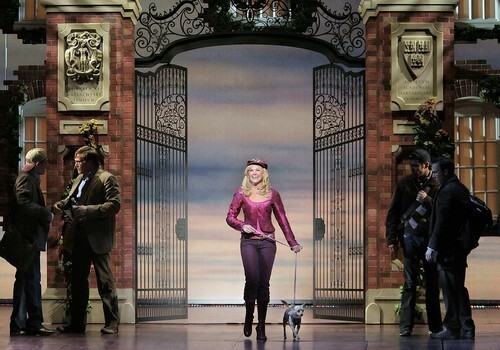 The musical version of "Legally Blonde," starring Laura Bell Bundy in the place of Reese Witherspoon, opened in April 2007 in New York.
(Associated Press)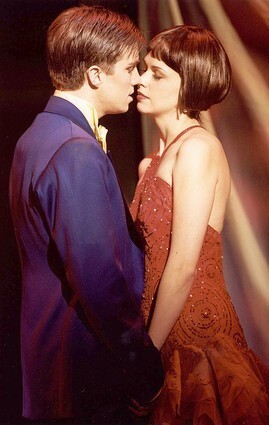 First released in 1967, Oscar-winning musical "Thoroughly Modern Millie" came to the stage over 30 years later, earning a Tony for best musical in 2002.
(Joan Marcus)
An indie hit in 1997, the Broadway version of "The Full Monty" was also a crowd-pleaser in 2000.
(ARI MINTZ/Newsday, xx)
The words "Adam Sandler" and "Broadway" aren't often associated with each other, but in 2006 Sandler's '80s-fetishizing comedy "The Wedding Singer" was reborn as a musical starring Stephen Lynch.
(Joan Marcus / AP)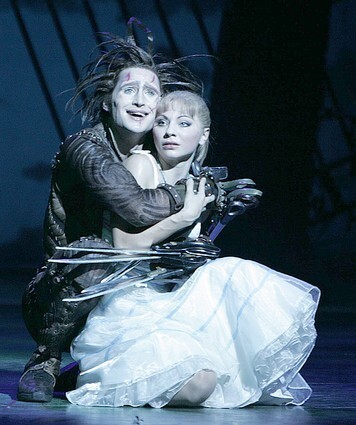 Tim Burton's tragic 1990 fable "Edward Scissorhands" got the musical treatment in a 2006 production at the Ahmanson in Los Angeles.
(Lori Shepler / LAT)
Disney's 1994 animated feature "The Lion King" wowed Broadway audiences when it debuted onstage four years later with eye-catching costumes designed by Julie Taymor.
(Joan Marcus / New Amsterdam Theatre)
From its roots as a dance-heavy Kevin Bacon vehicle, "Footloose" stepped out of the '80s and onto Broadway in 1998. The show ran for two years.
(Alexander Gallardo / LAT)
John Waters' 1988 film "Hairspray" became a Tony-winning musical in 2002, starring Harvey Fierstein (right) and Marissa Jaret Winokur, before it became a movie again, starring John Travolta.
(Ari Mintz / Newsday)
The Disney classic
"Mary Poppins"
finally made it to the West End stage in 2004, a project that been in the works ever since 1993, when British musical mogul Cameron Mackintosh acquired the rights to the series of Poppins novels from author Pamela Travers. The production moved to Broadway in 2006, and went on to receive numerous Tony nominations and a
Tony Award
for best scenic design of a musical. Here, Scarlett Strallen is pictured in the title role.
(Alistair Muir / Associated Press)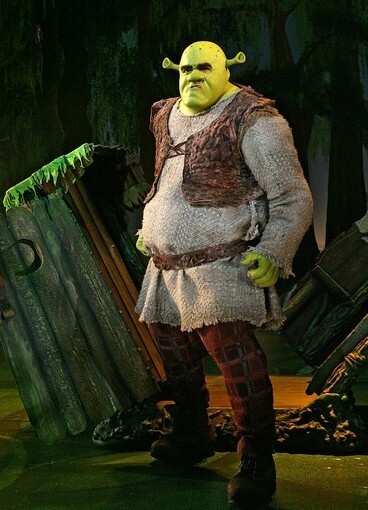 Dreamworks' attempt to wrestle away some of Disney's Broadway dominance has not gone so well, judging by the slumping returns for "Shrek: The Musical." Despite being nominated for eight
Tony Awards
, and winning one for best costume design, the show is scheduled to close Jan. 3.
(Joan Marcus / Associated Press)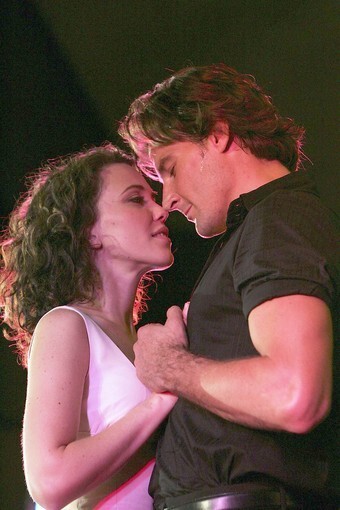 In 2004, Emile Ardolino's box office smash "Dirty Dancing" was transformed into a musical, a project that cost over $6 million. Despite premiering in
Australia
to mixed reviews, the show has been been a hit with audiences, and is currently playing in the U.S., Britain and Germany.
Pictured: Kym Valentine and Josef Brown in the Australian production.
(Patrick Riviere / Getty Images)
Since its San Francisco debut in 2004, this stage version of the holiday classic has completed numerous national tours (here and in the United Kingdom) and received two Tony nominations for best choreography and best orchestration. But some critics were not so impressed, especially Ben Brantley of the New York Times, who called the show "about as fresh and appealing as a roll of Necco wafers found in a mothballed Christmas stocking."
(Glenn Koenig / Los Angeles Times)