L.A. movie openings, Sept. 13-14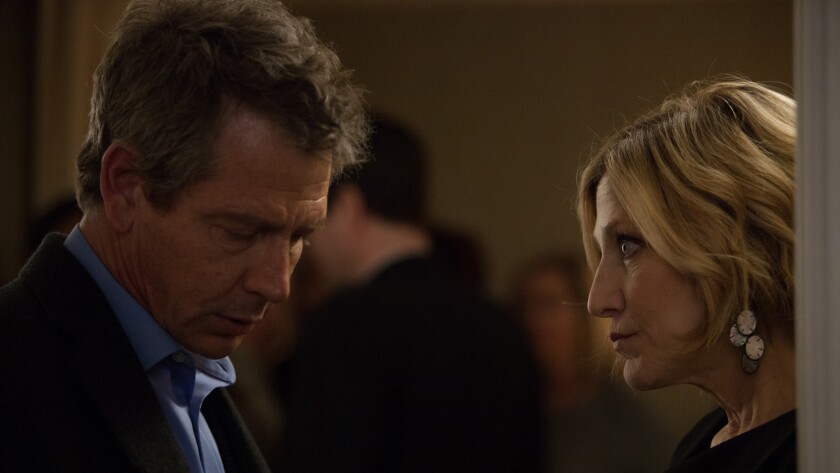 Sept. 13
Reversing Roe
Documentary on the current state of abortion and women's reproductive rights in the U.S. Directed by Ricki Stern, Annie Sundberg. (1:39) NR. Also on Netflix.
Sept. 14
American Chaos
Filmmaker James D. Stern sought out Donald Trump supporters in 2016 in a bid to understand the then-presidential candidate's baffling appeal in this documentary. (1:30) R.
Another Time
A man travels back in time to find his true love. With Justin Hartley, Arielle Kebbel, James Kyson, Chrishell Stause. Written and directed by Thomas Hennessy. (1:29) NR.
Armed
Mario Van Peebles stars as a former U.S. marshall who learns that there may be something darker behind the botched mission that ruined his life. With Ryan Guzman, Columbus Short, Jemma Dallender, Laz Alonso, William Fichtner. Written and directed by Van Peebles. (2:00) R.
The Basement
A young man is held captive by a role-playing serial killer. With Jackson Davis, Cayleb Long, Tracie Thoms, Bailey Anne Borders, Mischa Barton. Directed by Brian Conley. NR.
Bel Canto
Julianne Moore stars as a famous soprano taken hostage with other guests as terrorists invade a private performance in a South American dictatorship. With Ken Watanabe, Sebastian Koch, Christopher Lambert, Ryo Kase. Written by Anthony Weintraub, Paul Weitz. Directed by Weitz. (1:40) NR.
Blaze
The story of Blaze Foley, an influential member of the Texas Outlaw music movement. With Benjamin Dickey, Alia Shawkat, Charlie Sexton, Josh Hamilton, Richard Linklater, Alynda Segarra, Sam Rockwell, Steve Zahn, Kris Kristofferson. Written by Ethan Hawke, Sybil Rosen, based on Rosen's memoir. Directed by Hawke. (2:07) R.
A Boy. A Girl. A Dream.
A young midwesterner and an L.A. club promoter connect on the night of the 2016 U.S. presidential election. With Omari Hardwick, Meagan Good, Jay Ellis. Written by Qasim Basir, Samantha Tanner. Directed by Basir. (1:29) NR.
The Children Act
A British High Court judge balances her role in ruling on the welfare of minors and an increasingly challenging relationship with her husband. With Emma Thompson, Stanley Tucci, Fionn Whitehead. Written by Ian McEwan. Directed by Richard Eyre. (1:45) R.
Danger One
A chaotic night of violence ensues when two paramedics decide to keep a million dollars they find on a dying man. With Tom Everett Scott, James Jurdi, Angélica Celaya. Written by Steffen Schlachtenhaufen. Directed by Tom Oesch. NR.
The Dawn Wall
A pair of American climbers attempt to scale a 3,000-foot Yosemite rock face in this adventure documentary. Featuring Kevin Jorgeson, Tommy Caldwell. Directed by Josh Lowell, Peter Mortimer. (1:40) NR.
Don't Leave Home
An American artist's obsession with a dark myth leads her to a reclusive painter in Ireland. With Anna Margaret Hollyman, Lalor Roddy, Helena Bereen. Written and directed by Michael Tully. (1:26) NR.
e-Demon
Former college friends gather online for old times and inadvertently unleash an evil spirit. With Julia Kelly. Written and directed by Jeremy Wechter. (1:26) NR.
Final Score
A Russian rebel holds hostage a soccer stadium with 35,000 fans and only a U.S. military veteran can stop him. Dave Bautista, Pierce Brosnan, Ray Stevenson, Julian Cheung, Lara Peake, Alexandra Dinu, Ralph Brown. Written by Jonathan Frank, David T. Lynch, Keith Lynch. Directed by Scott Mann. (1:44) R.
Five Fingers for Marseilles
Released from prison, a South African man returns to his hometown and reunites his youthful band of rebels to seek frontier justice. With Vuyo Dabula, Hamilton Dhlamini, Zethu Dlomo, Kenneth Nkosi, Mduduzi Mabaso. Written by Sean Drummond. Directed by Michael Matthews. In Sesotho, English, Afrikaans, Xhosa with English subtitles. (2:00) NR.
Four Hands
Sisters who witnessed a heinous attack as children face a crisis in their relationship when the criminals are released 20 years later. With Frida-Lovisa Hamannm, Friederike Becht, Christoph Letkowski. Directed by Oliver Kienle. In German with English subtitles. (1:34) NR.
Hal
Documentary on iconoclastic 1970s filmmaker Hal Ashby, director of "Harold & Maude," "Shampoo" and "Coming Home." Featuring Lee Grant, Jane Fonda, Alexander Payne, Norman Jewison, Robert Towne. Directed by Amy Scott. (1:30) NR.
Hot to Trot
Documentary on competitive same-sex ballroom dancing profiles participants as they make the personal political. Directed by Gail Freedman. (1:28) NR.
I Am Not a Witch
The mysterious arrival of an 8-year-old girl in a Zambian village triggers a wave of hysteria in this satire. Written and directed by Rungano Nyoni. (1:33) NR.
I Think We're Alone Now
Peter Dinklage stars as a man whose idle as the presumed last soul on Earth is interrupted by the arrival of a young woman. With Elle Fanning. Written by Mike Makowsky. Directed by Reed Morano. (1:33) R.
Interference
On the verge of retirement, a detective seeks to identify the charred body of a woman found near the district attorney's boat. With Tom Wisdom, Bruce Thomas, Victoria Gabrielle Platt. Written and directed by Linda Di Franco. NR.
The Land of Steady Habits
Newly retired with his sons' college tuition paid off, a Connecticut man leaves his wife and embarks on a mission of self-discovery. With Ben Mendelsohn, Edie Falco, Connie Britton, Elizabeth Marvel, Thomas Mann, Bill Camp. Written and directed by Nicole Holofcener, based on the book by Ted Thompson. (1:38) NR.
Letter from Masanjia
A note written by a political prisoner in China finds its way into Halloween decorations in Oregon triggering a series of global events leading to labor reform in this documentary. Directed by Leon Lee. (1:15) NR.
Life of the Party
Friends attempt to break the 427-day world record for the longest house party. With Georgia Chara, Christopher Kirby, Holly Brisley. Writtten by Liam Barrett, Michael Budd. Directed by Michael Budd. (1:24) NR.
Lizzie
Chloë Sevigny and Kristen Stewart star as the infamous ax-wielder and the housemaid for whom she falls while living under the claustrophobic roof of her misogynist father. With Jamey Sheridan, Fiona Shaw, Kim Dickens, Denis O'Hare and Jeff Perry. Written by Bryce Kass. Directed by Craig William Macneill. (1:45) R.
Lost Child
Suffering from PTSD, an Army veteran returns home to the Ozarks and discovers an abandoned boy in the woods. With With Leven Rambin, Taylor John Smith and Jim Parrack. Written by Tim Macy, Ramaa Mosley Directed by Mosley. (1:36) NR.
Mandy
Nicolas Cage and Andrea Riseborough play a Pacific Northwest couple whose forest home is destroyed by a ruthless cult. Written by Panos Cosmatos, Aaron Stewart-Ahn. Directed by Cosmatos. (2:01) NR.
MDMA
At a San Francisco university in 1984, a working-class girl finds an ingenious, if illegal, solution to her financial aid problems. With Annie Q., Francesca Eastwood, Pierson Fodé. Written and directed by Angie Wang, based on her own experiences. (1:38) NR.
Nelly
Drama about French Canadian sex worker-turned-novelist Nelly Arcand. With Mylène Mackay, Mickaël Gouin, Catherine Brunet. Written and directed by Anne Émond. In French and English with English subtitles. (1:40) NR.
Patient Zero
During a pandemic, the last surviving humans search for a cure and battle infected creatures. With Natalie Dormer, Stanley Tucci, Matt Smith. Written by Mike Le. Directed by Stefan Ruzowitzky. (1:33) R.
The Predator
A young boy inadvertently prompts the return to Earth of the now-genetically enhanced killing creatures. With Boyd Holbrook, Trevante Rhodes, Jacob Tremblay, Keegan-Michael Key, Olivia Munn, Sterling K. Brown. Written by Fred Dekker, Shane Black; based on the characters created by Jim Thomas, John Thomas. Directed by Black. (1:41) R.
The Public Image is Rotten
Documentary follows John Lydon (a.k.a. Johnny Rotten) through his decades-long challenge to lift his 1980s band Public Image Ltd. out of the shadow of his former group, the Sex Pistols. Featuring Flea, Ad-Rock, Thurston Moore. Directed by Tabbert Filler. (1:43) NR.
Rodents of Unusual Size
Documentary on the effect of the invasive nutria on post-Katrina New Orleans. Narrated by Wendell Pierce. Directed by Chris Metzler, Jeff Springer. (1:11) NR.
A Simple Favor
Anna Kendrick stars as a mom blogger who investigates the disappearance of her best friend. With Blake Lively, Henry Golding, Andrew Rannells, Linda Cardellini, Jean Smart, Rupert Friend. Written by Jessica Sharzer, based upon the novel by Darcey Bell. Directed by Paul Feig. (1:57) R.
The Toybox
Denise Richards and Mischa Barton star in a thriller about a haunted RV. Written by Jeff Denton. Directed by Tom Nagel. (1:35) NR.
Unbroken: Path to Redemption
Continues the story of Olympic runner and World War II hero Louie Zamperini as he battles PTSD and discovers his faith. With Samuel Hunt, Merritt Patterson, Bobby Campo, Vanessa Bell Calloway, David Sakurai, Gary Cole, Will Graham. Directed by Harold Cronk. Written by Richard Friedenberg, Ken Hixon; based on the book by Laura Hillenbrand. PG-13.
Where Hands Touch
In 1944, an African German teenager becomes friends with a member of the Hitler Youth. With Amandla Stenberg, George MacKay, Abbie Cornish, Christopher Eccleston, Tom Sweet. Written and directed by Amma Asante. (2:02) NR.
White Boy Rick
A teenage boy works as a police informant before being cut loose and sent to prison in 1980s Detroit. With Matthew McConaughey, Richie Merritt, Bel Powley, Jennifer Jason Leigh, Bruce Dern, Piper Laurie. Written by Andy Weiss, Logan Miller, Noah Miller. Directed by Yann Demange. R.
A Wizard's Tale
A boy must find a charm that will lift the spell of gloom that has befallen the Kingdom of Groovynham in this animated fantasy. . Voices by Lily Collins, Ian McShane, Toby Kebbell. Written by Jim Hecht, Alicia Núñez Puerto. Directed by Andrés Couturier. (1:37) NR.
------------
See the most-read stories in Entertainment this hour »
---
Inside the business of entertainment
The Wide Shot brings you news, analysis and insights on everything from streaming wars to production — and what it all means for the future.
You may occasionally receive promotional content from the Los Angeles Times.