Movie Sneaks: Hunger Games finale: A behind-the-scenes glimpse of the final assault in 'Mockingjay -- Part 2'
It's the last stand for the Mockingjay — Jennifer Lawrence's Katniss Everdeen — and her army of rebels. Set in a dystopian society where children are made to battle for sport and the haves live a life of luxury at the expense of the have-nots, "The Hunger Games: Mockingjay — Part 2" is the culmination of the uprising against the tyrannical Capitol and its villainous dictator, President Snow (Donald Sutherland).
SIGN UP for the free Indie Focus movies newsletter >>
Here, the film's director, Francis Lawrence, and producer, Nina Jacobson, lead us through the rebels' charge, and the journey Katniss and her compatriots — including Gale Hawthorne and Peeta Mellark — have taken through the franchise's three previous installments, based on the books by Suzanne Collins. "Mockingjay — Part 2" opens on Nov. 20.
See the most-read stories in Entertainment this hour >>
"This is a building that we found outside of Paris," Lawrence said. "If you know the books, there's a sequence where they set off a trap with toxic oil, this black sludge that comes pouring down onto them. This is just after that sequence. In the movie, this has all been digitally enhanced and the whole bottom half of this courtyard has been covered in a black, hardened tar. The place is called Abraxas. When we knew we had to go deep into the Capitol we wanted to try to find as many real, immersive environments as possible. So we went on a search for architecture around the world that was aesthetically what we needed. We wanted that cross between brutalism and classicism."
Together Katniss and her team must maneuver through a maze of deadly booby traps set by their oppressors. "Katniss and the squad are moving further into the Capitol," Lawrence explained. "And Boggs — the character played by Mahershala Ali, right — is holding a device called a 'holo' that has a database of the known pods and traps. But obviously others have been added, so we don't know if holo can see them all."
Although the film's setting has changed from the arena of the Hunger Games to the streets of the Capitol, one thing remains constant: Katniss' weapon of choice. But how well does a bow and arrow work when her team is forced into the sewers beneath the opulent city? "Katniss is pretty effective with it," Lawrence said. "And Gale with his crossbow, he's actually pretty effective [as well]. It's kind of fun because Gale's got their incendiary arrows which they're using to light up the tunnels."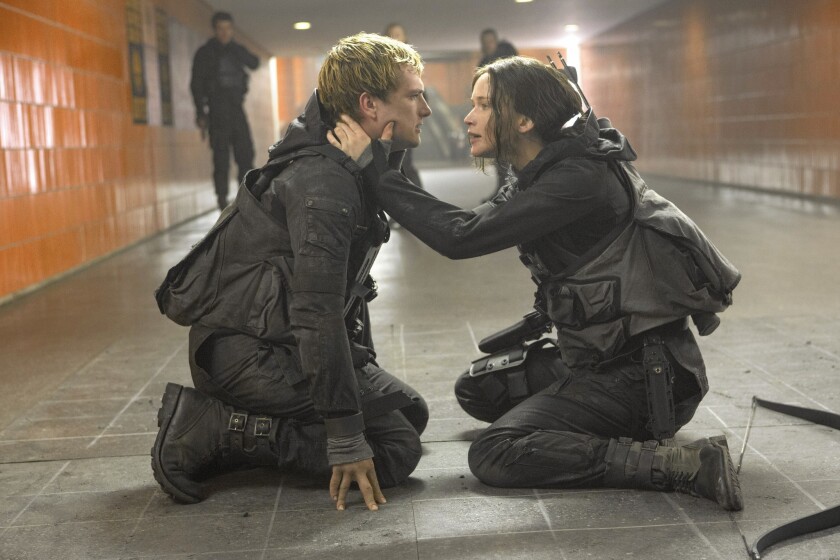 But the fun doesn't last long, "As they make their way through the Capitol, some of them make it, and some of them don't," Jacobson said. "This moment with [Katniss] and Peeta [Josh Hutcherson] is a big turning point, this is her trying to bring him back to her. Everything that they are going through in this assault is pushing him to the limit." Clearly Katniss still has a connection to the former prisoner Peeta, "He's falling apart, and she's trying to keep him with them," Lawrence said. "And they have to keep moving. So this is actually a very fast, urgent moment that's not totally tender, although there's some tenderness to it."
No doubt this final stand will cost many Panem citizens their lives, but judgment day has arrived, all the way to the front steps of the dictator's door. "That is Snow's mansion," Jacobson hinted. "There's still quite a bit of reckoning to be done."
Follow me on Twitter @MdellW
MORE:
Holiday Movie Sneaks: 'Spectre,' 'Star Wars,' 'Hateful 8' and more
Gwendoline Christie is such a warrior, she even fought to be in 'Star Wars'
Sylvester Stallone is back as Rocky Balboa – but this time he's in a fight with mortality
---
Inside the business of entertainment
The Wide Shot brings you news, analysis and insights on everything from streaming wars to production — and what it all means for the future.
You may occasionally receive promotional content from the Los Angeles Times.