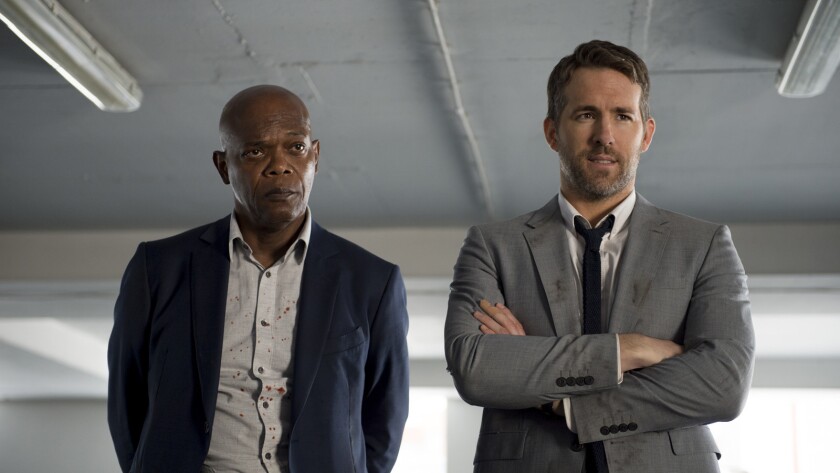 As Labor Day weekend ushers in the unofficial end of summer, Hollywood wraps up a dismal summer box office season with movie ticket sales in the U.S. and Canada the lowest they've been in a decade. Fittingly, the box office ranks remain virtually unchanged from last week with the two films premiering this week, the re-release of Sony's "Close Encounters of the Third Kind" and the Weinstein Co.'s "Tulip Fever" debuting at No. 14 and No. 24, respectively.
Lionsgate's R-rated action comedy "The Hitman's Bodyguard" maintained the top spot for the third consecutive week, bringing in an estimated $13.4 million over the holiday weekend for a total of $58 million cumulatively. Starring Samuel L. Jackson as an imprisoned assassin who enlists the help of bodyguard Ryan Reynolds, the $30-million film received mixed reviews from audiences, earning a B+ rating on CinemaScore but a stale 40% "fresh" rating on Rotten Tomatoes.
Warner Bros' horror prequel "Annabelle: Creation" remained at No. 2 on the charts, earning $9.3 million through Monday, for a total of $91 million.
The origin story of a possessed doll that terrorizes families, Annabelle was first introduced in "The Conjuring" series before receiving her own standalone movie in 2014. "Annabelle: Creation" earned a modest 68% "fresh" rating on Rotten Tomatoes and a B rating on CinemaScore.
The Weinstein Co.'s drama "Wind River" leapfrogged over "Leap!" swapping with the animated family film for the No. 3 spot after added 507 theaters for a total of 2,602. The crime thriller, set on a Native American reservation in Wyoming and starring Jeremy Renner and Elizabeth Olsen, earned $7.9 million through Monday. Written and directed by Taylor Sheridan (screenwriter of "Sicario" and "Hell or High Water"), the film earned a solid 86% "fresh" rating on Rotten Tomatoes.
"Leap!" also distributed by Weinstein, brought in $6.6 through Monday for a cumulative total of $13 million after just 10 days in theaters. The film, about an orphan girl who dreams of becoming a dancer in Paris, features the voices of Elle Fanning, Kate McKinnon and pop singer Carly Rae Jepsen and was met with mixed reviews, earning an A-rating on CinemaScore but only a 35% rating on Rotten Tomatoes.
Rounding out the top five was Bleecker Street and Fingerprint Releasing's action comedy "Logan Lucky," directed by Steven Soderbergh, which made $5.6 million through Monday for a total of $22.7 million. Starring Channing Tatum and Adam Driver as brothers who try to pull off a heist during a NASCAR race, the $29-million film received a B rating on CinemaScore and a 92% "fresh" rating on Rotten Tomatoes.
Sony's re-release of Steven Spielberg's classic sci-fi film "Close Encounters of the Third Kind" earned $2.3 million in 901 theaters through Monday. Back in theaters for an exclusive one-week engagement in celebration of its 40th anniversary, the director's cut has been restored and remastered in 4K.
The Weinstein Co. opened the drama "Tulip Fever" this weekend in 765 locations, earning $1.4 million through the holiday. The period drama stars Alicia Vikander as a married noblewoman who has an affair with an artist (Dane DeHaan). Christoph Waltz and Zach Galifianakis also star.
In limited release, Lionsgate opened "Hazlo Como Hombre (Do It Like an Hombre)" in 382 locations earning $1.4 million through Monday.
Next week Open Road Films releases the romantic comedy "Home Again" and Warner Bros will release the highly anticipated horror remake of Stephen King's "It" starring Bill Skarsgard. IFC's drama "Rebel in the Rye" and Magnolia's "School Life" will also debut in limited release.
follow me on twitter @sonaiyak
---