The 'Boyhood' awards season campaign comes of age, delicately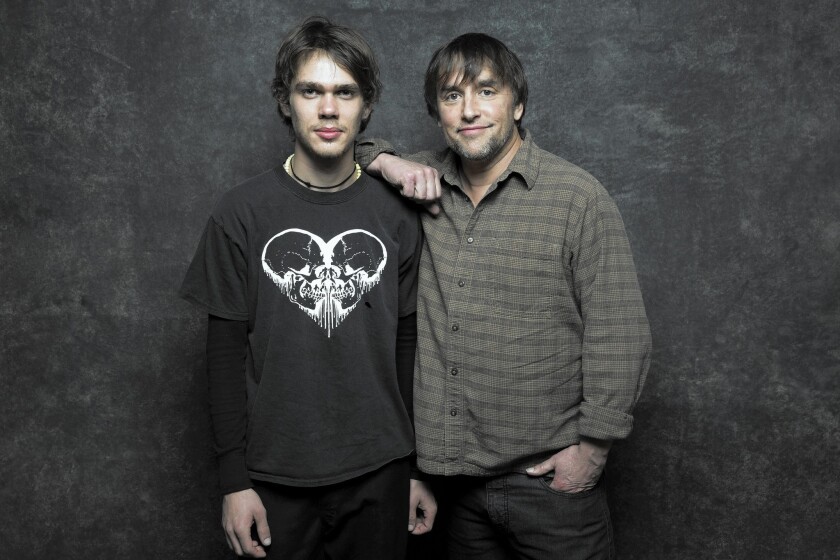 NEW YORK —
— Hanging on the wall of IFC Films' President Jonathan Sehring's office is a huge banner showing a tableau at a county fair. The cloth creation is a tribute to the executive's childhood in small-town Ohio, where such gatherings were common.
Above its image — a turbaned magician plunging knives into an encased female assistant — reads an unambiguous description: "Defies Death."
The message has been coming through loud and clear lately. For 12 years, Sehring, along with talent manager and sales agent John Sloss, were responsible for the fragile viability of Richard Linklater's coming-of-age epic "Boyhood," securing financing and protecting it from the pruning hands of some of IFC's budget overseers.
Over the last few months, though, the words have taken on a different meaning: They encourage Sehring and his "Boyhood" team to defy the odds and become an awards-season powerhouse.
As that season enters its critical phase — on Wednesday the Screen Actors Guild will reveal its 2014 nominations, and the Hollywood Foreign Press Assn. will follow suit Thursday with the Golden Globes — the rewards and challenges are great.
Neither an IFC nor a Linklater film has ever been nominated for a best picture Oscar. "Boyhood's" Sundance Film Festival premiere in January and subsequent July opening also make it a rare animal among top contenders, which almost always roll out in the year's final few months.
And though budget figures can be slippery, the film's $5-million production price tag and correspondingly small awards budget make it one of the most modestly financed efforts to vie for top Oscars in the modern era.
"I feel like we're a minnow in a large sea," said Sehring as he sat in his office across from Madison Square Garden on a recent afternoon. "And the sharks are only beginning to circle."
In a season filled with diverse contenders, "Boyhood" is the most unusual.
Its story about the everyday life of a boy (Ellar Coltrane) and his sister (Lorelei Linklater) growing up with their parents (Patricia Arquette and Ethan Hawke) in 2000s-era Texas has become a favorite of knowledgeable audiences, garnering $24 million at the art-house box office while earning resounding critical praise. A.O. Scott of the New York Times famously dubbed it "one of the most extraordinary movies of 2014, or for that matter the 21st century so far," and over the last week the film has won the highest honors from Los Angeles and New York critics groups. It also consistently tops many award-season pundits' straw polls for the best picture Oscar.
But the movie also faces considerable obstacles and unfavorable precedents. Like an upstart political candidate taking on a party favorite, "Boyhood" is competing against players with greater experience and deeper pockets, including the Weinstein Co.'s "The Imitation Game," Paramount Pictures' "Selma" and Fox Searchlight's "Birdman."
All of this has made "Boyhood" something of an awards-season paradox: the underdog front-runner.
Key early indicators of the film's power will come this week with the SAG and Globes announcements. Among the tea leaves experts will be reading is whether "Boyhood" can snag a nomination for SAG's top prize of outstanding performance by a cast.
Thanks to its extensive shooting period — the movie was filmed about a few days each year from 2002-13 — "Boyhood" is a favorite among actors, who admire the dedication its performers showed in sticking with it.
On the other hand, its principal cast — three actors, four if you're stretching it — is smaller than many of the films nominated for the ensemble prize. (SAG is a reliable forecaster because many of its members also belong to the Academy of Motion Picture Arts and Sciences' actors branch, AMPAS' largest constituency.) IFC hopes Arquette and Hawke are recognized by SAG and other awards bodies — it has lobbied the former in the supporting category despite her meaty role, hoping the road to a win will be easier — and also is eyeing the top two prizes of director and picture.
As they appeal to voters, IFC and Sloss' Cinetic Media have looked to some of their forebears.
"There's no one better than Harvey Weinstein at creating the award-season narrative," Sloss, Linklater's longtime manager, said as he sat in his downtown New York office last week surrounded by multiple posters of "Boyhood" and articles about his star client. "There are a lot of effective tactics we can use."
Part of the playbook is to create a feeling of awards momentum — swinging from one nomination to the next and then ratcheting up the ads to underline them. Everyone, after all, wants to vote for a winner.
Successful awards efforts also tend to involve stressing a movie's uniqueness. There is an emphasis in the "Boyhood" campaign on the production back story, since it's a point other campaigns simply can't counter.
And part of the playbook is being addressed more literally, with the hiring of Cynthia Swartz, the longtime awards guru who helped lead Weinstein to scores of nominations and wins during the 1990s and early 2000s.
Swartz said that she believed that despite the long odds, the "Boyhood" campaign is not trying to do the impossible.
"You have to remember that a lot of voters didn't really know Danny Boyle before 'Slumdog Millionaire' or Tom Hooper before 'The King's Speech,'" she said, referring to two recent films that have both won best picture and director. The most apt comparison, she said, might be to "The Hurt Locker," a movie she helped lead to six Oscars, including picture and director, in 2010.
The campaigns share some parallels — "Hurt Locker" also was a counterprogrammer to summer blockbusters and had only a modest box-office take ($13 million) when it won best picture. Still, that film landed in the midst of a national reckoning about the Iraq war, and some voters were drawn to it as a political statement.
To gain support for "Boyhood," IFC must hope that voters spark to the universality of the family and maturation themes, since the film's ordinary-life premise deprives it of a classic awards-season play. Weinstein in particular is known for steering the conversation to a larger social or political issue, and most major contenders this year contain fact-based echoes to current issues including "The Imitation Game" (gay rights) and "Selma" (Ferguson).
Even playing up the "Boyhood" back story is a dangerous tack; overplaying it could feed the perception that, as one rival consultant put it, the film is a "stunt movie" not worthy of winning on its own merits.
"You don't want to be too heavy-handed about it," Swartz acknowledged.
"Boyhood" campaigners also know that with IFC being a relatively small company, they can't outspend most players. Unlike studio awards campaigns, the money for which comes out of general corporate coffers, Sehring and Sloss are also producers on the film and share in its profits, so any money spent on awards essentially comes out of their pockets. Ditto for Linklater, who in an unusual arrangement owns half the movie.
Instead, they're relying on other tactics. "Boyhood's" midyear release means the DVD is coming out next month from Paramount (an HDTV debut happens this week), which allows for commercial promotion to double as awards campaign.
Linklater is a key weapon too. With his low-key approachability and uncommon willingness to engage with fans in interpreting his work, exposure to him could spell votes for the movie. The director has just returned from Austin, Texas, where he's been shooting a new film, and has been thrust into the frenetic pace of the campaign.
Last Monday he was in New York pressing the flesh at a tastemaker lunch, taping an episode of "Charlie Rose" and accepting the audience prize at the Gotham Awards; by Wednesday, he had flown to Los Angeles for a series of round tables and screenings.
"It's easy to talk about the film because there are always new layers, new reflections that come up," Linklater said. "People walk up to me and they get this look in their eyes, asking me a lot of questions, which is good, because I'm still figuring it out. It's like scientists who publish their work. You spend years doing research and then you throw it out there and you listen to all the feedback."
"Boyhood" has hung on in a handful of art-house theaters since July, but Sehring aims to reopen the movie wider this month. It's a move that Weinstein has used often to boost both ticket sales and awards awareness.
Still, the IFC executive said that for all the strategizing, he was trying to keep a larger context in mind.
"Here it is the middle of award season and we are right there with the big movies," Sehring said. "It's pretty amazing. For so many years we never dreamed we'd even be anywhere near the conversation."
---
The complete guide to home viewing
Get Screen Gab for weekly recommendations, analysis, interviews and irreverent discussion of the TV and streaming movies everyone's talking about.
You may occasionally receive promotional content from the Los Angeles Times.