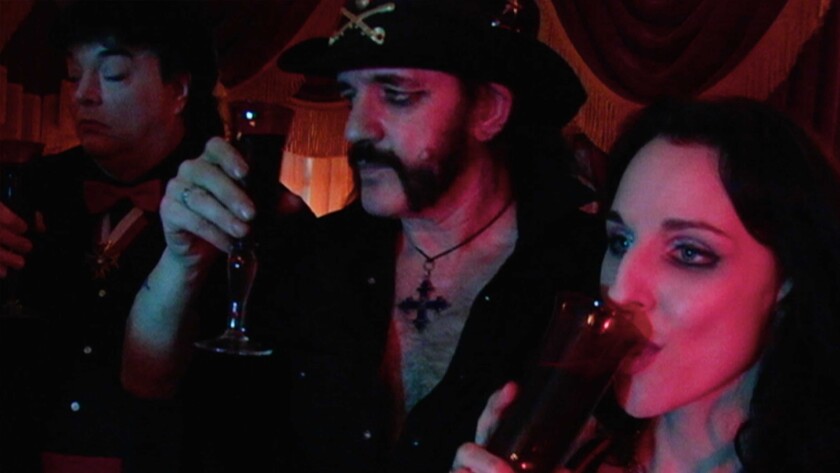 Motörhead fans shouldn't get too excited about the band's late frontman Lemmy Kilmister appearing in a leading role in the L.A. vampire picture "Sunset Society." The rocker's scenes in this shoestring splatter project appear to have been shot years before he died in 2015 — and, frankly, Lemmy looks like he barely realizes he's making a movie.
The origins of "Sunset Society" are hard to discern. Writer-director-star Phoebe Dollar has compiled a hodgepodge of footage shot with different cameras in different eras and featuring a motley cast of semi-celebrities and heavy-metal heroes like Ron Jeremy, Dizzy Reed, Tracii Guns and Steve-O. (Veteran genre filmmaker Rolfe Kanefsky is credited as "collaborating director.")
The unifying figure is Dollar, who plays a vampire queen named Sophie in a cabal of bickering bloodsuckers. In the older footage, Sophie helps her undead boyfriend procure a new human body so he can transition back to mortal. In the newer scenes she works to prevent the wrong people from getting their hands on a video that could expose the society's secrets.
"Sunset Society" is filled with awkwardly improvised, desperately explanatory dialogue as the actors scramble to fill in the gaps between the different shoots. In between the interminable conversations, Dollar strings together grubby-looking images of big-haired monsters feasting on scantily clad groupies.
Devotees of Sunset Strip rock decadence may enjoy the general seediness. Horror hounds will likely feel bored, confused and more than a little ripped-off.
-------------
'Sunset Society'
Not rated
Running time: 1 hour, 30 minutes.
Playing: Starts July 6, Downtown Independent, Los Angeles
See the most-read stories in Entertainment this hour »
---