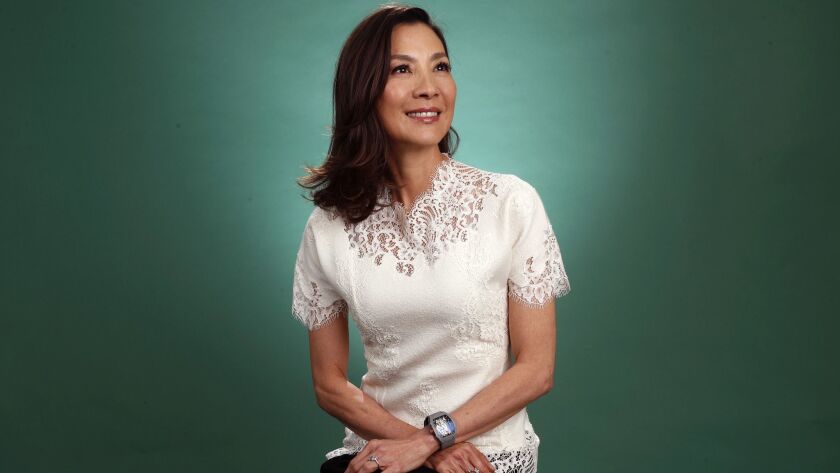 When Rachel Chu finds herself at odds with the titular "Crazy Rich Asians," it's not boyfriend Nick Young's high-rolling buddies or mean girl exes who prove her biggest adversaries, but BAFTA-nominated screen legend Michelle Yeoh's character. How did a dance-loving young girl from Ipoh, Malaysia, grow up to play the elegant and powerful Eleanor Young, mother of all in-laws?
From her early break in Hong Kong action classics like "Yes, Madam" and "Supercop" to her crossover turns in "Crouching Tiger, Hidden Dragon" and beyond, Yeoh has amassed an impressive resume of roles over three decades.
(She even broke intergalactic barriers as a Starfleet captain in the CBS All Access series "Star Trek: Discovery." "Oh, yes," she smiles, flashing Spock's trademark hand gesture. "Live long and prosper.")
In your own words: What's your Hollywood story?
I come from a really small mining city in Malaysia called Ipoh, and I believe unless you are from that part of the world you probably never heard of this place. When I was a young child I never, never imagined that one day I would be on the silver screen. I loved movies ever since I was a child because my mother was a big fan of cinema. We would watch Indian movies, Malay movies, Chinese movies, anything that came across.
I was asked to go to Hong Kong to make a commercial and my first co-star was Jackie Chan. The first movie I did was an action film, but as the story normally goes, I played the damsel in distress because that was the trend at that point. By my second one I said I would like to be able to partake in the action sequences because it looks like a big choreography — like dance.
My first venture into a big Hollywood film was "Tomorrow Never Dies." I think at that point the producers realized that Bond also had to stop being such a misogynist character... because women wanted to go and see the movies as well, wanted to be part of that excitement, and what better to have [a woman] comparable to Bond? I played a Chinese spy and I had the greatest time of my life.
Was it the turning point of my career? I think it came with "Crouching Tiger, Hidden Dragon," a story that was brought to you by Ang Lee, one of the most incredible directors that I know of. Martial arts and the world of martial arts, which is something that we grow up with all the time, in America was much less known. If it was not done so poetically, perhaps it would not have been as well received as it was.
"Crazy Rich Asians" star Michelle Yeoh remembers playing a character "comparable" to James Bond in "Tomorrow Never Dies," her first Hollywood film, and says which movie she considers the turning point in her career.
I want to bring back that old Hollywood charm.
"Crazy Rich Asians" star Henry Golding
How did you first hear about "Crazy Rich Asians," the book?
I heard about "Crazy Rich Asians" when the novel first came out. I had some very excited friends who called me and said, "You have to read this novel. It's hysterical. It's funny. It's about us Asians." I read the book and I thought, wow. [Author Kevin Kwan] had me at the prologue, really. When Eleanor Young bought the hotel it was like, Damn sassy. That's how it should be done.
This is the first movie of its kind in 25 years. What does it mean to you to be part of this moment?
I think the whole industry did not realize how important this movie would be for not just Asian Americans, but contemporary Asian talents. To have a movie that talks about them, today. I'm so glad that it's happening because I've waited a very long time, and the last one was 25 years ago with "Joy Luck Club." I think the audience is making the producers listen because this is what they want to see.
I've grown up in a community where we are not a minority… We want to be included, not just as a token, but really with flesh and blood, with heart, with passion and with the storytelling that deserves to be told.
---