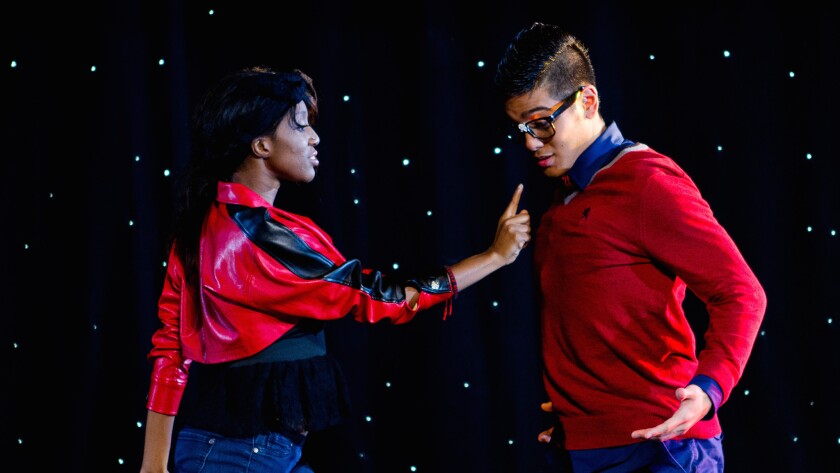 Even if the world had been clamoring for yet another "Step Up"-type hip hop dance movie, it wouldn't be "Dancin' It's On!," an inept knockoff that proves every bit as clunky as its punctuation-challenged title.
When Jennifer (Witney Carson), a Beverly Hills high school junior, meets Ken (Chehon Wespi-Tschopp), a dishwasher at her father's Panama City, Fla., beachfront hotel, sparks immediately fly both on and off the dance floor.
But disapproving Daddy (Gary Daniels) would prefer she partner up with bland Hit Parade Hotel employee Danny (Matt Marr), creating a whole lot of pouting from all concerned as the big statewide dance competition quickly approaches.
SIGN UP for the free Indie Focus movies newsletter >>
While Carson and Wespi-Tschopp (winners of "Dancing With the Stars" and "So You Think You Can Dance," respectively) are undeniably cute and clearly know their way around a dance floor, being called upon to carry their first feature is another matter.
As directed and co-written by dance veteran David Winters, who appeared in "West Side Story" and choreographed Ann-Margret and Nancy Sinatra TV specials, the low-budget production, with its soapy dialogue and cheesy video effects, should have splurged for someone to help choreograph the leads' stiffly executed dramatic exchanges.
It's almost enough to make you pine for those heady "From Justin to Kelly" days — but not quite.
------------
"Dancin' It's On."
MPAA rating: PG for some suggestive material.
Running time: 1 hour, 30 minutes.
Playing: In general release.
---