Asia megastar Daniel Wu on his supporting turn in 'Tomb Raider' and his journey back home — to Hollywood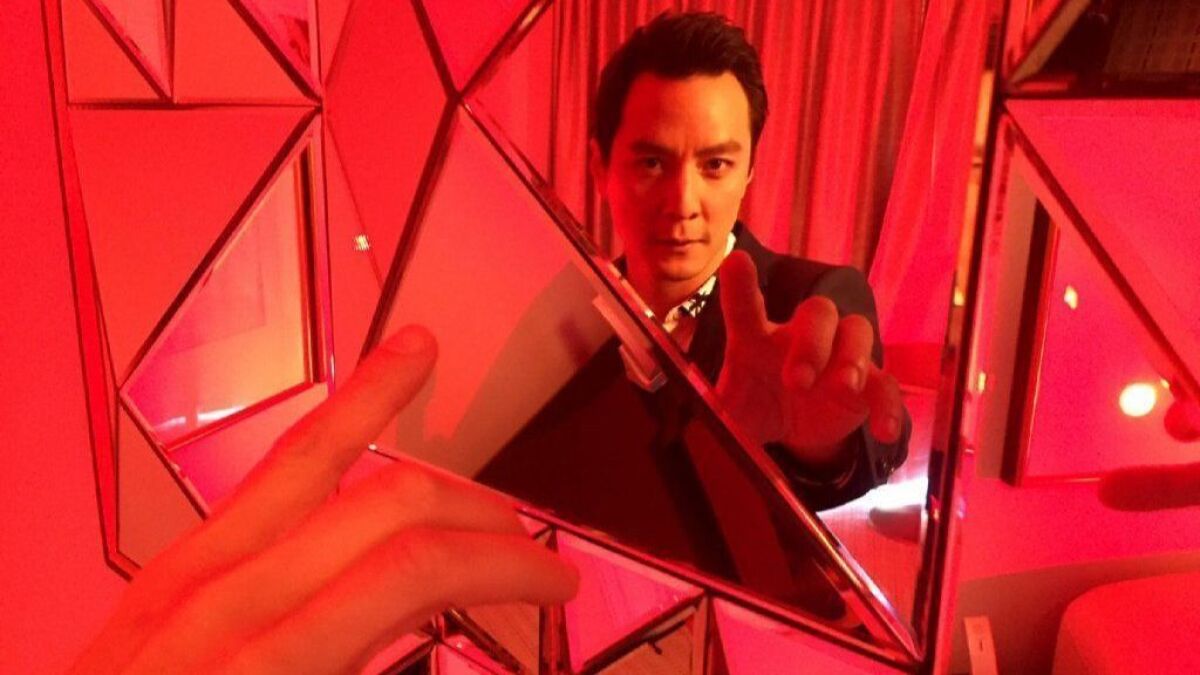 Twenty years ago, with a University of Oregon architecture degree under his belt, Bay Area kid Daniel Wu took a serendipitous trip to Hong Kong as his graduation present. He wanted to witness the handover, stay a few months, then go home and figure out what to do with his life.
But a chance scouting in a bar led to a commercial gig, then some modeling. Chinese director Yonfan saw the commercial and approached Wu with an offer he couldn't refuse — although he tried.
"He asked me to play the lead in his movie," said Wu, revisiting the moment his accidental career as one of China's biggest movie stars began. "I was like, 'What are you talking about? I've never acted before and you want me to be the lead in your movie? That's crazy!'"
Born and raised in Northern California to Shanghainese parents, and discovered in Asia, the details of Wu's unlikely origin story are well known to his massive Chinese fan base overseas, where the 43-year-old actor and producer is now a superfamous A-lister who gets swarmed by paparazzi whenever he leaves the house.
Despite having never acted before, not to mention the fact that his Cantonese wasn't great, Wu took the role in that first film, "Bishonen," playing a closeted gay cop opposite fellow future star Stephen Fung. A few weeks after finishing that film, he landed his second role. By his first year in Hong Kong, he'd made three films. In his second year, he made six.
He's now acted in 60 feature films in Hong Kong and China — including crime thrillers, action comedies and historical epics, movies like "New Police Story," "The Banquet," and "Shinjuku Incident," and roles opposite Chinese superstars Jackie Chan, Donnie Yen, and Zhang Ziyi.
Yet in his native America, where Wu appears this weekend opposite Alicia Vikander in video game adaptation "Tomb Raider," audiences are still learning his name, in spite of the fact that he's four times as Google-searched as his Swedish Oscar-winning costar.
"Not a lot of people know about the 20 years I spent in Hong Kong. To a lot of people I'm just this new actor, but I've been around for a long time," he said with a chuckle on a brief press stop in Los Angeles.
He'd had roles in the recent disaster pic "Geostorm," "Warcraft" (a motion-capture turn as a CG orc), and the little-seen sci-fi "Europa Report." But here, Wu is still best known for starring as the fierce warrior Sunny on the popular AMC series "Into the Badlands," the martial arts-steampunk hybrid now entering its third season, which he also produces.
Wu was already a huge star overseas when he and Fung linked up with show runners Alfred Gough and Miles Millar and fellow executive producers Stacey Sher and Michael Shamberg on "Badlands," which he was initially only going to produce. Well into their search for an Asian lead who could speak fluent English and perform martial arts action, producers turned to the perfect candidate already in their ranks: Wu.
"He took some convincing!" said Gough. "What I love about the show is people watch it, even executives watching dailies, and they're like, 'He's amazing!' And I say, 'Guys — he's the Brad Pitt of China.' He's a movie star. He's been doing this for years. Of course he's amazing!"
The movie star charisma honed over two decades as a leading man can't help but seep out in "Tomb Raider," in which he plays Lu Ren, a Hong Kong boat captain whose habit of drinking away his sorrows is interrupted when Vikander's scrappy Lara Croft arrives on his ship in search of her missing father.
"Lu Ren is a character that we created for this film — he is someone who has gone through similar experiences to Lara and goes on the journey with her because he too has questions that need to be answered," said director Roar Uthaug via email. "I wanted to find an actor who could stand up to the punishing physical stuff but also could warm audiences. Daniel is just so damn charismatic.
"Directors want to find actors that audiences can connect with and I believe this is just as important in an action movie," added Uthaug, whose previous film "The Wave" combined large scale action with human stakes. "I put the characters through all this stuff, and none of it really matters unless we care about them. And I think the audience will really care about Daniel."
"It was this very intimate story packaged as a big action movie," said Wu of the "Tomb Raider" script by Geneva Robertson-Dworet and Alastair Siddons. "Honestly speaking, I was thinking [my character] was going to be a flat, stereotypical, 2D character who just kind of helps [Croft] along the way, but he ended up being a really three-dimensional character."
Embarking on a dangerous mission together in search of their missing fathers, Lara and Lu Ren forge a bond while surviving treacherous seas and sinister villains. "I think his father was always in and out of his life, so when he walked out he just thought he disappeared, had finally walked out… and good riddance. But people in denial really want to know the truth, and eventually that's what motivates him to go on this dangerous journey with Lara."
As a bonus "Tomb Raider" was partly shot in South Africa, where Wu and his wife, actress and model Lisa S., own a home. Stepping onto a realistic boating village set recreating the Hong Kong he knew with startling accuracy added something unexpectedly personal to the experience.
"It made me miss Hong Kong," he smiled. "It made me want to go back and get something to eat!"
I didn't see people like me on American screens, or if I did they were bad representations ...
— Daniel Wu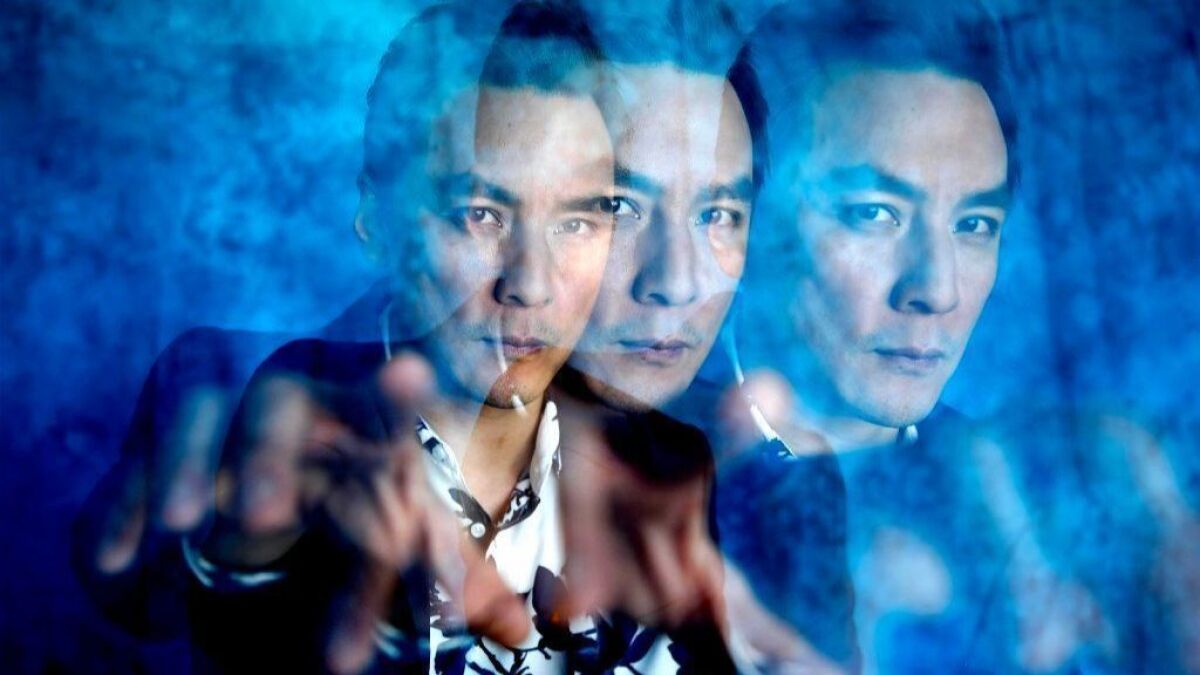 It was devouring the films of Bruce Lee, Jet Li and Jackie Chan as a child in the San Francisco East Bay, where he watched Grandmaster Tat Mau Wong host "Kung Fu Theater" on local TV every weekend, that first sparked his lifelong interest in martial arts.
"I distinctly remember when I was 7, my grandfather took me to the Great Star Theater in Chinatown. He said, 'You want to see real wushu, real kung fu?' We went to see 'Shaolin Temple' together, which was Jet Li's first movie."
Wu, like many Asian Americans and youth from communities underrepresented in Hollywood, found inspiration and cultural connection in the movies. A few years later, he began training in earnest, developing the skills and adopting the discipline that would later come to be valuable assets in his own career.
"I didn't see people like me on American screens, or if I did they were bad representations of Asians like Long Duk Dong in 'Sixteen Candles' or David Carradine in yellowface on 'Kung Fu.' When I saw Jet Li and Jackie and all these cool guys doing cool stuff onscreen, I actively searched it out."
Wu first arrived in Hong Kong an outsider who spoke Shanghai dialect Chinese at home but only rusty American-accented Cantonese. But he knew the city from the movies. He describes his first "Wong Kar-Wai moment" when, late one night, he found himself caught in a rainstorm eating dumplings inside a 7-11.
"I was eating microwaved xiaolongbao waiting for the rain to stop, and I thought, 'This is a real Hong Kong experience.' It reminded me of 'Chungking Express,' and I was like, 'I'm here now, in Hong Kong,'" he said.
Wu, who now splits his time living in Oakland with his family, expresses a firm belief that fate lead him to this point in his life and career — or, at least, a belief in the opportunities that fate presents, at which point one must make their own luck.
How else could one explain how at a chance meeting, only a few weeks after filming that first movie role, Wu was introduced by a friend to his longtime idol Jackie Chan and within days was signed to a management deal with Chan's company?
"The biggest dream I ever had as a martial artist in the Bay Area was, 'I hope one day I can be a stunt guy in a Jackie Chan movie and have him kick me down a flight of stairs,'" said Wu, grinning. "That's all I ever wanted."
Perhaps it all had to happen exactly that way, anyway. Stardom in Hollywood hardly seemed an option for any Asian American actors when he first started out.
Years ago, as his career took off in Hong Kong and then China, shifting to the mainland as the film industry there exploded, Wu returned home to take meetings, hoping to land acting roles stateside. But the doors remained closed, even to a homegrown Asian star with dramatic acting chops and a sizable international following.
"I came out to Hollywood to see if there was any interest — and there wasn't, so I just gave up," Wu said. "I went back. I would take meetings and nothing would come of it. Quite frankly speaking, nothing came of it until recently, in the last few years, when there's been such a focus on the Chinese box office."
He continued, finding the balance in that hard lesson. "It sucks that it was money that motivated that move, but at the same time it's a good opportunity for everybody. You started to see more Chinese actors appear in Hollywood movies. I could see that that was about to happen, and then it happened."
He did bigger roles in small films such as "Europa Report" and small roles in bigger films such as RZA's "Man with the Iron Fist" ("I did it just because of RZA — I was a huge fan of Wu Tang Clan.") then landed a succession of higher profile gigs including "Badlands." "It was this slow progression of people starting to know who I was and then being educated on my influence back in Asia, and realizing, 'Oh, he speaks perfect English — that's a major plus.'"
In a world where we're trying to expand what a leading man looks like ... I keep telling people, 'He's done it in Asia. You guys are late to the party.'
— "Into the Badlands" showrunner Alfred Gough
He directed a film once, 2006's "The Heavenly Kings," which caused a stir when it was revealed to be a mockumentary satire of the Hong Kong pop music industry, for which he formed a fake boy band with fellow actors. But directing requires too much dedicated time for Wu right now, at a busy new juncture in his career.
Preparing to head back to Ireland to finish filming and producing an even more ambitious season of "Into the Badlands" — and set to do a second season of Chinese reality show "Dream House," in which he brings modern architecture to rural villages across China — he pondered his future in Hollywood.
"My favorite genre of filmmaking is crime drama, which I did a lot of in Hong Kong," he said. "One thing we can't do in China is heist movies because people doing bad things can't get away with them; the censorship you have to deal with is the challenge of working in Asia. But I would love to do an 'Italian Job' type heist film… or a comedy."
"He's got the charisma, he's got the chops, and he just really is the full package," said Gough. "And in a world where we're trying to expand what a leading man looks like in movies — you look at 'Black Panther' and movies like that — I keep telling people, 'You don't understand. He's done it in Asia. You guys are late to the party.'"
Wu laughs at the irony of having had to travel all the way across the world just to have a career at home. But San Francisco-born Bruce Lee did it too, so he's in good company.
"I think the difference now is the audience is different," he mused. "The audience is more diverse now not just culturally, but the white kids growing up today are eating Asian food. When I was growing up white kids were like, 'Hey, what are you eating?' And that was only 20 years ago."
Studio executives just have to take cues from today's culture-crossing youth and start thinking that way. "Once an opportunity is presented, we run with it — but at the same time it's [the people in charge] that have to give us those opportunities."
---
Get our L.A. Goes Out newsletter, with the week's best events, to help you explore and experience our city.
You may occasionally receive promotional content from the Los Angeles Times.