Review: Frederick Wiseman delivers an ode to knowledge in 'Ex Libris: The New York Public Library'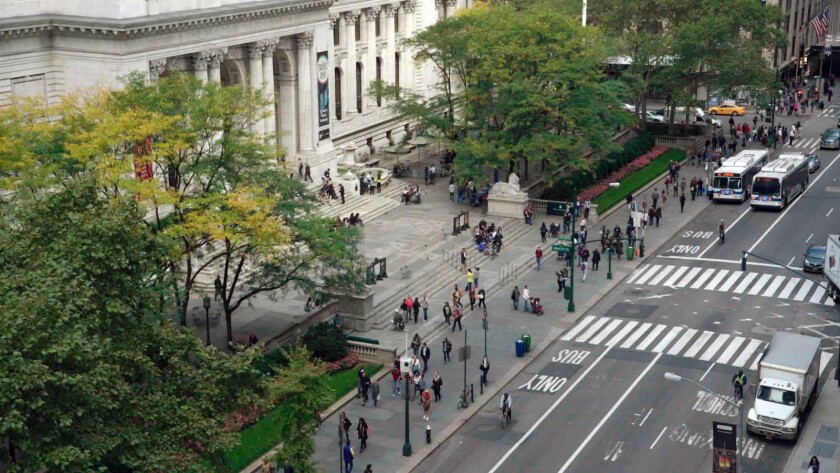 Film Critic
Frederick Wiseman's "Ex Libris: The New York Public Library" is more than a magisterial mash note to that distinguished establishment, it's a heartening examination of the vastness of human knowledge and the multiple ways we the people endeavor to access it.
With more than 40 films to his credit, Wiseman is as much of an institution as the organizations he documents in his meticulous, narration-less cinematic essays, films that often have self-explanatory titles like "Zoo," "State Legislature" and "Boxing Gym."
But because libraries are places we've all known and used at points in our lives, watching "Ex Libris" makes it easier to access Wiseman's technique, to understand why he's able to reveal so much with a formidably indirect methodology.
For, as "Ex Libris" demonstrates, treating a subject head-on is not Wiseman's way. We may recognize certain people speaking at library events, celebrities such as Patti Smith and Elvis Costello, but Wiseman scrupulously avoids identifiers.
Getting caught up on who is who is beside the point for him, and the few specifics that are conveyed (like the fact that Brooklyn and Queens have their own library systems) are revealed almost by accident.
Instead, Wiseman and longtime cinematographer John Davey have constructed what's best described as a leisurely mosaic, picking scenes that are of interest in and of themselves, letting them run at length ("Ex Libris" clocks in at 3 hours and 17 minutes, a typical Wiseman running time) and leaving it to the viewer to ponder which larger points are being made.
Davey, often overlooked, is very much the director's secret weapon, and his great eye for individuals, his ability to pick out arresting faces in the crowd, is essential in getting this film's central idea across.
For though its Latin title literally means "from the books," the paradox of "Ex Libris" is that it is not about books much at all but rather about how this great library system functions as a potent and wide-ranging machine for the dissemination of facts and information.
That's what we see a lot of, people in their infinite variety, all hungry to complete their personal quests. These folks don't need to be convinced that knowledge is power, the looks on their faces tell us they already believe.
People are peering at computer screens, looking at old newspapers on microfilm, even talking to each other in a book group discussion of Gabriel García Márquez's "Love in the Time of Cholera."
Or maybe they're listening, not just to talks by celebrity authors like atheist Richard Dawkins but to scholars who expound on everything from the relationship between slavery and Islam in the 17th century to the erotic connotations of overstuffed pastrami sandwiches.
Sometimes, in fact often, it's the unexpected moments that are the most involving, like a talk on American Sign Language that shows how to handle the same passage from the Declaration of Independence read in completely different tones.
"Ex Libris" begins at the system's mother ship, the historic Beaux Arts structure at Fifth Avenue and 42nd Street with the stone lions lazing in front of what is now officially known as the Stephen A. Schwarzman building.
Other, humbler branches are featured as well, like the Performing Arts building and the Andrew Heiskell Braille and Talking Book Library. We see the library being of use for things, like job fairs and community forums, the system's founders might not have anticipated.
The search for library funding is a big issue for "Ex Libris," and we eavesdrop on numerous meetings about how best to position the system, for instance as a resource for those who do not get Internet at home, the better to get public as well as private money.
Summing it up best is a line from a speech by Khalil Gibran Muhammad, head of the Schomburg Center for Research in Black Culture. "What we do," he says, "is mind building, soul affirming, life saving."
"Ex Libris" seconds that emotion in a major way.
------------
'Ex Libris: The New York Public Library'
No rating
Running time: 3 hours, 17 minutes
Playing: Laemmle's Royal, West Los Angeles; Playhouse 7, Pasadena
See the most-read stories in Entertainment this hour »
---
The complete guide to home viewing
Get Screen Gab for weekly recommendations, analysis, interviews and irreverent discussion of the TV and streaming movies everyone's talking about.
You may occasionally receive promotional content from the Los Angeles Times.