Review: 'Hondros' dives into the work of a combat photographer who shined a light on dark places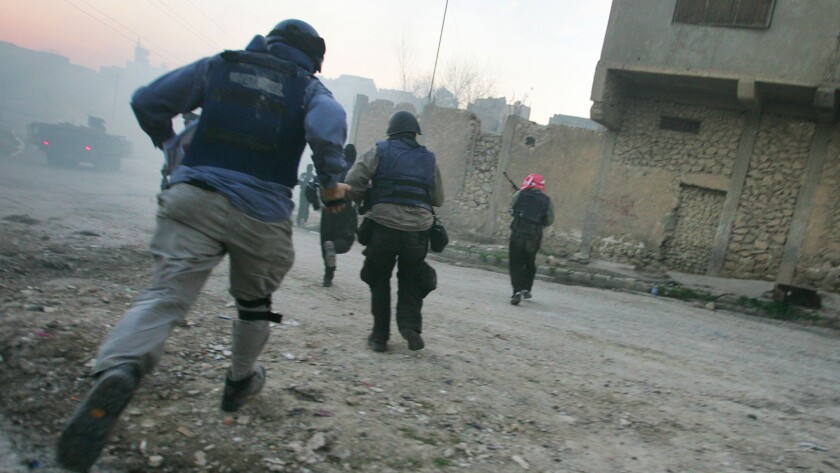 Film Critic
"Hondros" is not the first documentary about a celebrated combat photographer. It was preceded by, among others, "Which Way Is the Front Line From Here: The Life and Time of Tim Hetherington," "War Photographer" with its focus on James Nachtwey and "Robert Capa: In Love and War." But the new film has something special to offer all the same.
Like Capa and Hetherington, Chris Hondros was a superb photographer who died young in a combat situation. In fact, he and Hetherington were killed together in a mortar attack outside of Misurata, Libya, in 2011.
Asked by an unseen questioner if in fact combat photographers were the craziest of journalists, Hondros politely demurs.
"The problem with war photography is that there's absolutely no way to do it from a distance," he explains. "You have to be there, you have to figure out a way to get in the midst of things. Sometimes, you have to suspend your reason."
"Hondros" is co-written (with Jenny Golden) and directed by Greg Campbell, a childhood friend of Hondros' who made his own career as a journalist and wrote the book that inspired the African-set thriller "Blood Diamond."
Because of that private connection, "Hondros" is definitely a personal documentary, with the loss and pain Campbell is still experiencing taking center stage more often than might be ideal.
But that connection also leads to some detours that might not have happened otherwise, sequences that show what made Hondros special as a photographer and a person.
The film opens with a terrifying firefight on a bridge in Liberia in 2003, with hyped-up teenagers with automatic weapons shooting at all and sundry.
Hondros is shown not only coolly taking pictures in the midst of the chaos, but actually taking a call on his satellite phone. "Things are fine," he says, the picture of sangfroid as bullets scatter. "Can you give me a call back in half an hour?"
Out of that confusion came one of Hondros' iconic photos, a bare-chested young fighter literally jumping for joy after firing off a rocket-propelled grenade.
That picture was typical of Hondros' best work, the way he captured images others might not, the way his deeply empathetic photos cut to the emotional core of a situation.
Never cavalier about risk, Hondros was thoughtful about what it meant and worked to keep it all in perspective. "You learn to face your fears," he says matter-of-factly. "If not, you've wasted all the time spent getting there."
Hondros took those risks because he believed deeply in the mission, believed, as one of his colleagues says, in "shining a light in places that otherwise would be dark," a light that could lead to change the way the impact of his Liberia photos hastened a negotiated truce.
Because of his long friendship with Hondros, director Campbell has gotten key people on camera, including the photographer's mother Inge, who cautioned him "a picture is not worth your life," and executives at Getty Images, where he spent most of his professional career.
Campbell also tracked down fellow combat photographers, including the New York Times' Tyler Hicks, a Pulitzer Prize winner who credits Hondros for giving him his first job.
One of the things that made Hondros stand out, his friends and colleagues say, is the enduring connection and responsibility he felt to the people whose lives he snapped.
The photographer, for instance, not only encouraged Joseph Duo, the young soldier in the Liberia photo, to go back to school, he also helped pay his tuition.
"Hondros" is honest enough, however, to note that all these stories did not turn out well. The lives of the orphaned children he photographed in his widely-seen pictures from Tal Afar, Iraq, did not have happy endings despite his efforts, and neither did, sadly, Hondros himself.
------------
'Hondros'
Not rated
Running time: 1 hour, 32 minutes
Playing: Laemmle Monica, Santa Monica
See the most-read stories in Entertainment this hour »
---
The complete guide to home viewing
Get Screen Gab for weekly recommendations, analysis, interviews and irreverent discussion of the TV and streaming movies everyone's talking about.
You may occasionally receive promotional content from the Los Angeles Times.