Review: 'Just Before I Go' finds the journey home can be funny, useful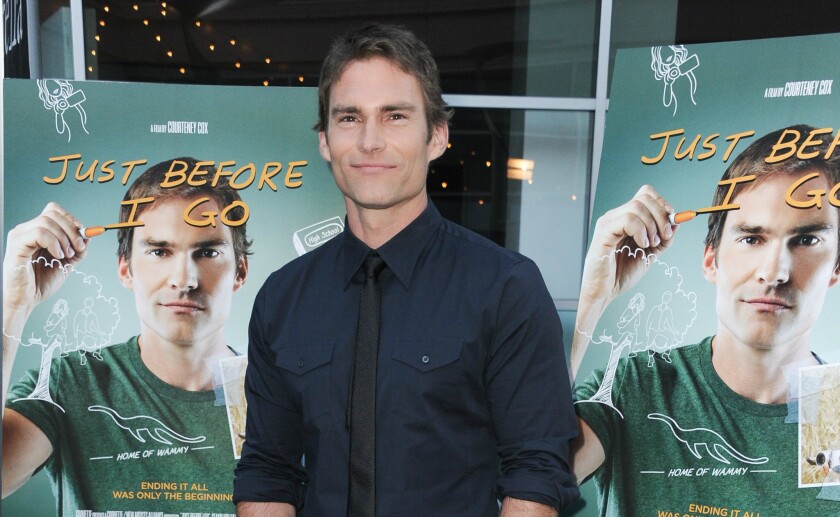 Anchored by a nicely understated performance by Seann William Scott, "Just Before I Go" effectively juggles a wealth of genuine, at times profound, emotion with quite a bit of nutty-raunchy humor. First-time feature director Courteney Cox, working off a deceptively dimensional script by Dave Flebotte, steers this tricky ship with a deft hand and a strong sense of timing, comic and otherwise.
Scott plays Ted Morgan, an L.A. pet store manager haunted by a rocky childhood and underwhelmed by a dead-end present. His dubious solution: to kill himself. First, however, he must return to his Massachusetts hometown to square things with some folks who caused him grief as a boy.
Ted moves in with his crass older brother, Lucky (Garret Dillahunt), a local cop; Lucky's restless wife (Kate Walsh); and their two sons, one of whom, closeted gay teen Zeke (Kyle Gallner), will undergo his own cathartic journey.
Other townies Ted encounters include his abusive seventh-grade teacher (Beth Grant); her attractive, lonely granddaughter (Olivia Thirlby); the erstwhile school bully (Rob Riggle); a kindly former classmate (Mackenzie Marsh), now a plus-sized mother of five with a devoted husband (David Arquette); and Ted's free-spirited mom (Connie Stevens), whose better half is a female Elvis impersonator (an uncredited Diane Ladd).
Although it's not based on the world's most unique set-up, the film plays out in a series of unexpected, deeply felt, often highly quirky scenarios. It's all capped by an ending that ties up the concerns of the story's eclectic ensemble with satisfying grace.
---------------------------
"Just Before I Go"
MPAA rating: R for sexual content, language, drug use.
Running time: 1 hour, 31 minutes.
Playing: Sundance Sunset, Los Angeles.
---
Get the Indie Focus newsletter, Mark Olsen's weekly guide to the world of cinema.
You may occasionally receive promotional content from the Los Angeles Times.