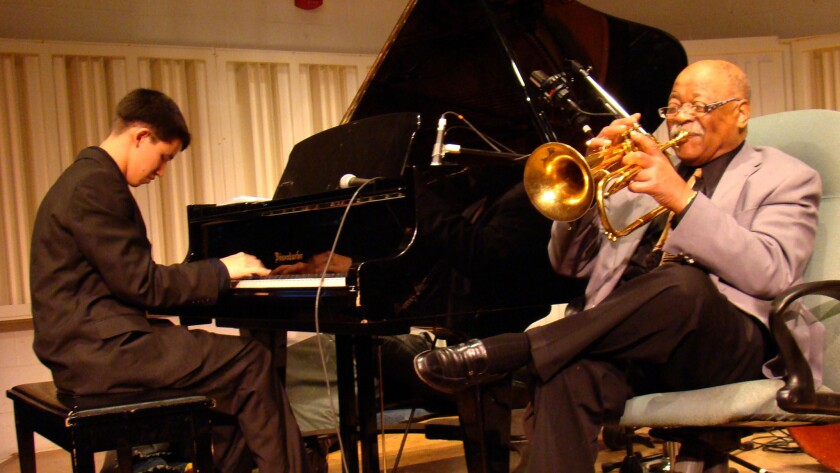 For much of his long, prolific career, jazz trumpeter Clark Terry has been a passionate and generous teacher as well as a performer, mentoring Miles Davis and Quincy Jones, among others. Alan Hicks, one of the young musicians to have enjoyed Clark's friendship and support, pays tribute to him in his first film, the intimate and affectionate "Keep On Keepin' On."
Those seeking an in-depth biography or critique of the master's hard-bop style will be disappointed. But Hick's decision to zero in on the bond between nonagenarian Terry and Justin Kauflin, a piano-playing protégé 70 years his junior, makes for a rewarding portrait nonetheless: The man, his humor and his huge spirit shine through.
The basics of Terry's life are laid out in a lively, evocative capsule of passages from his autobiography, illustrations, stills and footage. Fellow musicians sing his praises, none with more feeling than Jones, who is a producer of the documentary and was Terry's first student when he was barely into his teens.
Hicks doesn't entirely avoid heavy-handed heartstring tugs or phone-conversation moments that look like reality TV. But he's in sync with the love between Kauflin, blind since he was 11, and Terry, who has been losing his sight to diabetes. Visiting Terry and his wife, Gwen, Kauflin and his guide dog are part of the family. The two men urge each other on through soul-trying challenges: Terry's medical crises and the younger man's self-doubts as he prepares for a prestigious jazz competition.
And they make music. The bedridden Terry scats a melody, and Kauflin instantly translates it to the keyboard. Hicks' unabashed love letter is, above all, a stirring picture of communion between artists.
---------------------------

'Keep On Keepin' On'
MPAA rating: R for language
Running time: 1 hour, 26 minutes
Playing: ArcLight Hollywood; Landmark, West Los Angeles
---