Production designer Ken Adam looks back at 'Goldfinger,' other films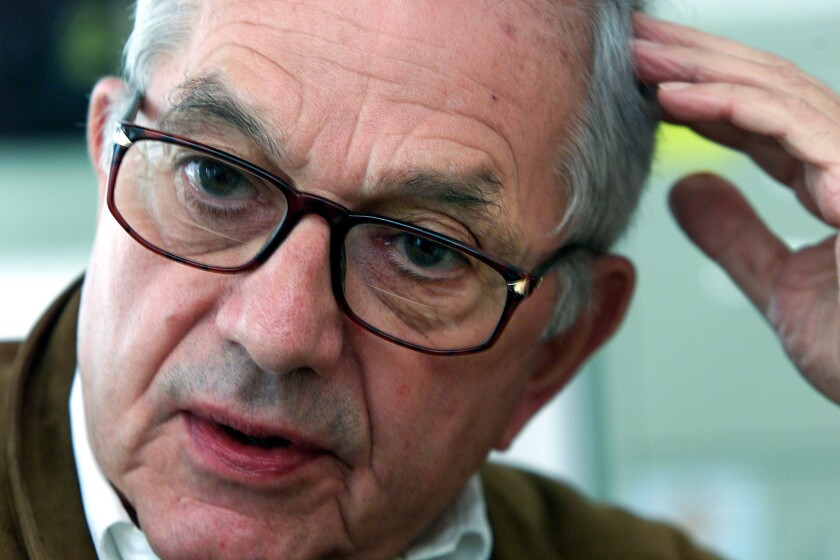 Reporting from Berlin —
Legendary production designer Ken Adam has a complex personal connection to this city. He was born here in 1921 as Klaus Hugo Adam and grew up in a prosperous Jewish family.
The family fled the Nazis in 1934 and settled in London, where Adam studied architecture and volunteered to fly for the Royal Air Force during World War II. (He was one of only three German-born pilots permitted in the RAF.) After the war, Adam started working as an art director. He was hired to assist veteran designer William Cameron Menzies ("Gone With the Wind") on the Oscar-winning 1956 film "Around the World in 80 Days" which launched his career.
The 94-year-old Adam returned here last month to introduce a beautiful digital restoration of one of his best-loved films, the 1964 James Bond classic "Goldfinger" at a packed screening at the Berlin Film Festival.
The Berlin link to "Goldfinger" and Adam takes many forms. The villain of the movie, the greedy Goldfinger, was portrayed by celebrated German actor Gert Fröbe. And two years ago, Adam donated his collection of drawings and photographs to Berlin's film museum, the Deutsche Kinemathek, which is presenting an exhibition, "Bigger Than Life: Ken Adam's Film Design," to showcase the work of the two-time Oscar winner.
In an interview in Berlin after the "Goldfinger" screening, Adam spoke about the start of his career.
"Menzies was an experienced, brilliant designer, and I was a relative newcomer," Adam recalled. "Unfortunately, he was already drinking a lot at that time. But he inspired me and told me to forget my inhibitions and let myself go."
Adam had a chance to follow that advice when he was hired to design the first Bond movie, "Dr. No," in 1962. He had worked for the Bond producer, Albert "Cubby" Broccoli, on "The Trials of Oscar Wilde," and Broccoli approached him to help bring Ian Fleming's novel to the screen. Of course, no one anticipated the movie would launch a franchise that is still going strong, and the budget for "Dr. No" was small.
"Goldfinger" gave Adam a chance to think bigger, and he indulged his taste for impudent fantasy. That movie introduced 007's Aston Martin with all kinds of hidden gadgets and weaponry. "The ejector seat was an idea that came from my days as a pilot," Adam says.
Another of the movie's choice scenes finds Sean Connery as Bond spread-eagled on a table as a laser beam slices through the table and moves relentlessly toward his crotch. ("Do you expect me to talk?" Bond pleads. "No, Mr. Bond, I expect you to die," Goldfinger famously replies.) Laser technology was in its infancy in 1964, so the beam was just a prop designed by Adam. The table was actually being sawed from underneath. "Sean was absolutely terrified," Adam said with a laugh.
The movie's most memorable set was the interior of Ft. Knox, the site of Goldfinger's daring attempt to destabilize the West. Adam traveled to Ft. Knox in Kentucky but was never allowed to get anywhere near the gold depository. "We drove around the outside, and every two minutes a loudspeaker would boom, 'You are now approaching Ft. Knox.' Then I decided to fly over it, but they had machine guns mounted on the roof, so you couldn't get too close."
The same year that "Goldfinger" captivated audiences, Adam created another memorable set, the gigantic war room in Stanley Kubrick's "Dr. Strangelove." Adam and Kubrick clicked during the making of the movie. Adam drove Kubrick to the set every day.
"He insisted that I didn't exceed 30 miles an hour," Adam said. "But if you are with a director almost every day for five months, driving an hour and a half each day, you get to know each other pretty well. He was fascinated by my flying stories, because he had learned to fly but then had a mishap, and he never flew again, not even as a passenger.
"So I had to keep him entertained with my stories until I ran out of stories, and then I had to invent some. Stanley may have been difficult, but he was a great talent, and some of my best work was working for him on 'Dr. Strangelove.'"
Kubrick also asked Adam to work on "2001: A Space Odyssey," but Kubrick already had a team of technical and scientific advisers on board, and Adam decided, "There was no room for my imagination." However, Kubrick contacted Adam again when he was preparing "Barry Lyndon," and Adam signed on, though it turned out to be a less happy collaboration than their work on "Strangelove." Kubrick's obsession with realism inhibited Adam.
"I found it madness to shoot that picture all on real location interiors," Adam says. "First of all, it cost much more. The moment you write a letter to the Marquess of X saying you want permission to use his castle, he is going to charge a lot of money. And we were shooting in Ireland, which was not the safest location at that time. It's a very beautiful film, but I almost lost my mind doing it."
Adam did win an Oscar for his production design, and he won a second two decades later for another 18th century period film, "The Madness of King George," but he much preferred working on the latter. "A lot of that was shot on location," Adam says, "but a lot was on studio sets. I was able to build the entire palace interior, which is a great advantage, because you can move from one room to another far more freely."
His happiest experiences were always those on which he could transcend reality in his designs. That is why he enjoyed films like "The Seven-Per-Cent Solution" and "Pennies From Heaven," both of which he designed for director Herbert Ross. And he ended up doing seven of the Bond movies from the 1960s and '70s, through "Moonraker" in 1979.
Asked to name his favorite of those assignments, he cites "You Only Live Twice," where he designed a spectacular villain's lair inside a volcano. He recalls, "One critic asked, 'How did you ever get inside the volcano?' I didn't get inside the volcano! I think that is the function of a film designer, to create something which the audience has never seen."
---
The complete guide to home viewing
Get Screen Gab for weekly recommendations, analysis, interviews and irreverent discussion of the TV and streaming movies everyone's talking about.
You may occasionally receive promotional content from the Los Angeles Times.