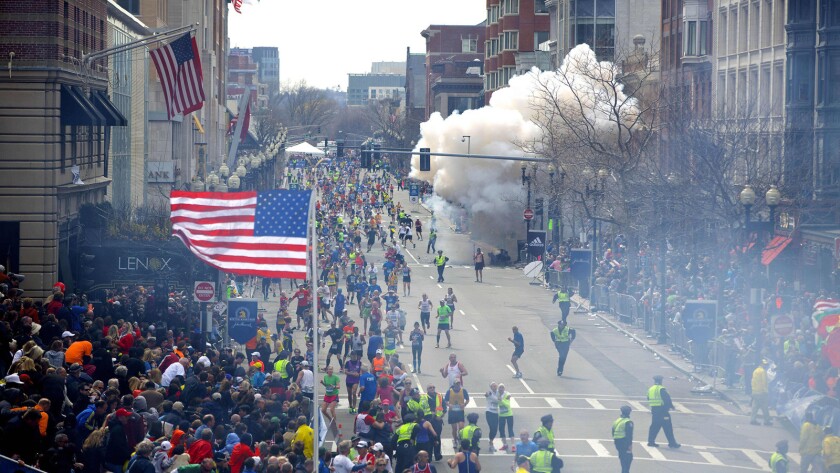 Film Critic
The blasts are not very impressive as movie explosions go. Two muffled bangs followed by two small clouds of wispy black smoke. But these are not superhero-movie special effects, this is the real world, where things are different.
As explained in "Marathon: The Patriots Day Bombing," a very human, very moving documentary by Ricki Stern and Annie Sundberg, the terror attacks at the April 15, 2013, Boston Marathon may not have looked overwhelming but they had effects that were catastrophic for everyone involved.
Three people died in the blasts and more than 260 were injured, including 17 people who lost limbs. Because the bombs were constructed to maximize personal damage, 90 people had injuries so serious they could have died on the way to the hospital. Miraculously none of them did.
Stern and Sundberg are an experienced documentary team, responsible for docs that range from the Darfur-themed "The Devil Came on Horseback" to "Joan Rivers: A Piece of Work," and they are very thorough in their approach here. Coming to the subject two years after the bombing, and at the suggestion of HBO documentary head Sheila Nevins, the directors approached the event from several points of view.
First is the capturing of the attack itself, using a range of imagery including surveillance footage, news clips and home movies, to give us an exact sense of what the marathon finish-line site looked like before, during and after the explosions.
Time is also periodically spent with those who investigated the bombing and discovered and pursued the perpetrators, Dzhokhar and Tamerlan Tsarnaev, two brothers who built and detonated the bombs.
Most involving here is the FBI description of the complexity of the work, involving more than 100 analysts looking at about 70 terabytes of media evidence and trying to determine, as one top bureau official put it, "what is an anomaly in a crowd of 70,000."
The heart of "Marathon," however, is the time spent with a handful of bombing victims, candid, articulate survivors who never shy away from telling the truth about their extraordinarily complicated injuries and the continual challenges of dealing with them.
In this, the film is helped by HBO's partnership with the Boston Globe, which won a Pulitzer Prize for its bombing coverage and was able to put its reporters on camera and guide the filmmakers to three groups of injured survivors whose stories were the most gripping and involving.
Newlyweds Jessica Kensky and Patrick Downes had run in the marathon in 2005 and were just curious to go down to the site as spectators. Each lost a leg in the bombings, with wounds so complex and painful that they eventually ended up being rare civilians to be treated for blast trauma at the Walter Reed National Military Medical Center.
J.P. and Paul Norden were brothers who also were at the marathon on a lark. They too lost legs and were sent to two different hospitals, a situation that was a nightmare to their still-traumatized mother, who says she has watched the same video of the blast about 3,000 times. Home movie footage of the brothers hugging when they were reunited after Paul came out of a weeklong medically induced coma is among "Marathon's" most affecting moments.
Celeste and Sydney Corcoran are a mother and daughter who went to the marathon to see Celeste's sister run. Celeste lost both her legs in the bombing, and Sydney had such severe injuries she likely would have bled to death had not a Marine with combat experience been on site to offer treatment and tell her repeatedly she would survive.
Incidents of ordinary bystanders stepping up and being heroic are as much of a constant in "Marathon" as stories of the exceptional resilience the survivors exhibited in the face of debilitating injury. Proving not for the first time that the worst of times can bring out the best is one of the things this strong documentary is all about.
===
No MPAA rating.
Running time: 1 hour, 52 minutes.
Playing Laemmle's Playhouse 7, Pasadena.
See the most-read stories in Entertainment this hour »
---