Richard Curtis' politics of faith, hope and 'Love, Actually'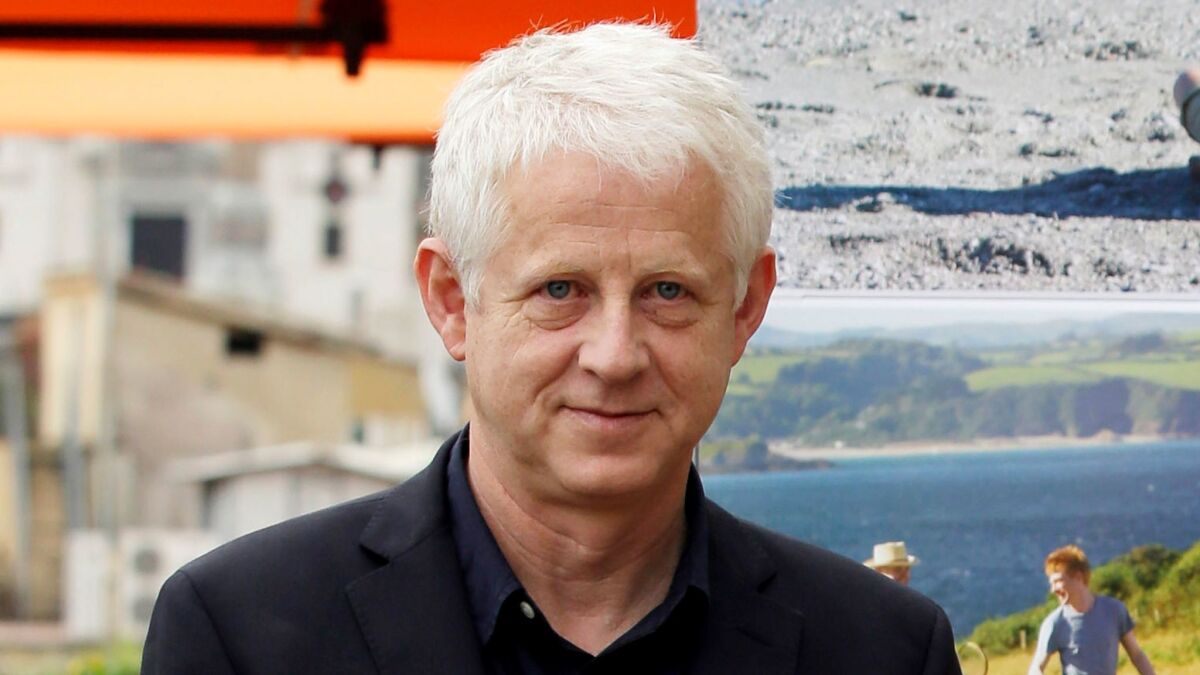 Reporting from LONDON —
In the most politically-tinged awards season in memory, many winners and performers have used their platforms to speak out about social and political issues — diversity, the travel ban, insulting perceptions of women and a sense we're living on a harsher, less-tolerant planet. There have been calls for action, for change, there has been fundraising and high-profile benefits.
All of which is quite familiar to British screenwriter-director Richard Curtis, who has been doing many of the same things for more than 30 years, albeit largely under the radar.
That's certainly why the cofounder of the international charity Comic Relief and its annual public event and telethon Red Nose Day is receiving the Valentine Davies Award for humanitarian efforts and service at the Writers Guild of America West's annual awards on Sunday.
But it may also be why "Love Actually" is suddenly all over the place.
Curtis, who is currently adapting the live-action version of Disney's "The Little Mermaid," is best known for rom-com hits that include "Four Weddings and a Funeral" and "Notting Hill." His third feature, the star-studded ensemble "Love Actually," was dismissed by many as too saccharine (before it became, to everyone's surprise, an increasing vital part of the American Christmas canon).
Yet it's "Love Actually" that has been used to evoke the spirit of current events. The film's opening scene, of real people from all over the world greeting loved ones at Heathrow Airport (with a voiceover that references 9/11), was often cited in days following the repeal of the President Trump's travel ban. A few weeks before, "Saturday Night Live" spoofed another scene as part of the show's wildly successful political "coverage." Just as Andrew Lincoln wordlessly professed his love for Keira Knightley using a set of large cue cards, so did Kate McKinnon's Hilary Clinton silently plead with a random voter.
"It's odd when you shot something one night, 14 years ago, to find it still being referred to," Curtis says of the bit. "Particularly when I stole the idea from Bob Dylan in the first place!" (Dylan used cue cards in the 1965 video for his song "Subterranean Homesick Blues.") "But I've enjoyed the parodies. I might do something myself about that scene very soon."
Curtis won't offer more details, but he's certainly referring to the next semipolitical resurrection of "Love, Actually." On this year's Red Nose Day (March 24), the BBC will broadcast a short (probably about 10 minutes) reunion of "Love Actually" actors — including Lincoln and Knightley, Hugh Grant, Colin Firth and Bill Nighy — updating their characters.
Politics, then, like love, can come in many and often surprising forms. Writing, or as Curtis refers to it, "the fun and games," is only half of his professional life.
Along with the "I'm just a girl standing in front of a boy" speech from "Notting Hill," Curtis has also given the world the 31-year old Comic Relief and its slightly younger annual Red Nose Day event and telethon. More than 30 million people (half of Britain's population) tuned into its 1988 debut, during which the band of comedians and performers cajoled viewers to give more than $18 million to projects and causes in the developing world.
Since then, Red Nose Day has raised more than $1.21 billion, and its American equivalent, about $57 million. "It's all been rather satisfying already," Curtis says in characteristic understatement. "And of course in the U.S., RND is still building."
His interest in combating global inequality began when he was student. "I used to sit around at university with lots of people complaining about poverty and the government — while they bought themselves five rounds of beer. And I'd think: 'Take the cash, give it to somebody whose life you want to change, get out of the pub and do some political work.' So I became interested in trying to make a difference to people's lives in a way that I could. That's what happened with RND.
"I do what I do because Bob Geldof did the Live Aid concerts," he adds. "If he had not done that, I would not be doing what I'm doing."
In a conference room at Comic Relief, overlooking the River Thames and Big Ben, Curtis discussed the the two facets of his career and the few times they came together. In his TV films "The Girl in the Café" and "Mary and Martha," which were both financed by the BBC and HBO, he used personal stories to address global issues. "The Girl in the Café" (the film of which he is most proud) was set at the 2005 G8 conference in Iceland and hinges on the subject of global poverty; "Mary and Martha" follows two mothers who lose sons to malaria in Africa and visit the continent together to help combat the disease.
"They helped," Curtis says. "I think 3 [million] or 4 million watched both those films on the BBC — and they were sold to other countries. You have to believe it's a good thing that 4 million or 10 million people watched them."
Curtis is a naturally optimistic man, even when politicians in many countries seem indifferent to areas of the world with the most severe problems, even now when both Britain and the United States appear to be entering a more isolationist period.
"I remain really optimistic about people's compassion and empathy," he says. "This last week we've sold more Red Noses than ever before. I look around and see a huge number of people still working and fighting for other people's right to a good, safe life."
calendar@latimes.com
Get our L.A. Goes Out newsletter, with the week's best events, to help you explore and experience our city.
You may occasionally receive promotional content from the Los Angeles Times.