With NYFF premiere of 'Everything Is Copy,' Nora Ephron returns to the screen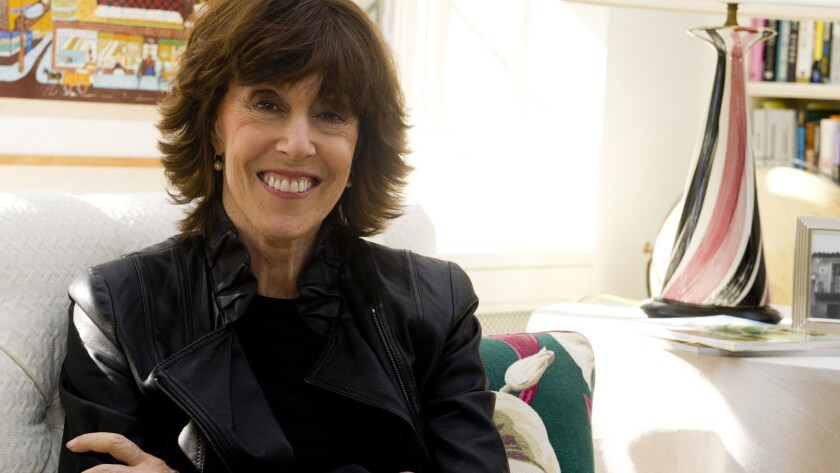 Nora Ephron was a unique wit who helped define New Journalism and redefine film comedy, bursting through a glass ceiling to do it. She could also be scabrous and unforgiving, merciless even to close friends.
Both sides of her personality are refreshingly on display in "Everything Is Copy," a new documentary about the late hyphenate by her son, the journalist Jacob Bernstein, that premiered at the New York Film Festival on Tuesday night. An honest and heartfelt maternal exploration, the film doesn't sugarcoat Ephron, an approach that one imagines would sit well with its subject.
"This is a movie about how comedy exists at the intersection of bravery and ruthlessness," Bernstein said at Q&A following the screening. "I just wanted to dance in the middle of that."
SIGN UP for the free Indie Focus movies newsletter >>
The movie does just that, chronicling a trailblazer from her beginnings as one of four sisters raised by troubled screenwriter parents, largely in Beverly Hills. It's a look at a highly specific and entertaining personality that subtly suggests a larger truth: how will and talent can be enough, finally, to break down old limitations and stereotypes, even as it creates some fallout along the way.
From her arrival on the New York reporting scene in the 1960s, Ephron was a breath of fresh air — and an occasional douse of cold water. She was not afraid to fight dirty as long as she was fighting funny, skewering former employers and Betty Friedan with equal glee. "It was part of her Dorothy Parker thing," says friend and film executive Amy Pascal, "to cut people to the quick."
After stints at the likes of the New York Post and Esquire, Ephron soon became known for her personal and humorous nonfiction books, including 1970s-era tomes "Wallflower at the Orgy" and "Scribble Scribble: Notes on the Media." Bernstein intersperses the interviews about Ephron with excerpts from her work, read by the likes of Reese Witherspoon and Lena Dunham. Ephron's sly wit is prominently on display: "In my sex fantasy, no one ever loves me for my mind," is one of a number of memorable lines.
Ephron can be seen speaking in the film, but sporadically, via riff-y interviews and some apparent home clips. This is in the main a portrait painted by her friends — and, occasionally, frenemies. (Babara Walters doesn't always seem so enamored.) Ephron had an ability to magnetically draw others to her, and the range of personalities here is daunting, boosted by the writer's movement between Hollywood and New York literary circles; Gay Talese is as likely to pop up as Meg Ryan.
Journalism figures such as David Remnick and Marie Brenner also turn up to offer insight, as does Mike Nichols, in one of his final appearances before his death last year. (Already ill during filming, he had to be convinced by Bernstein to appear on camera, the director said.)
Equally striking is how some of these people eagerly sought recognition from Ephron, which she doled out with coffee spoons. Viewers will take note when one Hollywood veteran says, "I always wanted her to like me. I wanted her approval." That veteran is Steven Spielberg.
Filmgoers came to know Ephron with early screenwriting efforts "Silkwood" and "Heartburn," particularly the latter personal work. Based on her 1983 memoir, the Mike Nichols film, starring Jack Nicholson and Meryl Streep, was a barely disguised look at Ephron's failed marriage to Carl Bernstein, the Watergate journalist with whom she had two sons, including Jacob, in 1979, and younger brother Max several years later.
But Jacob Bernstein flips the script when he portrays the Carl Bernstein-Nora Ephron dynamic as hardly as simple as perpetrator-victim. The Watergate reporter, though a noted womanizer and the man whose infidelity led to ther divorce (while she was pregnant), received his comeuppance when, post-"Heartburn," he became the subject of whispered jibes. "In writing it funny, she won. And betrayed women everywhere knew it," said Nichols, in one of several trenchant moments from him.
Bernstein evaluates his parents' divorce with notable clarity — "two people who took up way too much space to ever be right for each other," he says in voice-over. But in an approach diametrical to that of his mother, Bernstein largely keeps his feelings out of the film. Instead, he can mainly be seen quizzing friends and relatives (all the Ephron sisters appear, especially Delia) so he can learn more about his mother, with whom he was already close. It's a welcome decision in a family-documentary climate of first-person narcissism. Still, Bernstein's own feelings what it was like to be raised by a woman both so revered and so complicated might have added depth.
The film is characterized by other absences. Neither Max Bernstein nor Ephron's longtime husband, author Nick Pileggi, sat for an interview. Ephron's third spouse, Pileggi had a kind of mellowing influence on her in their in two decades of marriage before her death in 2012, at 71, of complications from leukemia. Jacob Bernstein said at the screening that the topic remained too emotional for either his brother or stepfather to go public.
It's an ironic turn. The title of the movie refers to Ephron's philosophy, espoused to her by her mother, that "everything is copy" — that is, the best way to deal with the struggles of the day is to turn them into an essay or script, prose as psychotherapy. Ephron practiced this regularly, in some cases even cleverly appropriating her own appropriated thoughts. (A piece of an essay about her romantic fantasy, for instance, later popped up, in comedic dialogue form, in her landmark screenwriting hit "When Harry Met Sally.")
"Copy" also deals with Ephron's film career — she successfully made the transition from writer to director early on with "Sleepless in Seattle" after that blockbuster script for "When Harry Met Sally." But then she had a rockier time with flops like "Mixed Nuts" and "Lucky Numbers" and was dissed by some critics for going soft in movies such as "You've Got Mail." Her final directing gig was 2009's "Julie & Julia," a hit which allowed her to include passions like food while also offering a coded love letter of sorts to Pileggi, via its depiction of the relationship between Julia Child and Paul Cushing Child.
Her final produced credit was as writer of the 2013 Broadway play "Lucky Guy," about the rabble-rousing New York columnist Mike McAlary, who died at the age of 41 in 1998.In interviews from the likes of star Tom Hanks, Bernstein depicts McAlary as Ephron's chosen subject because she held a certain measure of identification for McAlary, both in his unlikely rise and untimely death.
The film offers a clear-eyed look of its subject, capturing Ephron's feisty comic spirit without succumbing to hagiography, and while showing the slippery truths of the life of a public artist. "Every time [I'd] get into a different period of her life, the question with her work was 'what's going on privately,'" Bernstein said at the Q&A.
"Copy" does spend a little too much time on the secrecy surrounding Ephron's illness (she neglected to tell even confidantes until she was practically on her deathbed), delving into at the top of the film and the looping back to it at some length near the end. But Bernstein manages to find insight in her reticence. Ephron, after all, would mine her personal life in her writing as a way of taking control, friends like the journalist Richard Cohen and longtime book editor Robert Gottlieb note. With her illness, she finally had an event she knew she couldn't control.
"Everything Is Copy" will air on HBO early next year, a fitting coda to the career of Ephron, who was working on an HBO series at the time of her passing. When it airs, viewers may find in it someone they didn't know as well as they'd like, or a potent reminder of a personality worth remembering. "If you're looking in this for a son to find a big secret, I don't think it's there," Bernstein said after the screening. "My mother is what you see, what you get."
Twitter: @ZeitchikLAT
---
Get the Indie Focus newsletter, Mark Olsen's weekly guide to the world of cinema.
You may occasionally receive promotional content from the Los Angeles Times.