16 Images
The men of Jennifer Aniston and Angelina Jolie
Jennifer Aniston, Tate Donovan, Gerard Butler, Angelina Jolie
By Elizabeth Snead
It's been four years since Jennifer Aniston's divorce from
Brad Pitt
. And it's six kids later for Brad and Angelina Jolie's expanding brood. But the battle is still being fought over who did what with whom and when. "Husband-stealer!" some Aniston fans cry. "Withholding children!" say Angie supporters.
Team Aniston and Team Jolie were at it again this month after Aniston called Jolie's recent comments about falling in love with Brad on the set of "Mr. and Mrs. Smith" totally "uncool."
No matter whose side you're on, here's an interesting look back at Jen's men and Angie's um, acquisitions. Turns out that falling in love with hunky co-stars is just part of the job perks in Hollywood
So which woman has the best taste in leading men? You decide!
(WireImage)
Jennifer Aniston, Charlie Schlatter
'80s flashback
One of
Jennifer Aniston
's early dates was "Bright Lights, Big City" actor Charlie Schlatter, most famous for being on the TV version of "Ferris Bueller." Don't they look cute at the
NBC
All-Stars party in 1990? Check out Jen's huge late-'80s hair!
(WireImage)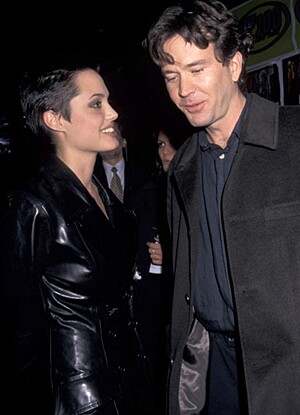 Angelina Jolie, Timothy Hutton
Gimme an H!
Timothy Hutton
and
Angelina Jolie
reportedly hooked up during the filming of "Playing God" in 1997. She had an H tattooed on her wrist, but he still broke her heart. She claims that H was for her brother James Haven. So, why not a J?
(WireImage)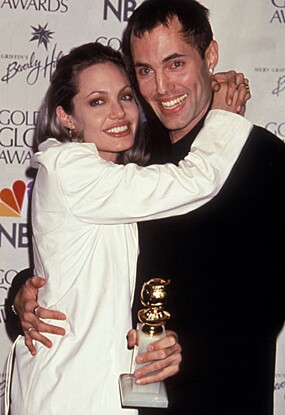 Angelina Jolie, James Haven
Brotherly love
When
Angelina Jolie
picked up her Oscar in 2000, cameras caught her performing a major lip-lock with her brother, James Haven. Then, in her big O acceptance gush, she revealed, "I'm so in love with my brother right now." OK, euuwww.
(WireImage)
Colin Farrell, Angelina Jolie
Position open
Co-stars
Colin Farrell
and
Angelina Jolie
were rumored to have been an item during the filming of "Alexander." Word is she let Colin try out as a father figure to Maddox. But his still-wild lifestyle disqualified him from the job that eventually went to a more reliable
Brad Pitt
.
(WireImage)
Brad Pitt , Jennifer Aniston
Golden couple
Brad Pitt
and
Jennifer Aniston
were hooked up by their agents in spring 1998. Hollywood's Golden Couple were married in Malibu in 2000 and divorced in 2005. Reports were that they began drifting apart when he met
Angelina Jolie
on the "Smith" set. No one knows for sure who knew what when and who did what with whom when. Whew. But at this point, does it really matter?
(WireImage)
Mr. & Mrs. Smith, Brad Pitt, Angelina Jolie
Red carpet moment
After rumors of their on-set affair and trouble in
Brad Pitt
's marriage,
Angelina Jolie
and Brad kept their distance from each other at the L.A. premiere of "Mrs. and Mrs. Smith." But you can tell from this, the only shot of them
a deux
, that there were major sparks between them.
(WireImage)
Jake Gyllenhaal, Jennifer Aniston
'Good Girl' or bad girl?
Jake Gyllenhaal
and
Jennifer Aniston
costarred in the quirky Mike White 2002 independent film "The Good Girl." Jake played a discount store stock boy who has an affair with Jennifer's married store clerk character. Looking at this recent awards show kiss, ya gotta wonder, did art imitate life?
(WireImage)
Gerard Butler, Angelina Jolie
Real-life romance?
Did sexy Scottish actor
Gerard Butler
, who played
Angelina Jolie
's love interest in "Lara Croft: Tomb Raider" in 2003, play the role in real life as well? Oh, what do you think? Can you blame her?
(WireImage)
Jennifer Aniston, Clive Owen
Rebound Romance
Jennifer Aniston
and British actor Clive Owen starred in the sexy thriller "Derailed" in 2005. The movie was not a big hit. But was it too soon for an on-set rebound romance? You know what they say, "What's good for the goose is even better for the gander."
(WireImage)
Angelina Jolie, Jon Voight
Daddy dearest
And here's where all that men trouble originates.
Angelina Jolie
beams with her then-proud but now-still-estranged father,
Jon Voight
, who left her mother, Marcheline, to raise Angie and her brother on her own. Can you say abandonment/trust issues?
(WireImage)
Jennifer Aniston, Vince Vaughn
'Breaking Up' is hard to do
Jennifer Aniston
and
Vince Vaughn
hooked up on the set of their romantic comedy, aptly titled "The Break-Up." Through rumors of engagement, pregnancy, marriage and, yes, breakups, they were an on-again, off-again couple for a year or more until it just, well, fizzled out.
(WireImage)
Billy Bob Thornton, Angelina Jolie
Mismatched
Billy Bob Thornton
and
Angelina Jolie
met on the set of "Pushing Tin," back when he was engaged to
Laura Dern
. Didn't take long before these two wild ones were married, wearing each other's blood, sucking face on red carpets, she with his name inked on her arm. They divorced after two years and one adopted child. Rumor was that she wanted to save the world. He didn't. Usual story, huh?
(WireImage)
John Mayer, Jennifer Aniston
Cougar alert
Like Brad and Jen,
John Mayer
and Jennifer were also reportedly introduced by their agents. After a hot summer romance and her brief stint as the nearly nine-years-younger singer's groupie, they publicly split, with Mayer explaining he was just being "honest." Now they're back on full throttle, conveniently in time for the premiere of her new film, "Marley & Me," which just happens to open the same day as
Brad Pitt
's Oscar shot, "The Curious Case of Benjamin Button."
Hmmmm.
(WireImage)
Angelina Jolie, Jonny Lee Miller
Love story
Angelina Jolie and Jonny Lee Miller
fell in love on the sci-fi flick "Hackers" and married in 1996 with a small, black-tie wedding. "We met while filming 'Hackers' and I always fall in love while I'm working on a film," Angie has told press. It's such an intense thing." Gosh, wonder why this union didn't last?
(WireImage)
Jennifer Aniston, John Aniston
Father figure
Again, here's where it all began.
Jennifer Aniston
with her father, "Days of Our Lives" soap star John Aniston, who had an acrimonious divorce from her mother when Jen was only 9 years old. He reportedly
met John Mayer
this month at the Polo Lounge, along with Jen's stepmom, Sherry Rooney. And yes, it went well. Fingers crossed for Jen!
(WireImage)