At Empress Pavilion in Chinatown, it's not 1991, but not bad either
Clockwise, from top left: Seaweed salad, honey barbecue pork crispy pie, sauteed shrimp with honey walnut and sesame balls filled with red bean.
(Katie Falkenberg / Los Angeles Times)
Sticky rice with chicken and sausage, wrapped in a lotus leaf at Empress Pavilion in Chinatown.
(Katie Falkenberg / Los Angeles Times)
Patrons dine at the Empress Pavilion in Chinatown.
(Katie Falkenberg / Los Angeles Times)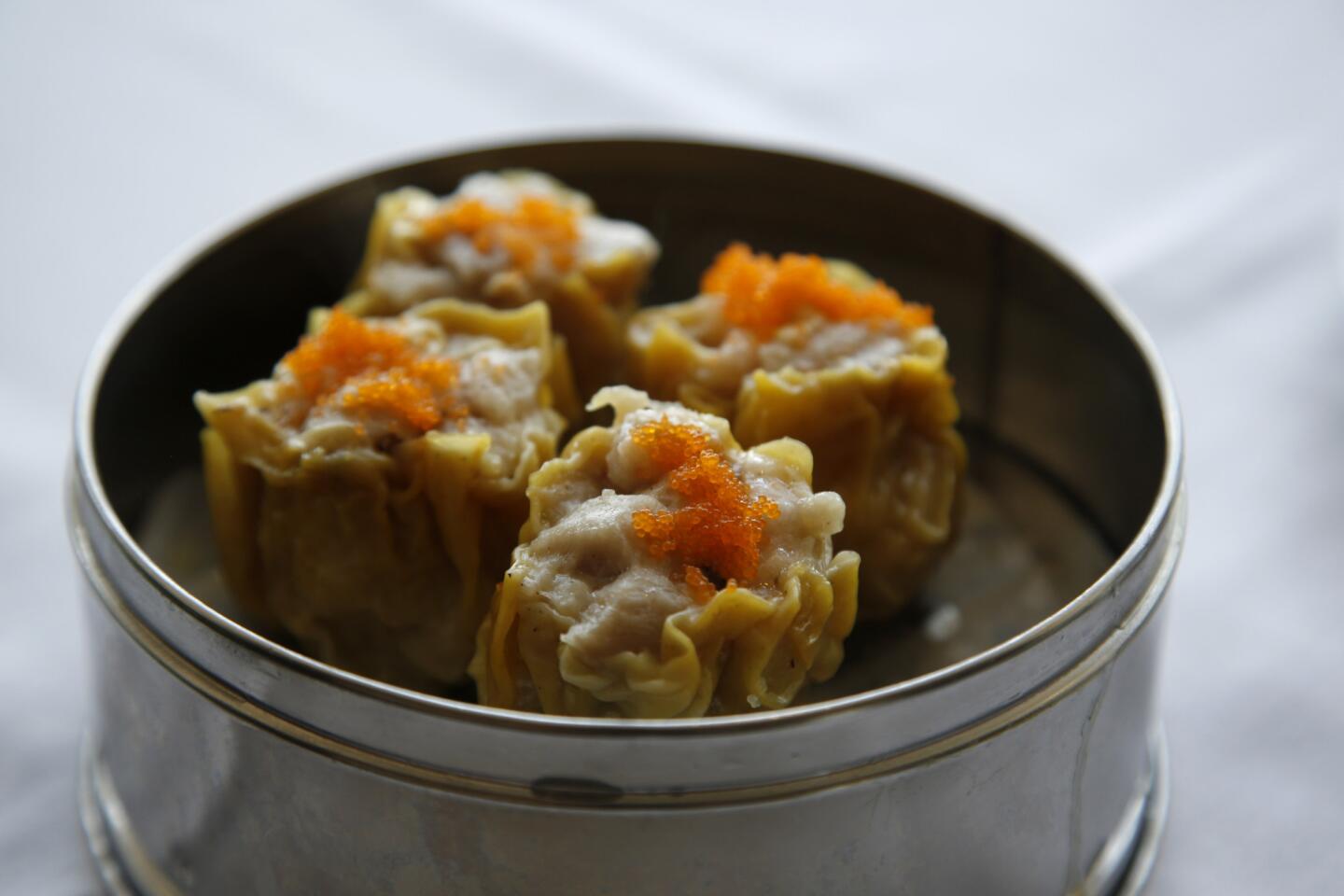 Empress Pavilion's pork and shrimp shiu mei.
(Katie Falkenberg / Los Angeles Times)
Crystal shrimp dumplings.
(Katie Falkenberg / Los Angeles Times)
Honey barbecue pork.
(Katie Falkenberg / Los Angeles Times)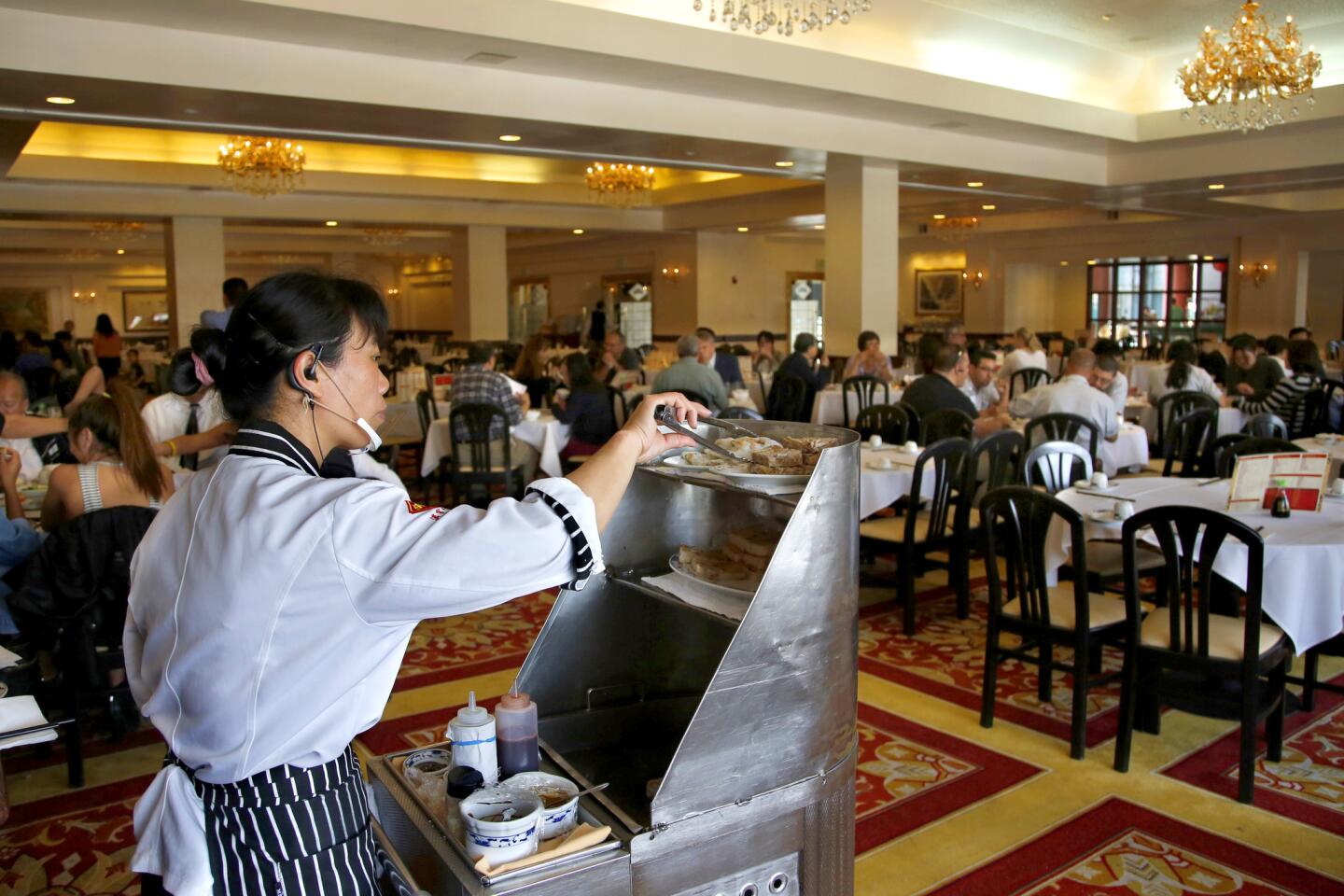 A server prepares offerings for diners.
(Katie Falkenberg / Los Angeles Times)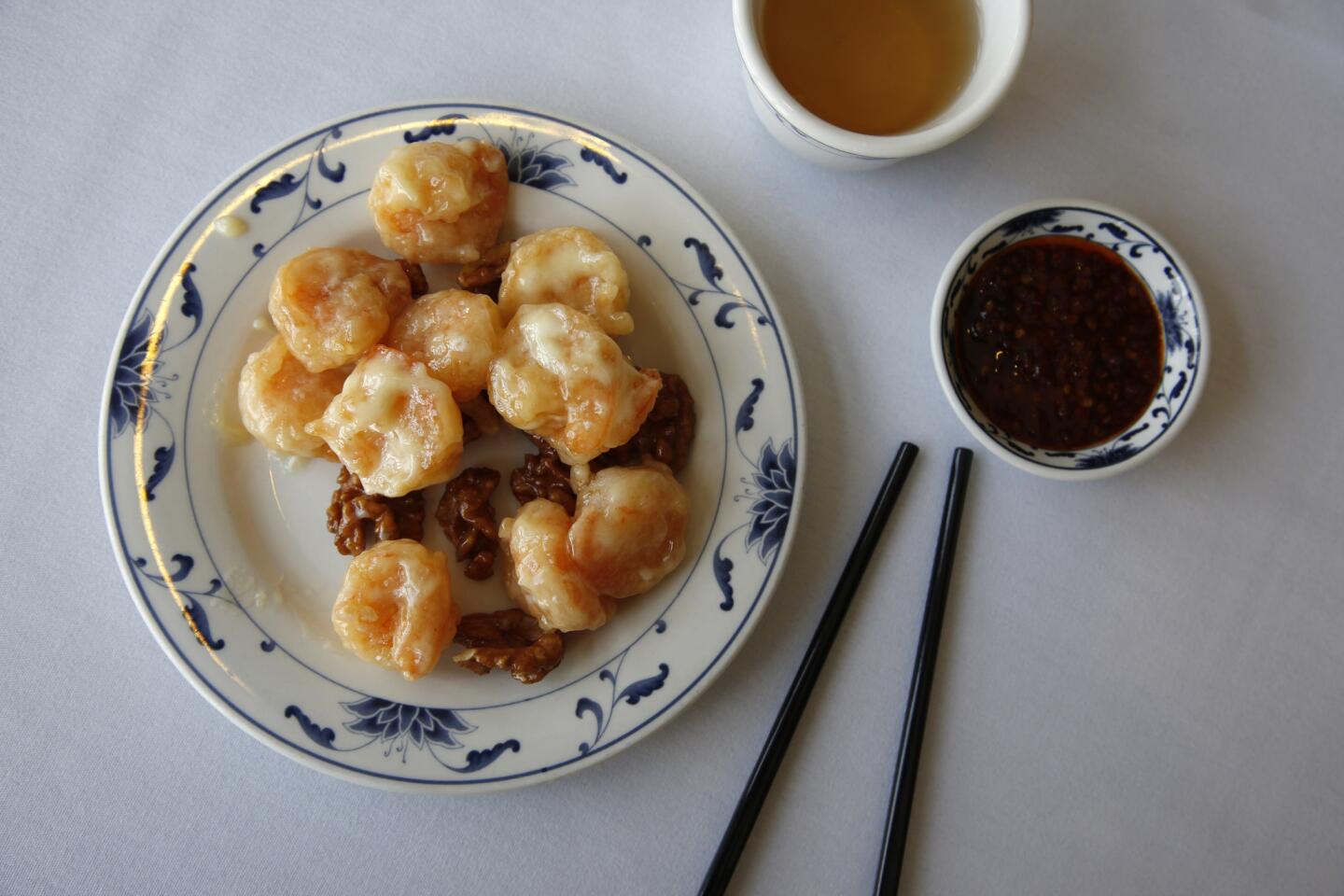 Sauteed shrimp with honey walnut.
(Katie Falkenberg / Los Angeles Times)
Shrimp and cilantro dumplings.
(Katie Falkenberg / Los Angeles Times)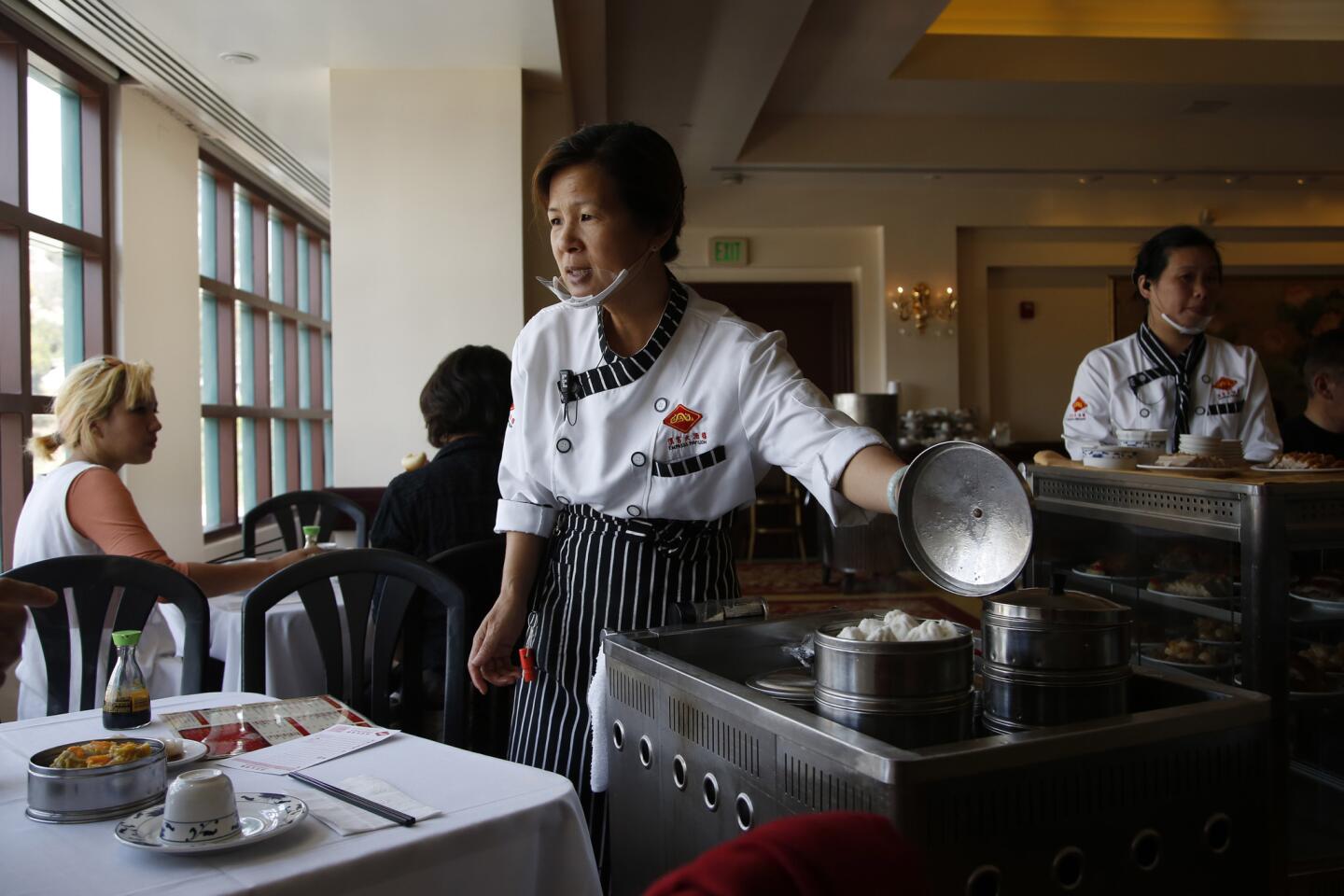 A server presents steamed buns to a diner at Empress Pavilion.
(Katie Falkenberg / Los Angeles Times)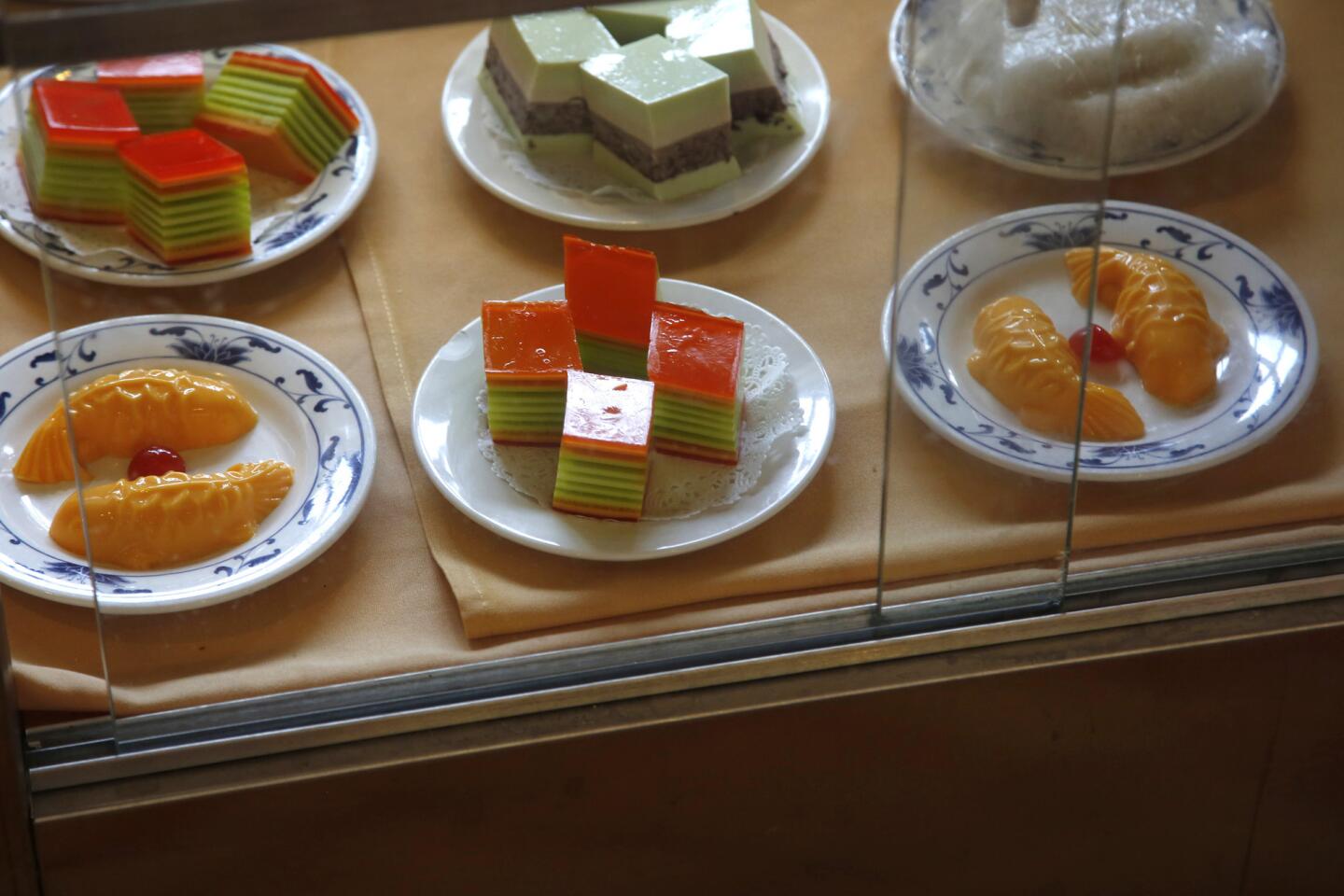 The dessert cart at Empress Pavilion.
(Katie Falkenberg / Los Angeles Times)
Coconut with red bean jello dessert.
(Katie Falkenberg / Los Angeles Times)
Mango pudding molded into the shape of fish.
(Katie Falkenberg / Los Angeles Times)
Los Angeles Times Restaurant Critic
Empress Pavilion is the biggest restaurant in Chinatown, a glittery, hangar-size seafood palace built at the height of the late 1980s boom. In its early years, you would typically wait an hour or more for a table on dim sum Sunday mornings, and in the evenings, the vast hall would be subdivided for wedding banquets and business dinners that featured the best class of bird's nest soup and such oddities as Dragon and Phoenix platters that occasionally included real snake.
Even as the focus of the Chinese community moved 10 miles east, and the food malls that lined Broadway were eclipsed by the shinier complexes in the new Chinatowns of San Gabriel and Monterey Park, Empress' live scallop dishes and sun-dried abalone held their own against the other Hong Kong-style competitors Harbour Village and Ocean Star. The answer to the question, "Do I have to drive to the San Gabriel Valley?" was: "Not necessarily."
Of course, some people always claimed Empress Pavilion was going downhill — demography is destiny. They claimed it during the years when the Dungeness crab baked with garlic and noodles was the best dish in Chinatown, the pan-mashed bean curd with shrimp was among the most delicious things I had ever eaten, and the griddle-fried taro cakes at dim sum could be mistaken for crisp-edged clouds.
But then the restaurant kind of did go downhill. The mall lost its splendid 99 Ranch market, other tenants moved away, and when the escalator stopped working a few years ago, nobody bothered to repair it. When Empress closed a couple of years ago, it seemed inevitable. I barely noticed myself — I had moved my own dim sum custom out to King Hua, Capital and Sea Harbour almost a decade earlier.
So was I surprised when Empress Pavilion reopened last fall? Not especially. Chinatown is going through a revival right now, mostly led by non-Chinese restaurateurs like Roy Choi and Andy Ricker drawn to the grand old spaces, but with potential for Chinese businesses too. The area does border the rapidly revivifying areas of downtown. And if you want to expand your banquet business — the new owners also control Ocean Seafood down the street — it's easier to move into an already existing 600-seat restaurant than to build one from scratch.
When you nose up the long, long ramp to the parking lot, it does feel like 1991 again, down to the secret Zen garden, the filtered open-atrium light, and the glass elevator ride down to the restaurant. The escalator up from Hill Street hums again, and the stone foo dogs flanking the restaurant's doors wear bright ribbons around their necks. When you walk into the foyer, a well-dressed hostess leads you into the dining room.
And then you realize: It is not 1991. Rows of empty tables yawn into the distance. There are more chandeliers in the dining room than people. You know that the Kenny G blasting from the ceiling will haunt your dreams. You feel like the last man on Earth. You are handed a menu … from Ocean Seafood.
"What kind of steamed fish do you have today?"
"No fish."
"Roast squab?"
"No squab."
"Steamed chicken with ham?"
"No chicken. Maybe we can do a crispy skin fried chicken? Let me check with the kitchen."
"Oyster-roast pork clay pot?"
"No. I think not."
The Chinese friend in your party, already kind of sore that you have dragged her here instead of Szechuan Impression, begins to scowl. The odds are not ever in your favor.
But then the food starts to come out on its long, perilous journey from the kitchen, and it seems to be pretty good. The squid with spicy salt is crisp-crusted and tender, and the pea shoots flash-fried with garlic are fresh and vividly green. The kitchen comes up with the clay pot dish after all, fat oysters and melting chunks of pork belly bubbling in a superheated vessel. The fried chicken (they managed that too) is crackly skinned and juicy, slightly pink at the bone, served with a little saucer of peppered salt and a garland of pastel-colored shrimp chips.
The waitress upsells you on the crab sautéed with ginger and scallions — the only one they have in the kitchen is giant, and costs $35 a pound — but it is plump and full of roe, plenty of food for six. The dessert is a bouncy disk of mango pudding in a plastic cup. You would have eaten better in Monterey Park, probably, but you're looking out the picture windows at Dodger Stadium, Elysian Park, and the towers of Bunker Hill.
At dim sum, the room is significantly more crowded, maybe a third full, and the carts descend like schooling fish the moment you find your seat — soft steamed rice noodles, cheong fun, rolled around barbecued pork or at shrimp; gooey steamed chicken feet; flaky egg custard tarts; chunky spareribs steamed with black beans — the usual. Is this the best dim sum you've ever had? If you frequent the better places in the San Gabriel Valley, probably not.
The barbecued pork buns are slightly soggy, the taro cake clumsy, and the wrappers on the shrimp dumplings are simultaneously too stiff and too fragile. The steamed gai lan, Chinese broccoli, comes tepid from the kitchen instead of hot from a boiler-equipped cart. The roast duck is inevitably mushy. And you're not going to see much in the way of exotica here — a bowl of steamed tripe is about as far out as you're going to get.
But it is hard to think of a better way to spend a couple of hours on a Sunday than meeting friends for dim sum.
Unless, of course, it's meeting friends for dim sum in Monterey Park.
The dim sum palace, the biggest restaurant in Chinatown, reopens.
::
Empress Pavilion
LOCATION
988 N. Hill St., Los Angeles, (213) 617-9898, empresspavilionchinatown.com.
PRICES
Seafood $12.50-$17.50 (way more for live seafood), vegetables $9.95-$15.95; clay pots $11.95-$15.95; meat $10.95-$19.95.
DETAILS
Dim sum Mon.-Fri., 9 a.m. to 3 p.m.; Sat.-Sun. 8 a.m. to 4 p.m. Dinner Mon.-Fri. 5 p.m. to 10 p.m.; Sat.-Sun. 4 p.m. to 10 p.m. Credit cards accepted. Full bar. Validated lot parking (access from Bernard Street).
RECOMMENDED DISHES
Dim sum; fried chicken; stir-fried pea shoots.
jonathan.gold@latimes.com

Follow Jonathan Gold on Twitter @thejgold and subscribe to his newsletter, Counter Intelligence

Get our weekly Tasting Notes newsletter for reviews, news and more.
You may occasionally receive promotional content from the Los Angeles Times.