L.A. Affairs: Third time's the charm for two artists online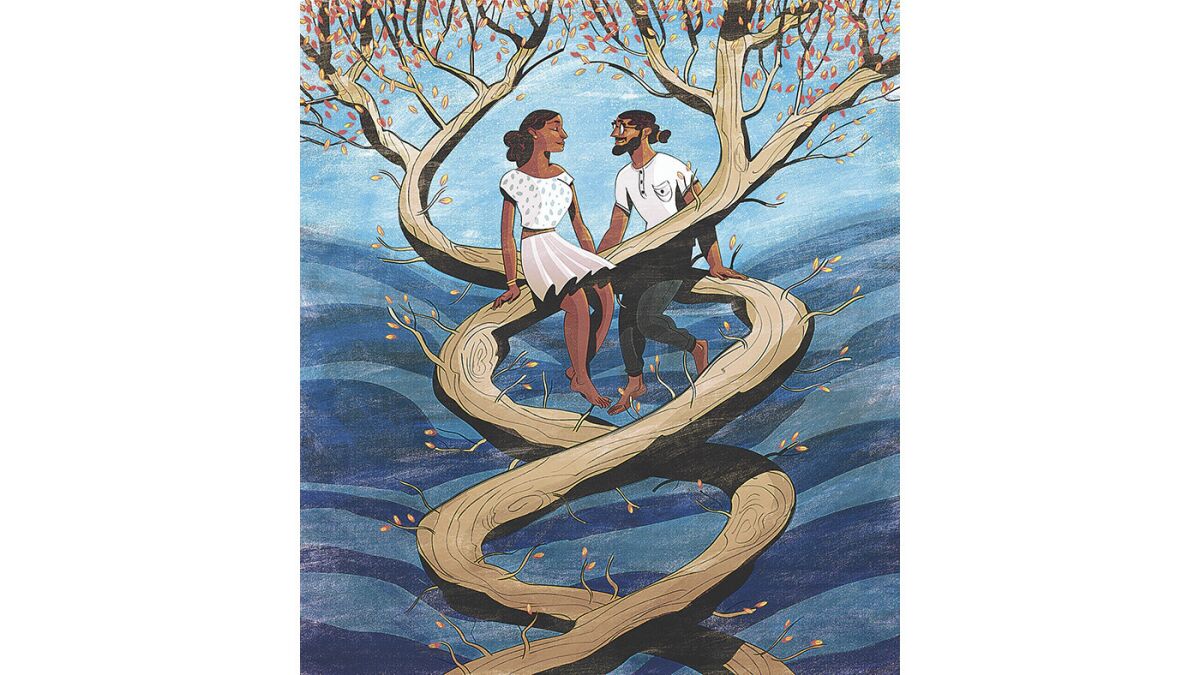 Meeting like-minded people in L.A. has always been difficult for me. The city is vast with so many little hubs and communities to explore — and traffic to make cross-city treks unpleasant. That's why I turned to online dating at a fairly young age. I liked having a database of guys from all around the city at my fingertips. I'd brave the traffic, but only for a promising date.
In 2011, I stumbled upon Pj's OKCupid profile for the first time. I had just emerged from a three-year relationship with a guy I met online who never fully committed to me.
In the profile photo, a boy with long dark hair and cute round glasses stared up at the camera. His slight smile was almost lost beneath a thick mustache and very long beard. I was intrigued by his appearance and our 96% match rating. I liked what he said on his profile about his love for Carl Sagan, learning about the universe and helping other people. He lived in the South Bay, which wasn't exactly close to my place in Pasadena, but it wasn't impossibly far either.
Are you a veteran of the L.A. dating scene? Share your story
I sent Pj a message saying I was looking for new friends and that he seemed cool. Almost immediately he sent me a message. We chatted a bit about his art studies, my writing and the tattoo of Totoro (the title character in Hayao Miyazaki's animated movie) I'd recently gotten on my ankle. Unfortunately, our conversations eventually fizzled out, mostly because I wasn't really ready to talk to anyone who could actually be someone to me.
A year and a half later, Pj's profile popped up on my list again. My situation was much the same, except this time I was recovering from an interminable crush on a friend who was wrong for me. Pj and I exchanged longer messages for a couple of weeks. We meant to meet up, and he texted me now and then, but it just never happened.
On top of bad timing, I wasn't sure how well we would work as a potential couple. Pj seemed incredibly sweet and sensitive, but the art he created was strange. His drawings mainly involved grotesque and disfigured faces and bodies. My writing, on the other hand, tended to be realistic and spare, studies of people and places, of life and its idiosyncrasies. I didn't like horror movies or anything scary, and I averted my eyes during moments of violence and gore in films and TV shows. I didn't think Pj would turn out to be a crazed serial killer or anything; in fact, his personality seemed to contrast completely with his art. But my doubts remained, making it difficult to set up a date.
Past L.A. Affairs columns, and submission guidelines
Six months later, Pj and I stumbled upon one another's profiles on a different dating site called DateMySchool. I finally decided to just go for it. I texted Pj and asked if he wanted to get that tea we'd been talking about for the past two years.
I'd always had a good feeling about Pj, and clearly there was something that had continued to push us together. Even though his art was weird and our tastes were different, I believed we had a lot in common underneath the surface. We were both empathetic and cared about others, and we both very much wanted a happy, healthy and loving relationship, something neither of us had ever really had.
Pj and I met at a cafe in Downey, halfway between the South Bay and Pasadena. We sipped boba teas while chatting about a love of artistic expression, a shared desire to connect openly and honestly with another human being, and "Doctor Who." I learned that Pj made his art because he wanted to illustrate a side of the world we don't see very often. He saw beauty in reality, even when that reality was disturbing. We both wanted to capture life in its truest form, no matter what that looked like.
As we talked, Pj looked at me through those round glasses, his smile twitching under his thick beard. I felt that spark, that pull toward him. It ultimately turned out that we had more than enough in common where it mattered. We fell in love, quickly and wonderfully. Somehow, in the immense, traffic-laden city of Los Angeles, we'd managed to find — again and again — the right person.
We've been together for a while and continue to brave L.A. congestion to spend time with one another. Sometimes we even collaborate artistically, creating unique and interesting projects, and soon we hope to live together, removing the last bit of distance that separates us.
Alana Saltz is a writer, freelance editor and occasional ukulele rocker. She blogs at alanasaltz.com and recently completed a memoir.
L.A. Affairs chronicles dating in and around Los Angeles. If you have comments or a true story to tell, write us at home@latimes.com.