Photos: Time is running out to see how artists Dabs Myla magically transformed this Vernon building
The meditation triangle ($3,500) on the first floor is surrounded by planters and limited-edition Modernica shell chairs ($395).
(Christina House / For The Times)
At the "Before & Further" installation in Vernon, a set of acrylic painted books adds a bolt of color next to a ceramic hand-painted mushroom bowl ($395).
(Christina House / For The Times)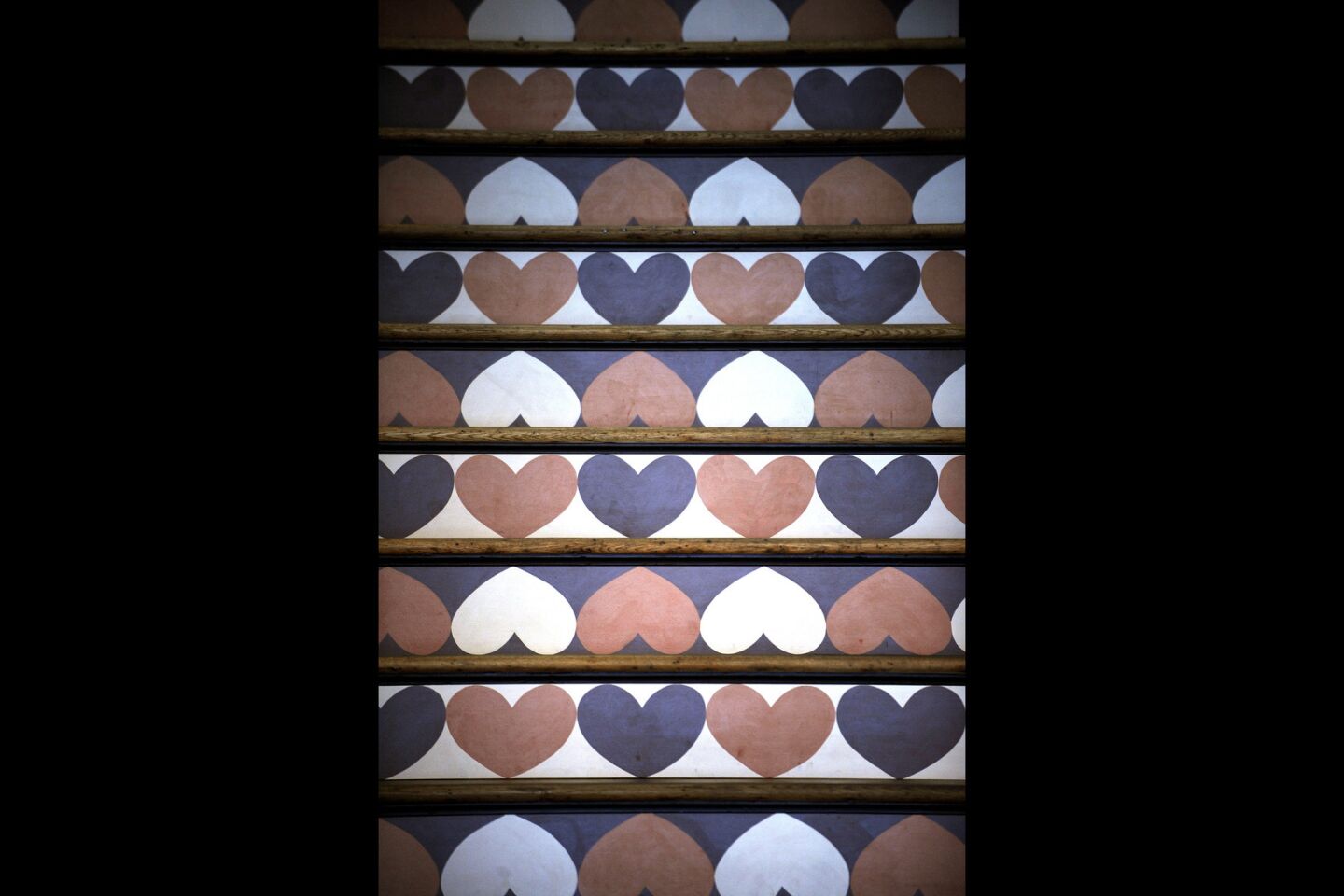 A heart painted stairway in the DABSMYLA installation "Before and Further" escorts guests to a second floor of artwork.
(Christina House / For The Times)
A wood, fiberglass and hand-painted acrylic credenza, center, is flanked by a 30-by-40-inch acrylic-on-wood painting titled "Number One," left, and "Parallelograms." Most pieces have sold out.
(Christina House / For The Times)
A cat-head installation is made of wood, fiberglass and custom felt pillows. Visitors are welcome to listen to a record on the headphones that rest on a pillow to the right.
(Christina House / For The Times)
Two peepholes -- one behind the clock -- offer views into the artists' studio on the other side of the wall.
(Christina House / For The Times)
The second floor offers more paintings, installations, sculptures and experiences.
(Christina House / For The Times)
Street artist duo DABSMYLA presents "Before & Further," a 4,000-square-foot takeover of a stand-alone 1930-built Spanish Revival workplace adjacent to the Modernica Factory property in Vernon. The show runs through Nov. 15.
(Christina House / For The Times)
A hanging lantern installation in orange is seen at the show.
(Christina House / For The Times)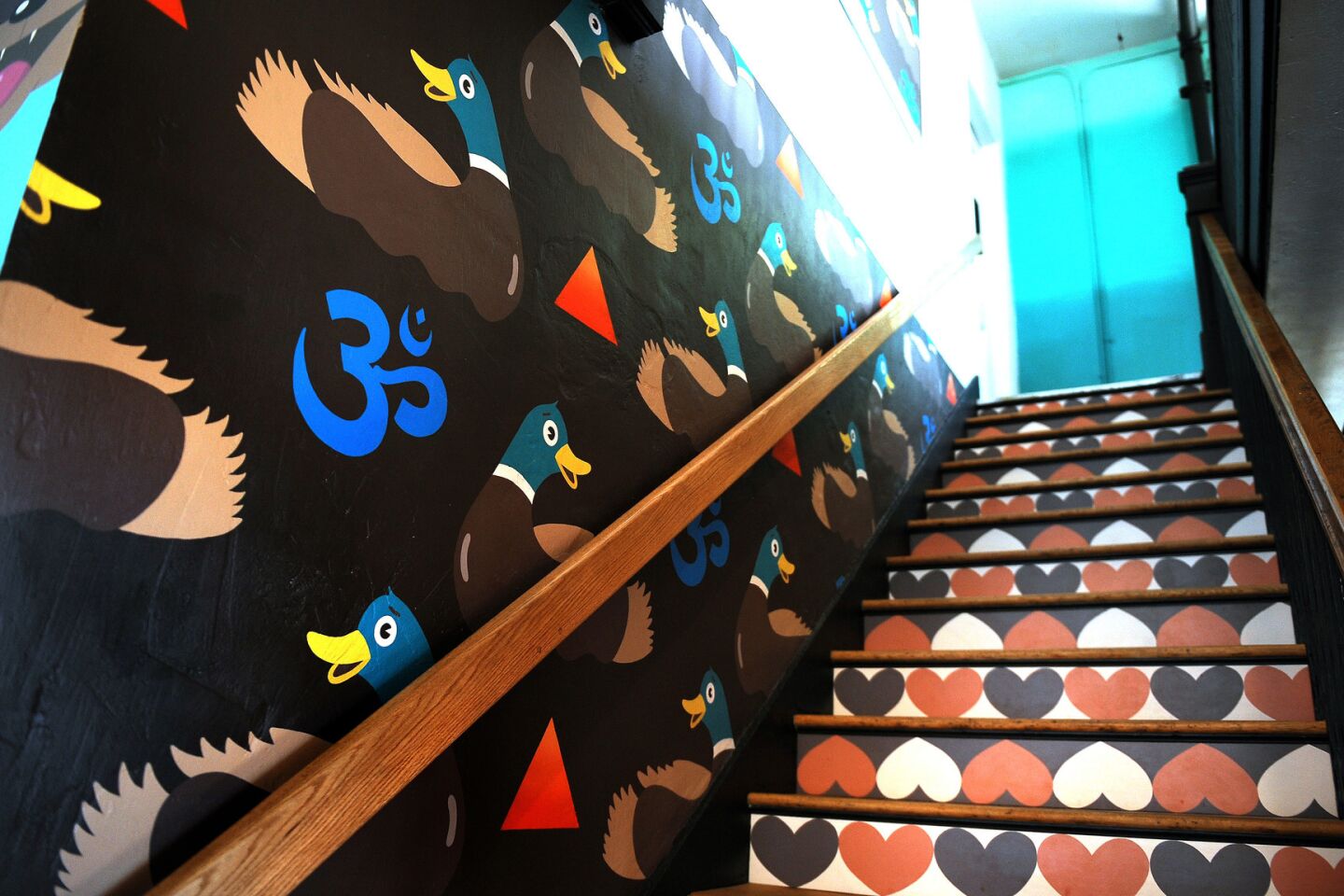 The couple spent every day for two months painting the interior and exterior of the 1930s-era Spanish building, which Modernica had been using for storage.
(Christina House / For The Times)
Even the rear exterior of the building adjacent to the Modernica factory is painted.
(Christina House / For The Times)
A one-of-a-kind complicated side table made of wood, steel and hand-painted acrylic sold for $3,200.
(Christina House / For The Times)
The walls of the bathroom get the DABSMYLA treatment.
(Christina House / For The Times)
The front exterior of DABSMYLA's "Before & Further" installation is artistically painted.
(Christina House / For The Times)
Pictured in the center is an acrylic-on-wood framed painting titled "Before and Further," which sold for $17,400.
(Christina House / For The Times)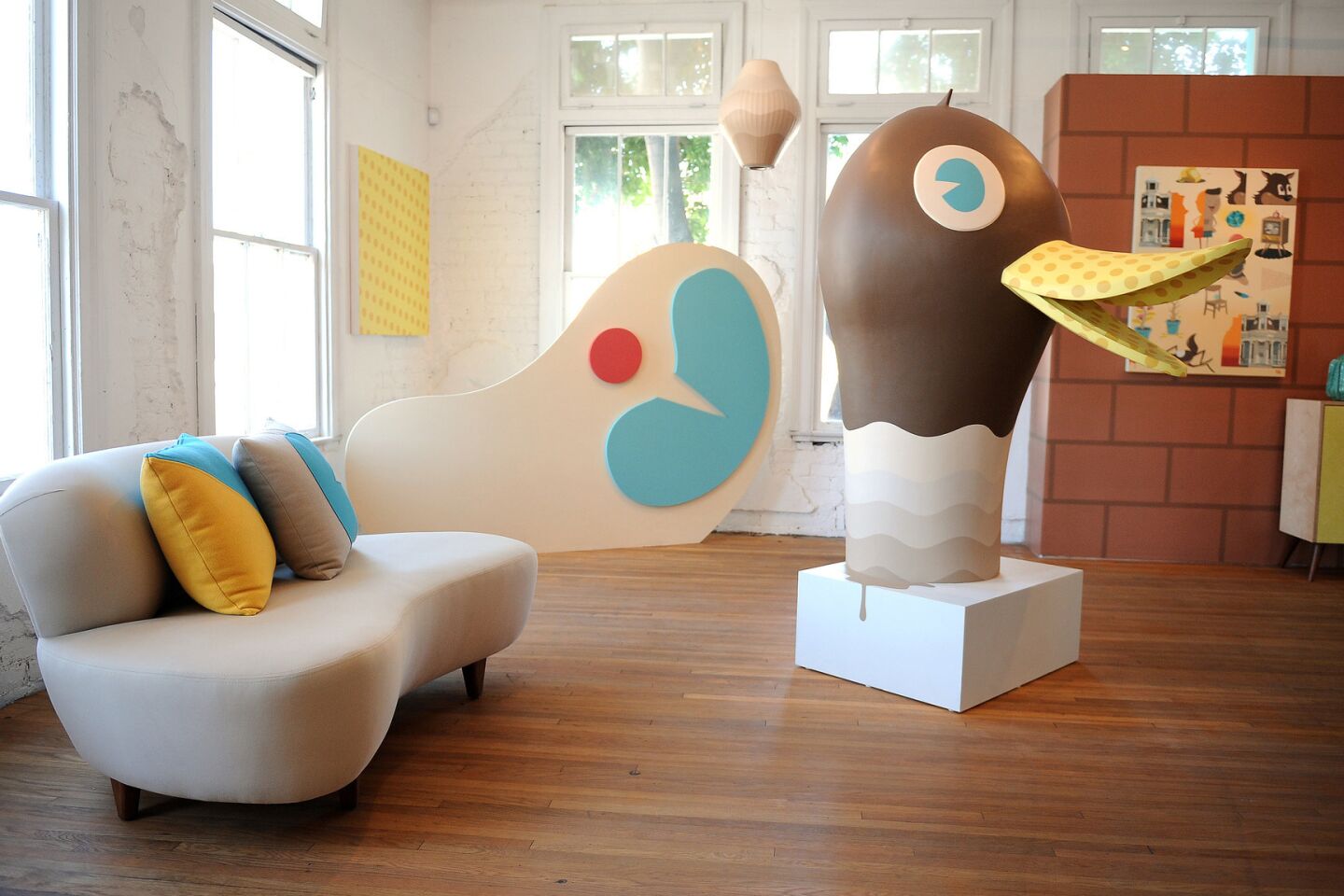 A wooden mallard sculpture ($30,000) is among the installations.
(Christina House / For The Times)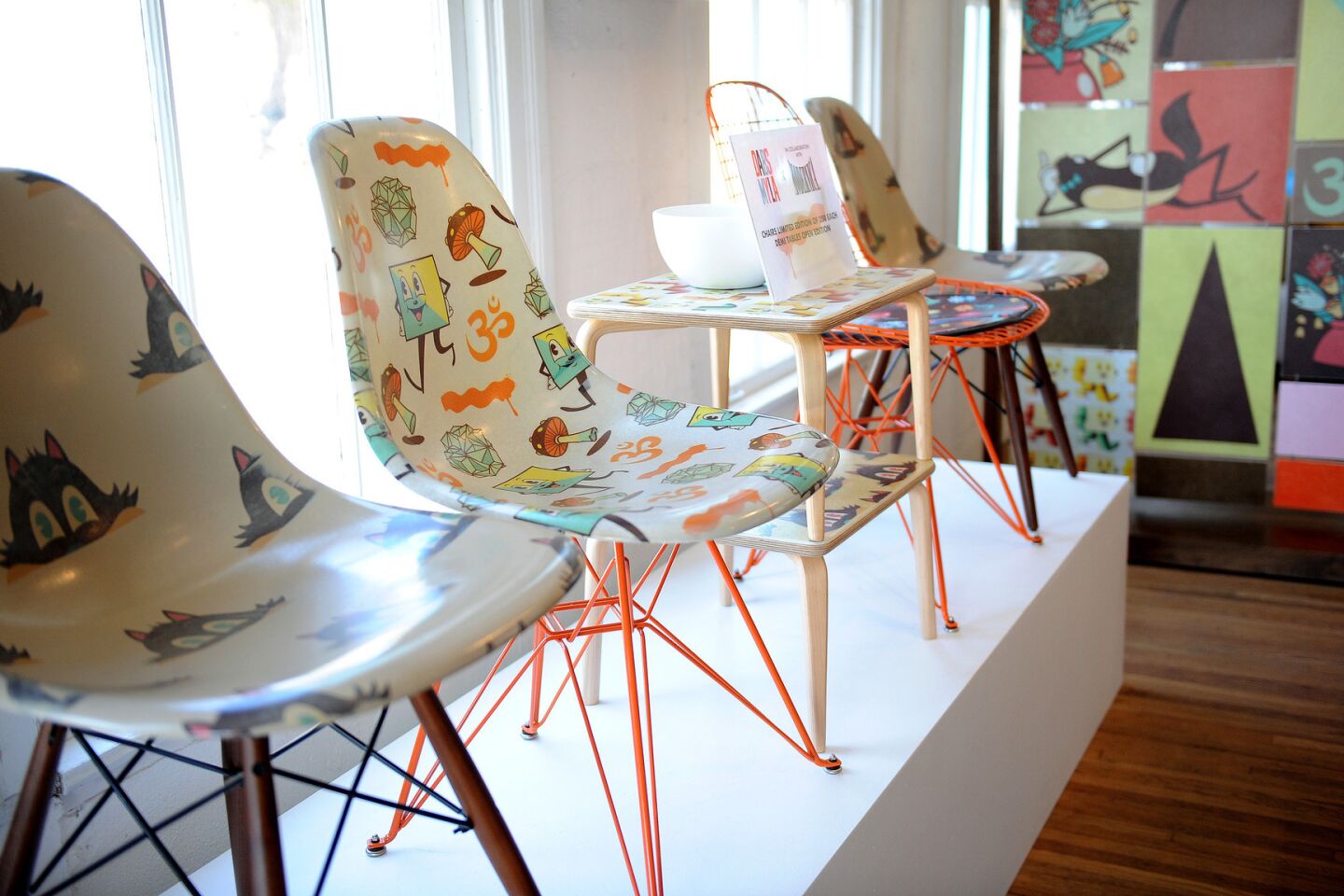 Limited-edition demi tables and shell chairs, created by DABSMYLA with Modernica, are on sale for $225 to $425.
(Christina House / For The Times)
A row of limited-edition barstools ($490) is seen at the bar.
(Christina House / For The Times)
Inside the black-light room on the second floor paintings glow in the dark.
(Christina House / For The Times)
Turn on to Saco from 37th Street, past the toy warehouses and industrial buildings, and you'll be greeted by a whimsically painted building adjacent to the Modernica factory in Vernon.
Credit the Australian artists Dabs and Myla, who have collaborated on diverse projects including cartoon-like street murals, sets and logos for the recent MTV Movie Awards, and repainting the 4,000-square-foot Spanish Revival building on Saco Street inside and out.
Inside, the husband-and-wife team transformed two floors of the building, which serves as a backdrop for their current art show, "Before & Further."
The installation is an immersive experience featuring midcentury-inspired furniture and lighting collaborations with Modernica, acrylic paintings on wood, hand pulled screen prints and funny wooden mallard sculptures.
Like a house, the installation is interactive with a blacklight room vibrating with music, headphones for listening to records, a game board and bright orange meditation "triangles."
The couple, who chose to be called Dabs and Myla, painted everything themselves, working every day for eight straight weeks. Look for endless details throughout the space from painted walls and doors, captivating bathrooms, rows of chocolate hearts on the staircase steps, detailed maps painted on stairway posts and graphic Case Study planters.
The couple took some time to chat about the installation, share what the response has been like and how they managed to paint an entire building together and stay married.
I smiled immediately upon turning the corner and seeing the building. What has the reaction been like?
Dabs: This is the first time we've had a lot of people say 'thank you.' We wanted to make something where people can go in and feel stoked. To put all the work in to it and have people respond that way? That's a massive win for us. It is what has made it all worthwhile.
What you have done is overwhelming. Did you truly paint everything yourselves?
Myla: We started at the end of August and worked on site until October. We were there for eight weeks. It was just us with help from a few friends who ran to Home Depot for us.
Dabs: Before we started, we spent the entire year working on the paintings for the show. We assumed that we would have people help us with the building because we knew it was going to be such a big job. But as we got closer, we decided we wanted to do it ourselves. It was something that we wanted to try to prove to ourselves that we could do it. We realized we could and it was really inspiring.
It's hard to imagine painting over your artworks when the show is over.
Myla: It's an exhibition with a start and end date. It needs to end. This is the time to see it. And then after, that's it. For us, it's good. We can move to the next thing.
How did the concept for the installation come about?
Myla: We started our paintings for our show last November and wanted to have a pop up exhibition. When we met with Modernica to talk about collaborating on one their demi tables and shell chairs, they gave us a tour. We went back to their office and noticed the building, which was being used as a storage space. The two of us thought it was an amazing space. We could see the possibilities to create something there. We didn't know what we were going to do, but we knew we wanted it to be really immersive.
Dabs: Both of us love staircases and we loved that it was two stories. We didn't expect Modernica to renovate the space as they did. They spent three months renovating the floors, fixing the walls -- there were holes in the walls – painted, they scraped all of the windows. We spent two weeks drawing the space. The first day was overwhelming. It was so big.
Can you talk about the interactive aspects of the show?
Myla: We really like creating installations that people can experience. We are huge fans of Disneyland and love hidden things that you can find. Since people have been going to our show, they say they feel like they're walking in to one of our paintings. That is what we wanted.
Dabs: We wanted it to walk a fine line between feeling like a real house but not having the elements of a real house. We took a lot of inspiration from Case Study and midcentury modern homes so it feels like a 1950s house. It's abstract and surreal. We wanted it to be interactive like a fun house but not over the top. We didn't want those elements to overshadow the paintings.
You worked together nonstop for eight straight weeks. And you're still married.
Dabs: We both love painting and we both have a strong work ethic. We can work from 8:30 a.m. to 10 p.m. every day. When you are by yourself in your studio you question yourself. That's one good thing about working together -- when you are working really hard, there is the ability to pick the other up and motivate them to keep going.
Dabs Myla: "Before & Further," Thursdays through Sundays, noon to 7 p.m. through Nov. 15. 2901 Saco St., Los Angeles. Admission is free.
Modernica's biannual Downtown Modernism market for vintage modern design will be held on Sunday, Oct. 25, from 8 a.m. to 2 p.m. at the Modernica Factory, 2901 Saco Street Los Angeles. Admission: Adults $5, Children 12 and under free.
Twitter: @lisaboone19
MORE:
Photos: Inside our favorite desert homes and retreats
In Palm Springs, a renovation to meld midcentury, modern, light and art
Photos: See how this remodel perfectly captures California's indoor-outdoor living