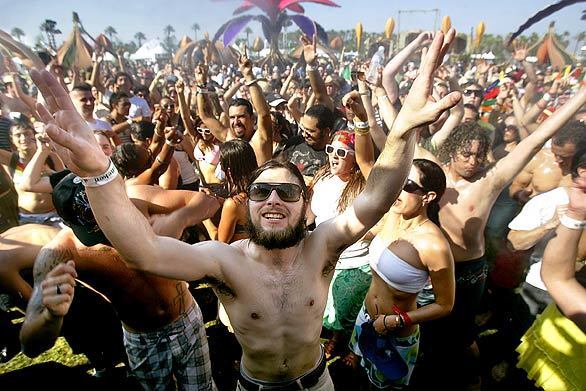 13 Images
In Focus: Staff photos from April 27- May 3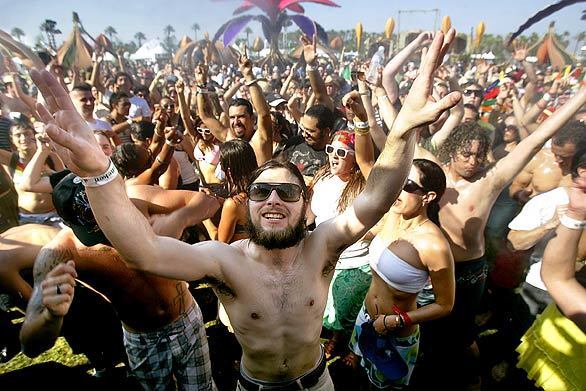 The crowd at the Coachella Valley Music and Arts Festival gets sprayed with water to offset temperatures that hovered in the century mark. The massive outdoor rock festival drew more than 125 bands, including musicians Prince, Roger Waters and Jack Johnson.
(Spencer Weiner / Los Angeles Times)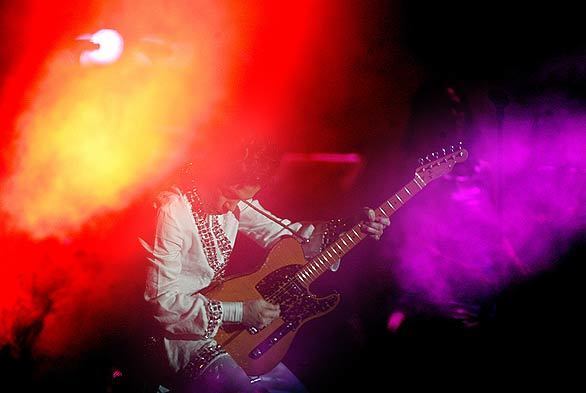 Prince's powerhouse Coachella performance sampled from his extensive song catalog and featured guest stars and killer covers.
(Spencer Weiner / Los Angeles Times)
Sylvia Camacho cheers with other demonstrators while waiting for the start of the May Day march in downtown Los Angeles. Thousands of immigrant workers and their supporters called for immigration reform.
(Bryan Chan / Los Angeles Times)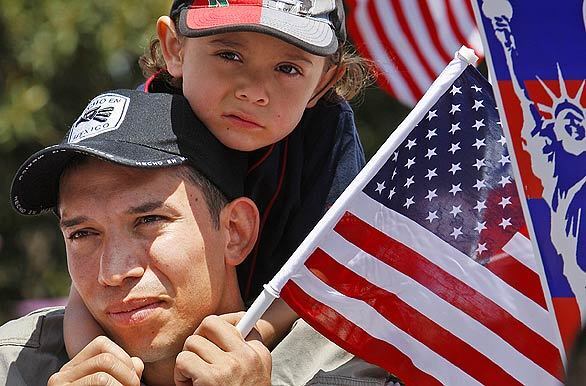 Osvaldo Ortiz and his son Osvaldo Jr., 5, join in the MacArthur Park-to-downtown march.
(Luis Sinco / Los Angeles Times)
Flag-waving and placard-carrying marchers crowd Broadway in downtown L.A.
(Rick Loomis / Los Angeles Times)
Clayton Coawl of Laguna Niguel sits on the frozen surface of Lake Sabrina while fishing through a hole in the ice on the first day of trout season in the Eastern Sierra.
(Brian Vander Brug / Los Angeles Times)
A shattered window is evidence of Saturday's gun battles in Tijuana. A resident who lives near the site of the initial confrontation on Boulevard Insurgentes said the ground looked as if it were paved with spent shells after the shooting.
(Luis Sinco / Los Angeles Times)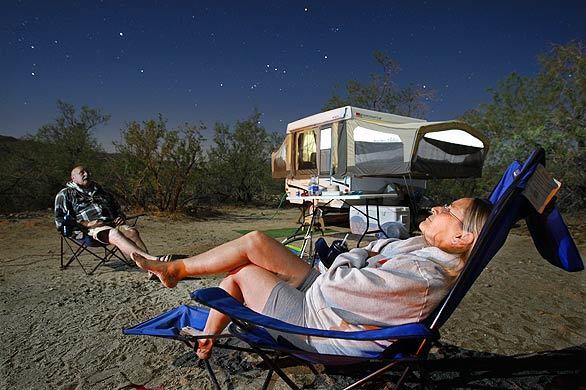 Santa Barbara County residents Dwight and Lynda Pepin gaze at stars above their Yaqui Well campsite. A proposed power line would traverse the site in Anza-Borrego Desert State Park. If approved, 100-foot-high towers and high-voltage lines will alter visitors' experience with buzzing and crackling from 500-kilovolt lines.
(Don Bartletti / Los Angeles Times)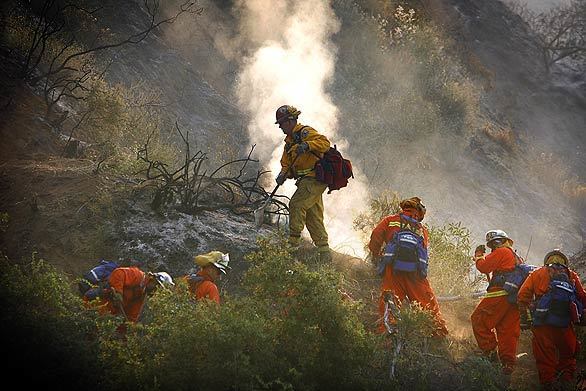 Firefighters and inmates clear brush to try to suppress a blaze above Sierra Madre that had burned 400 acres and forced 1,000 residents to evacuate. More than 500 firefighters from all over the state joined the battle. Authorities are treating the fire as suspicious.
(Barbara Davidson / Los Angeles Times)
Leobardo Jimenez fans his 3-week-old son, Esteban, inside their desert trailer in Duroville. "I want him to be somebody important," Jimenez said. After months of deliberation, a federal judge ruled Monday that the Duroville mobile home park could stay open if it made 20 critical changes, including hiring contractors to upgrade its decrepit water, sewage and electrical systems.
(Francine Orr / Los Angeles Times)
Jeffery Lam, left, Hieu Ngoc Nguyen and Truong Bui of the Phan Boi Chau Youth Assn. get ready for their parts in a performance at a ceremony Saturday in Westminster commemorating the fall of Saigon to North Vietnamese troops on April 30, 1975.
(Mark Boster / Los Angeles Times)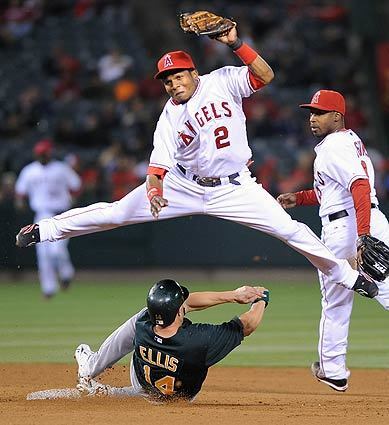 Angels shortstop Erick Aybar leaps to avoid the slide of Oakland's Mark Ellis to complete a double play en route to a 6-1 win Wednesday night at at Angel Stadium.
(Wally Skalij / Los Angeles Times)
Lionel Powell, 48, of Venice wears a "hazmat suit" as he joins about 40 demonstrators at the Westwood headquarters of Occidental Petroleum on Wednesday to demand that the company clean up what activist groups say is contamination remaining in the Peruvian Amazon rain forest.
(Rick Loomis / Los Angeles Times)