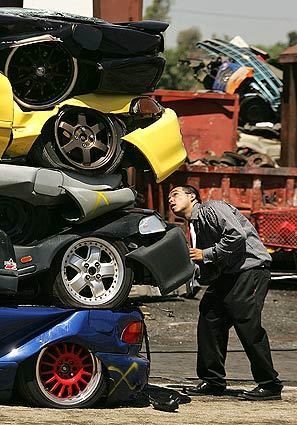 12 Images
In Focus: Staff Photos from June 17 - June 23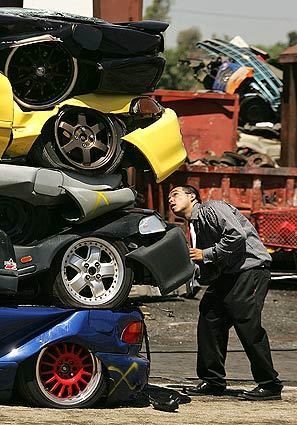 Sergio Zavala bids goodbye to what remains of his yellow 1993 Honda Civic after it was flattened at an auto graveyard in Rialto. His was one of six vehicles destroyed Wednesday as law enforcement officials ramp up efforts against street racing, which has been responsible for or suspected in 13 deaths in Southern California since March. It's particularly popular in Riverside and San Bernardino counties, where rows of tract homes line wide streets suited for the activity. Nearly 1,000 people--drivers and spectators--have been arrested in connection with street racing over the last two years just in San Bernardino County.
(Gary Friedman / LAT)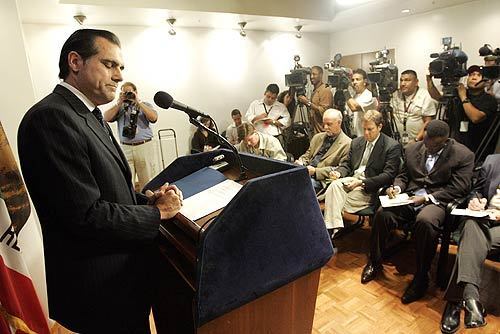 L.A. City Atty. Rocky Delgadillo faced reporters Monday after days of silence about an accident involving his city-owned vehicle and his wife's driving misadventures. Later in the week, questions also were raised about whether Delgadillo himself had a pristine record of automobile insurance coverage, about the Delgadillos' chronically late payment for parking tickets, and whether he had enlisted his office staff to run personal errands and mind his young children in a possible breach of ethics as described in the Handbook for City Officials.
(Mel Melcon / LAT)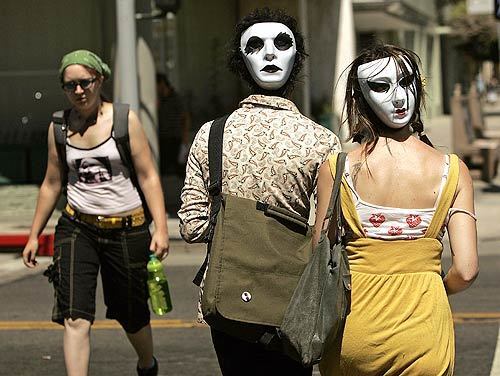 Two of these three people strolling down Sunset Boulevard in Hollywood are wearing masks, but thanks to toasty temperatures on Wednesday, in a manner somewhat cooler than standard operating procedure. The couple, visiting from Chicago, had just purchased the masks at a costume shop on Hollywood Boulevard
(Mel Melcon / LAT)
Robin and Danielle Helms visit their daughter Kristin's grave at the El Toro Memorial Park to rearrange memorabilia, replace flowers and pray. Kristin, 15, committed suicide last year after she had been lured into a relationship and a sexual encounter by an internet predator from Texas. When he rejected her, she fell into a deep depression and took her life while her family was at church. On Monday, Kiley Ryan Bowers, 29, was sentenced to nearly nine years in prison for having illegal sex with Kristin Helms of Lake Forest, and transmitting indecent pictures of her over the Internet.
(Mark Boster / LAT)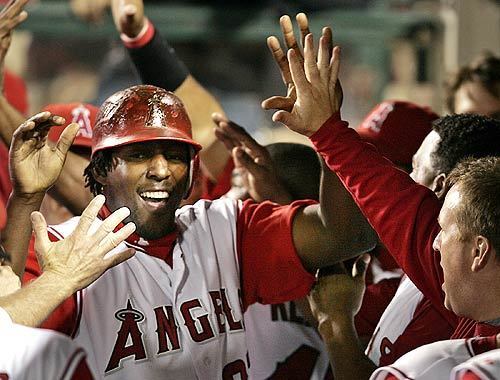 Outfielder Vladimir Guerrero celebrates Wednesday night after his three-run homer gave the Angels an 8-4 lead over the Houston Astros. Guerrero's heroics crowned a bizarre seventh inning in which the Angels scored six runs on one hit, thanks to a Houston error, four consecutive walks, a sacrifice fly and the batting prowess of Guerrero
(Christine Cotter / LAT)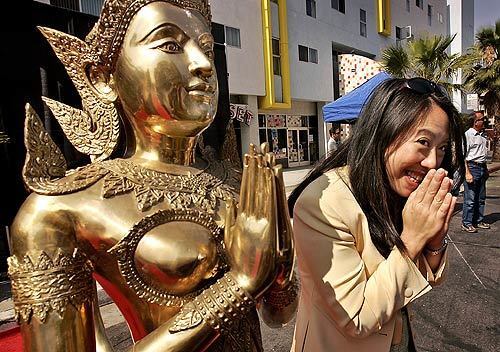 Chancee Martorell, executive director of the Thai Community Development Center, assumed the traditional pose of greeting last Friday alongside the first of four 6-foot-tall bronze Apsoni angel statues on Hollywood Boulevard. The half-woman, half-lion figure near the intersection with Western Avenue inaugurated the Thai Town Gateway. Three others will be installed on pedestals along the boulevard. Thai Town leaders unveiled the new statue to help boost tourism and interest in the ethnic enclave eight years after the neighborhood was established.
(Al Seib / LAT)
More than 150 firefighters battled a blaze Monday night that destroyed a 7,500-square-foot commercial building in Santa Monica where CDs were manufactured and reproduced. No one was inside the structure when the fire erupted about 7:20 p.m. A Santa Monica firefighter suffered a minor knee injury, but no other injuries were reported. The cause of the fire remains under investigation.
(Genaro Molina / LAT)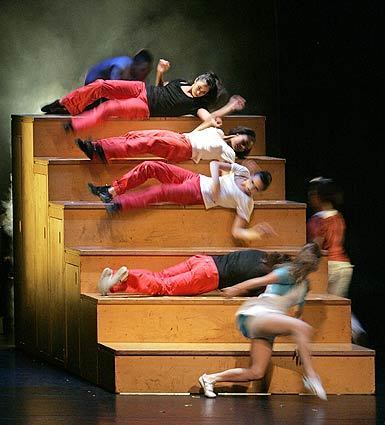 Is the Los Angeles County High School for the Arts the province of accomplished young performers aimed at professional arts careers, or is it a place for talented but untutored youngsters, whose promise might unfold in its conservatory atmosphere? The question has transformed a parochial dispute over a teacher's competence into a bitter public feud that touches on questions of race, privilege and opportunity at the public arts school, which has operated for more than 20 years on the campus of Cal State Los Angeles. Here, its students perform "Alice in Wonderland" at their annual spring performance in May.
(Gina Ferazzi / LAT)
On the threshold of summer Wednesday, Serrina Taffolla, 4, rejoices in the cool spray of a sprinkler on Water Play Day at Hands Together preschool in Santa Ana.
(Mark Boster / LAT)
Berna Sanchez remembers her brother, Lance Cpl. Emilian D. Sanchez, as one of the eight Marines who were honored at a memorial service at Camp Pendleton last Friday as "truly Magnificent Bastards," a reference to the battalion's nickname. Sanchez, 20, was killed in January 2007 while conducting combat operations in Rutbah.
(Irfan Khan / LAT)
The annual Pasadena Chalk Festival attracted more than 600 artists Sunday to a canvas that was the cement at Paseo Colorado in downtown Pasadena. Designs ranged from simple portraits to elaborate scenarios. Here, Fabiola Mungua puts the final touches on her piece, "Tribute to Cinema's Golden Age," whose featured character is Tin Tan, a Mexican actor during that country's golden age of cinema in the 1940s and 50s.
(Michael Robinson Chavez / LAT)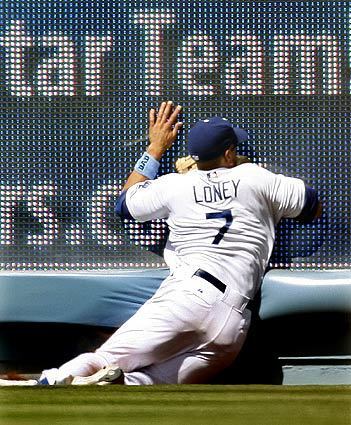 When an unstoppable force--Dodgers utility player James Loney--meets an immobile object--the right-field wall at Dodger Stadium--someone's going to get hurt. That would be Loney. In attempting to catch a long ball off the bat of Angels outfielder Gary Matthews Jr. in the eighth inning Sunday, Loney crashed. His knee burned. He was carried off the field after Matthews touched 'em all for an inside-the park-home run. Loney's injury turned out not to be serious, which only dulled somewhat the pain of the Dodgers 10-4 loss.
(Wally Skalij / LAT)