11 Images
In focus: Staff photos from Sept. 29 - Oct. 5
A firefighter looks over the sinkhole in Soledad Mountain Road on Wednesday near La Jolla. The sinkhole and slide damaged dozens of houses and caused the temporary evacuation of dozens more.
(Rick Loomis / Los Angeles Times)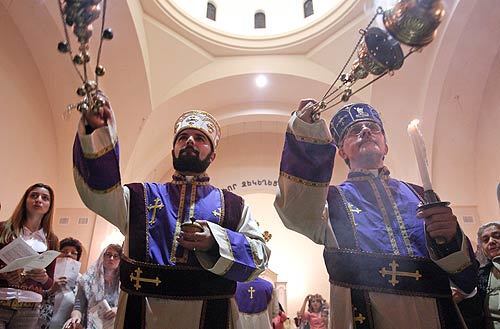 Incense-bearers at St. Gregory the Illuminator Church in Pasadena lead the procession for His Holiness Karekin II. The leader of the worldwide Armenian Apostolic Church visited Southern California and consecrated the new church's altar.
(Bryan Chan / Los Angeles Times)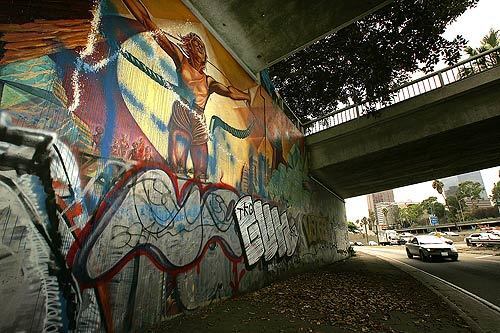 Judy Baca's marathon-themed "Hitting the Wall" mural on the 110 Freeway has taken a lot of abuse from taggers; some murals have even had to be painted over because of the damage. As a means of combating graffiti, L.A. County Sheriff Lee Baca -- no relation to the artist -- has suggested requiring parents of teenagers arrested for tagging to talk to jail deputies. Meanwhile, County Supervisor Gloria Molina has proposed creating a special "graffiti administrative hearing panel" to deal with vandalism cases that would otherwise drag through the court system.
(Brian Vander Brug / Los Angeles Times)
Members of City Year, a service organization, offer a group cheer before going about their business for the day: helping to beautify Utah Street Elementary School in Los Angeles. Participants, ages 17 to 24, will devote a year to service at schools in Boyle Heights, South L.A., Watts and Pico-Union.
(Myung J. Chun / Los Angeles Times)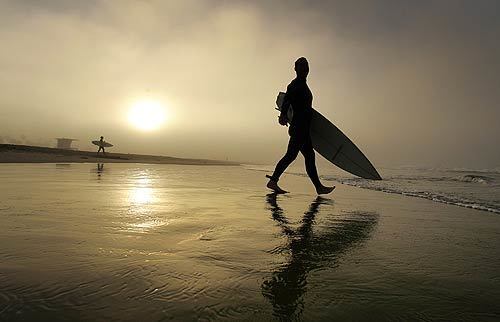 As the sun breaks through the early morning fog near Huntington Beach Pier, Tony Cook of Huntington Beach heads into the surf in search of ridable waves.
(Allen J. Schaben / Los Angeles Times)
UCLA running back Kahlil Bell fumbles when hit by Oregon State's Dorian Smith, left, in the first quarter of Saturday's game in Corvallis. Bell fumbled the first two times he touched the ball, and this one was run back by the Beavers for a touchdown. But UCLA had the last laugh, scoring 40 unanswered points and taking a 40-14 victory. Bell also rebounded from his rocky start, gaining 80 yards rushing and scoring two touchdowns.
(Robert Gauthier / Los Angeles Times)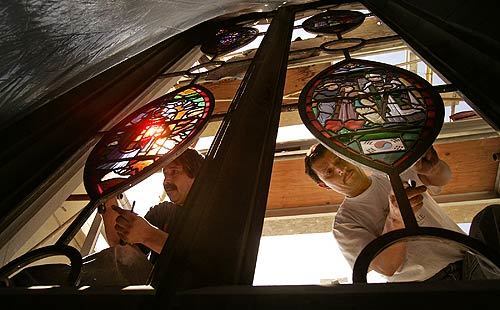 It was a long time coming, but St. James' in the City Episcopal Church is finally celebrating the completion of its stained-glass window project -- the one it started in 1932. Hector Vargas, left, and Alex Cordova install segments of the final pair of its handcrafted set of 28 windows.
(Francine Orr / Los Angeles Times)
USC's Terrell Thomas, left, Allen Bradford and Vincent Joseph celebrate Thomas' fumble recovery in the fourth quarter of USC's 27-24 win over Washington in Seattle. It was a big play for the Trojans; they led by only seven and were punting to the Huskies with just over seven minutes remaining. But Thomas stripped the ball from Anthony Russo and recovered the fumble; USC converted that turnover into a field goal that gave it the final margin of victory.
(Wally Skalij / Los Angeles Times)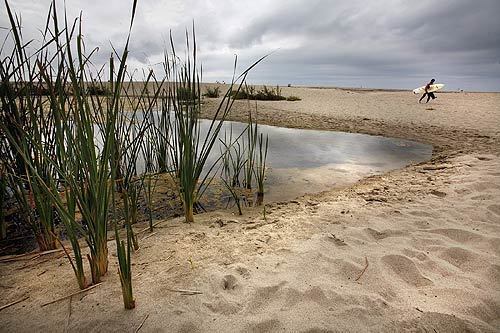 Traffic bad, beach good. Right? But solving the first while preserving the latter isn't so easy in south Orange County. The proposed route for the 16-mile Foothill South tollway would take it through through San Onofre State Beach near San Clemente and extend through the San Mateo Creek area near the world-famous Trestles surf spot. Opponents of the route now have an ally: a report by the staff of the California Coastal Commission says constructing the six-lane toll road would cause widespread violations of state environmental laws.
(Mark Boster / Los Angeles Times)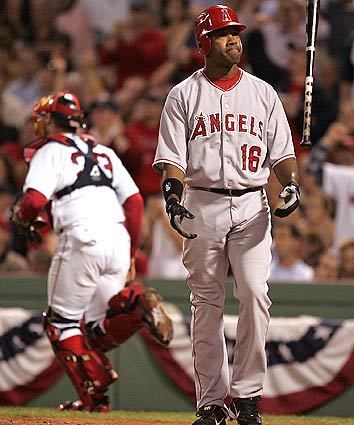 The Angels' Garret Anderson flips his bat after striking out to end the fourth inning in L.A.'s loss loss to Boston on Wednesday in the opener of their playoff series. Red Sox pitcher Josh Beckett struck out eight batters as Boston prevailed, 4-0.
(Robert Gauthier / Los Angeles Times)
With a new look and a new name, a Santa Monica nightclub is drawing crowds. The V-Lounge, says its manager, aims to reproduce "the enjoyment of the Hollywood club without the hassle, without the Hollywoodness of it."
(Lawrence K. Ho / Los Angeles Times)