The Los Angeles Galaxy played the Colorado Rapids in their opening home game at their new Home Depot Center Stadium before a sold out crowd on June, 7, 2003. The Galaxy beat Colorado 2-0. Brazilian soccer legend, Pele, did the honors of flipping the coin at the start of the game before greeting fans as he left the field.
(Anacleto Rapping / LAT)
The UCLA student section shows their appreciation for former UCLA basketball coach John Wooden who came to Pauley Pavilion for the dedication of the basketball floor in Wooden's name along.
(George Wilhelm / LAT)
Serena Williams returns a volley against Vera Zvonareva during her match at the JP Morgan tennis tournament at the Home Depot Center in Carson on July 23, 2004.
(Lori Shepler / LAT)
Shaq celebrates with teammates after the Lakers win the 2001 NBA Finals, the second of three consecutive titles.
(Wally Skalij / LAT)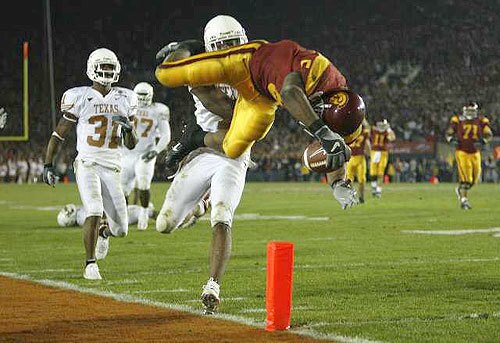 USC's Reggie Bush goes upside down to score a touch down in the fourth quarter against the Texas Longhorns during the national championship game at the Rose Bowl in Pasadena, Wednesday, Jan. 4, 2006
(Wally Skalij / LAT)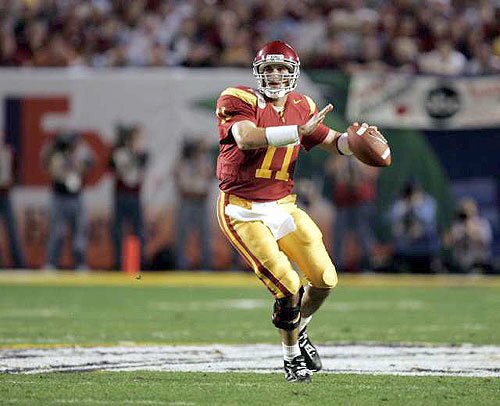 Southern California Trojans' Matt Leinart has lots of time to throw downfield against the Oklahoma Sooners in the first quarter of the 2005 National Championship at the Orange Bowl in Pro Player Stadium in Miami
(Alexander Gallardo / LAT)
Lakers' Kobe Bryant goes up for two of his 81 points over the Toronto Raptors' Matt Bonner at Staples Center Sunday, Jan.22, 2006. It was the second highest single-game point total in NBA history.
(Lori Shepler / LAT)
Laker broadcaster Chick Hearn acknowledges the crowd during a Laker halftime ceremony at Staples Center in April, 2000.
(Vince Compagnone / LAT)