6 Images
Will Deeds Follow the Words?
Getting through the night
One man injects himself while another sleeps in a wheelchair near 7th and San Julian Place. Dealers can be seen night or day talking business; fights on skid row are not infrequent.
(Francine Orr / LAT)
Mayoral visit
Antonio Villaraigosa, left, meets Lucille Reid, 36, and Charles Muldrew, 59, on a recent trip to skid row.
(Francine Orr / LAT)
Cramped quarters
TJ sits inside the portable toilet on skid row where she sleeps, changes clothes and entertains.
(Francine Orr / LAT)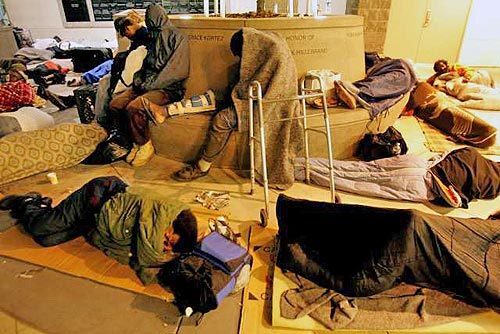 Camped out
People take refuge in the Midnight Mission's entrance near 6th and San Julian streets. The overflow area contains heaters, lights and bathrooms.
(Francine Orr / LAT)
Under the night sky
The homeless try to sleep under the glare of lights in the courtyard at the front entrance at the downtown Midnight Mission.
(Francine Orr / LAT)
Street life
William Jefferson, 55, tries to dry out his blankets on 5th Street after being caught in the rain. Thousands of the homeless are camped out within a few city blocks containing assistance agencies and facilities in downtown Los Angeles.
(Francine Orr / LAT)