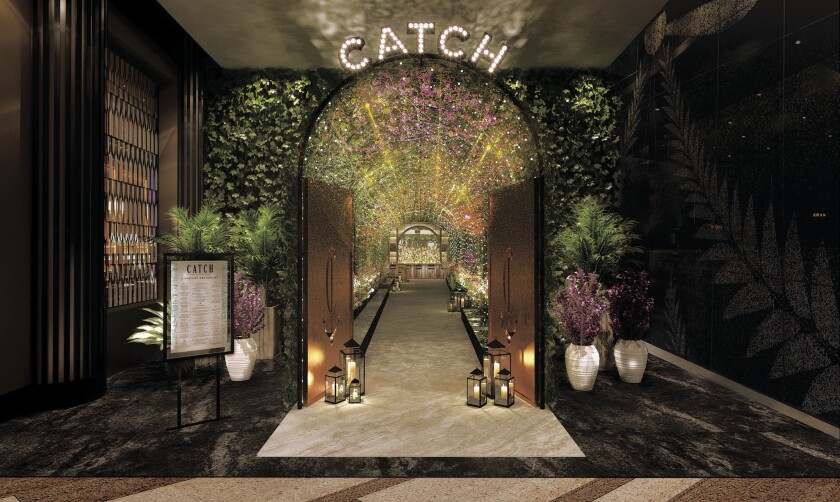 For more than a quarter-century, MGM Resorts International has both set and continuously raised the bar for Las Vegas hospitality, dining and nightlife. Heading into the next decade, MGM Restorts is again unveiling ahead-of-the-game innovations in food, accommodations and experience-enhancing tech across its multiple Vegas properties, including Bellagio, Vdara, Aria and the all-new Park MGM.
But the story starts with one pioneer: Wolfgang Puck. The famed L.A. chef put Las Vegas on the culinary map in 1992 when he opened his legendary Spago restaurant on the Strip, instantly shining among bland cheap eats and buffets. Now the celebrated chef has brought his distinctively Californian, farm-to-table freshness to Bellagio, where the architecturally-spectacular new Spago debuted this summer overlooking the resort's famed fountains.
"It's the perfect synergy," said Puck. "The resort's clientele and my longtime guests align perfectly with Spago's exceptional offerings and elegant atmosphere... It is truly a match made in heaven."
At Park MGM, a $550-million reimagining of the Monte Carlo, L.A. legend Roy Choi is opening his anticipated, Koreatown-influenced Best Friend later this month.
"He's calling Best Friend his 'remixed and remastered collection' inspired by his much-loved L.A. eateries," explained Patrick Miller, president and COO of Park MGM. "He's marrying his love of L.A. and the authentic dining experiences that can be found there with his excitement for Las Vegas."
Also arriving at Park MGM this month is Eataly, a huge, immersive 40,000-square-foot Italian marketplace featuring cafes, to-go counters, sit-down restaurants and vendors of high-quality, sustainable goods.
Meanwhile, celebrity chefs continue to be drawn to the energy of MGM's Las Vegas properties, including former Gayot Restaurateur of the Year Michael Mina (Mandalay Bay's STRIPSTEAK, Michael Mina at Bellagio, Bardot Brasserie at Aria, and PUB 1842 inside the MGM Grand); the James Beard award-winning Shawn McClain (Aria's Sage and FIVE50 Pizza Bar; Libertine Social at Mandalay Bay); and Hawaiian chef Roy Ellamar's market-inspired passion project Harvest, at Bellagio.
Restaurant sensation Catch recently brought its A-list attractors to Aria. The seafood restaurant, with outposts in New York, Dubai and Hollywood, is known as a celebrity hotspot, but the market fresh fish is the real star here. Modern touches meet Asian classics with truffle sashimi, and the "Wagyu on a Rock" is not to be missed. The natural canopy entryway opens to an indoor-outdoor room that feels more treehouse getaway than dining hall.
But this isn't just about common spaces or glamorous eateries. MGM's guest rooms are becoming more sleek yet more purposeful in design, and nowhere is this better represented than at Park MGM (and its boutique hotel-within-a-hotel, NoMad Las Vegas.)
"Intentional design is paramount in every corner of the resort. That same comfortable feeling, that residential appeal, is consistent throughout," said Miller. "There's a sense of discovery, too -- guests can happen upon a park bench located within sight of works from renowned English artist David Hockney, or a cozy corner nook in Primrose's drawing room."
Defying its 3,000-room stature (including NoMad's 293 guest rooms and suites), Park MGM has artfully created comfortable, personalized livability that has traditionally been hard to find in Vegas.
" is reflected in everything down to the art program, curated like a personal collection of treasured photographs, collected drawings and postcards," Miller continued. "Thoughtful design, like the use of a solid table in lieu of a wall-facing desk, creates a welcoming and open atmosphere."
"The energy surrounding the transformation of Park MGM has been building steadily as we've unveiled each phase of the resort, and as we inch closer to the finish line, it's just electric," said Miller. "Not only can you feel it among guests as they explore and see what we've added, but it is absolutely palpable with our employees who are so proud of what Park MGM has become.
-Paul Rogers, Custom Publishing Writer
---