Border wall built in 1990s cut illegal immigration, but it also brought problems for small town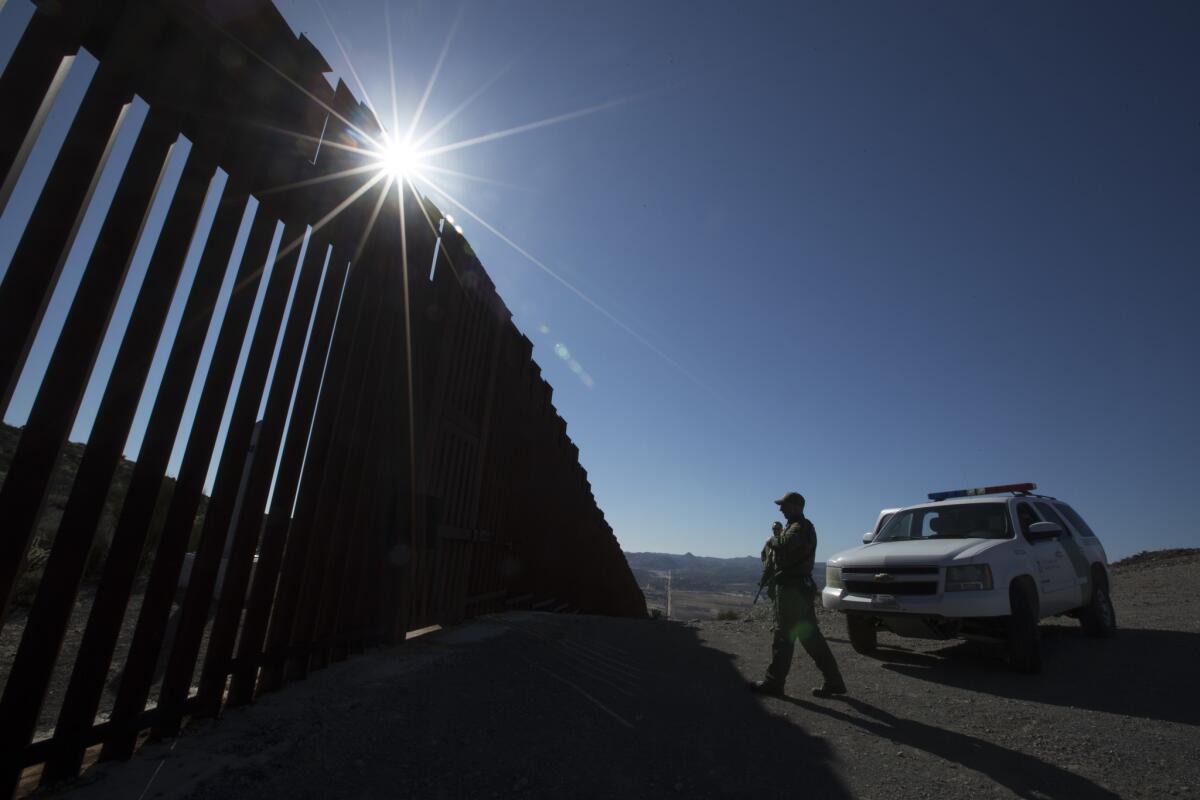 In the late 1980s, Bill Pape was drawn here by the isolated beauty of the mountains and an intimacy that reminded him of a desert version of a small Midwestern town.
The international line was a barbed-wire fence that cattle occasionally trampled.
Pape, a 62-year-old retired aircraft mechanic, would ride his mountain bike along the border with Mexico. Sometimes he would come across a few people pulling up the wire before melting into the United States.
Then the federal government started its aggressive, multi-pronged crackdown against illegal immigration known as "Operation Gatekeeper." In San Diego, federal workers began to fortify 13 miles of a border barrier in the mid-1990s with two tiers of additional fencing, stretching from the Pacific to just east of the Otay Mesa port of entry. The fence then marched east.
Immigrants and smugglers, of both humans and drugs, did the same. To stem the tide, a border barrier soon rose up from the desert chaparral along Jacumba Hot Springs. Part of it was crafted from steel airstrip landing mats left over from the Vietnam War.
But when Pape looked over to the Mexican side, he could see men, women and children — sometimes hundreds — determined to find a way across. Food vendors, recognizing a good business opportunity, set up shop against the fence.
"They were just standing there," Pape recalled. "Like at a bus station."
"Operation Gatekeeper" dramatically slowed illegal crossings in the area. . But for residents in communities along the border, the crackdown came at a price.
The regular visits many people in the town and its Mexican sister city, Jacume, used to make across the border ground to a halt. The decline of the American town, which had seen businesses shrivel up along Old Highway 80, continued.
"Now, when you go bury a friend who has passed away [in Jacume], you have to go all the way around to Tecate or Mexicali and back," said Dennis Ruth, a 45-year resident of Jacumba. "What used to be 15 minutes before now takes three hours. It's changed everything."
This town in extreme southeastern San Diego County offers a glimpse into the ever-changing nature of the U.S.-Mexico border as President Trump visits California. He will stop by the San Diego border next week to review several prototypes for his proposed southern wall.
"Operation Gatekeeper" transformed communities — from small, hardscrabble towns to cities — propelling them toward ceaseless evolution and adaptation along the border in ways both subtle and obvious.
Mark Reed, a retired Immigration and Naturalization Service district director who oversaw the launch of "Operation Gatekeeper," said the fortification of the border had unintended effects.
"What we did is we took away safe passage and it became more difficult to get across. Instead of taking a bus to the border, it cost a lot of money and you paid a smuggler," he said. "Instead of a single man making his way up, now you brought the whole family up and you stayed. That didn't work out too well for us. Now we really created a mess."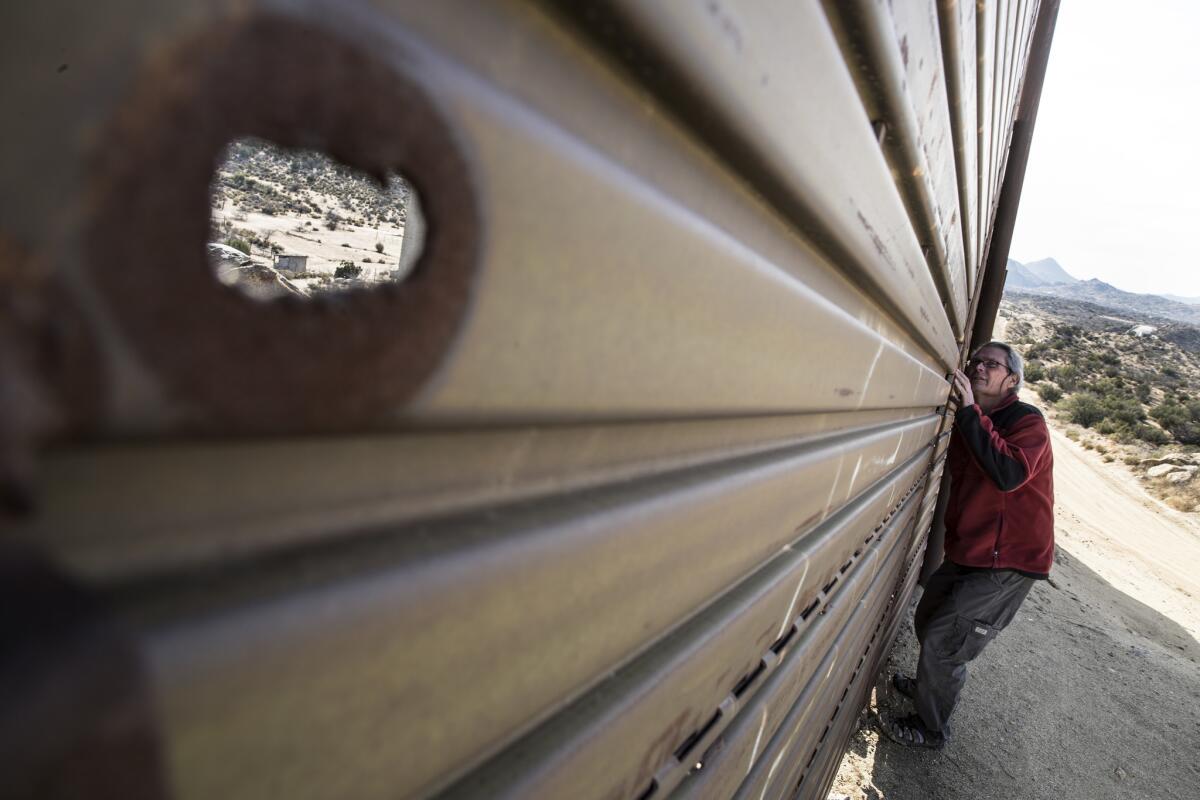 In early March, a 10-weeks-pregnant Francisca Cielo and her husband, Efrain Tapia, climbed a rocky hill just north of the U.S.-Mexico border, guided by the voice of a smuggler crackling over a beat-up Nokia cellphone.
Fifteen days after leaving home, they wore strips of old blankets and rope around their shoes to disguise their tracks. The couple planned to make it to Old Highway 80. There, they hoped, someone would pick them up and take them to Los Angeles.
A Border Patrol agent spotted them less than a mile from the road. Amid the desert scrub, surrounded by other agents, Cielo, 26, and Tapia, 37, stood shackled to each other at the wrists.
"We just want a better future. There is too much poverty" in Mexico, she said. "All the presidents are corrupt."
The couple's arrest was part of an increase in apprehensions in the last six months along this stretch of border. But the numbers were a shadow of the hundreds a day who once trekked across places like Jacumba Hot Springs before being pushed farther east toward Arizona.
Because natural barriers like hills kept it from running uninterrupted, the wall on the edge of Jacumba Hot Springs and Jacume was more effective against smuggling by vehicle than on foot. In this environment, there grew a demand for smugglers who could legally traverse the border.
A 41-year-old contractor in Jacumba Hot Springs who gave his name only as John said he was a teenager when a classmate's relative offered to pay him to make drug deliveries.
"It was hard to say no to $3,000 to $5,000 for an hour drive," he said.
In 1995, John said, undercover agents arrested him on his way to San Diego. His vehicle was loaded with more than 100 pounds of marijuana and he ended up serving a year in prison.
After getting out, John said, he was broke and wanted to get back on his feet. He quit drug smuggling to do human smuggling for a couple of years.
He said many of his peers got into smuggling, including his younger brother and an older brother who was shot to death during a drug run.
"It was a bad way to grow up. None of us should have been exposed to that kind of lifestyle," he said.
"Operation Gatekeeper" ultimately followed the illegal immigration traffic into Jacumba Hot Springs. Federal workers raised metal fences along sections of the border starting in 1995 — mostly the Vietnam-era landing mats.
The area also saw an influx of Border Patrol agents — beefing up the force in the Jacumba area to 30 agents at first and then to 73 by late 1998.
It wasn't until federal workers finished installing bollard fencing in 2008 that illegal immigration in that area really started to fall off, Border Patrol Community Liaison Agent Jason Bush said. Around the same time, federal officials posted 250 agents at the Boulevard Border Patrol Station, which oversees 500 square miles adjacent to the international border — including Jacumba Hot Springs — said Bush, who has been stationed in the area for a decade.
A 2006 Congressional Research Service analysis of the southern border found that the San Diego fence, combined with an increase in agents and other resources in the Border Patrol's San Diego sector, proved effective in reducing the number of apprehensions made in that sector.
But the analysis also found that the flow of illegal immigration adapted and shifted to more remote areas of the Arizona desert.
Over a 12-year period from 1992 to 2004, apprehensions in the San Diego sector declined by 76%, while apprehensions in the Yuma sector increased by 591%.
Before the fence went up, Jacumba Hot Springs had two grocery stores, which also catered to Jacume residents who made the trip to buy things they could not get in the Mexican town.
After the border crackdown, most Mexicans stopped coming, and the American town, with a population of about 500 people, could sustain only one tiny grocery store. Old Highway 80 — the main drag that was once a transcontinental route from San Diego to Georgia — is now flanked by a couple of dilapidated wooden storefronts without tenants. It was a departure from when Hollywood's early celebrities converged in town during the 1920s and '30s to escape the bustle of L.A. and relax in the hot springs.
Susan Barry, a 75-year-old retired school principal, can see the border fence from her kitchen window. She said she used to visit students and their families on the Mexican side, including to attend girls' quinceañeras.
Illegal immigration has declined since the mid-1990s. But every so often, Barry said, she'll come across torn pieces of rug that some of the people smuggled into the U.S. wrap around their shoes. The "carpet shoes" are meant to disguise their footprints.
For Pape, the fence and more Border Patrol agents were necessary. It hasn't always made things easy, he said. Once, Pape said, a Border Patrol agent drew a gun on him after suspecting that he was a smuggler.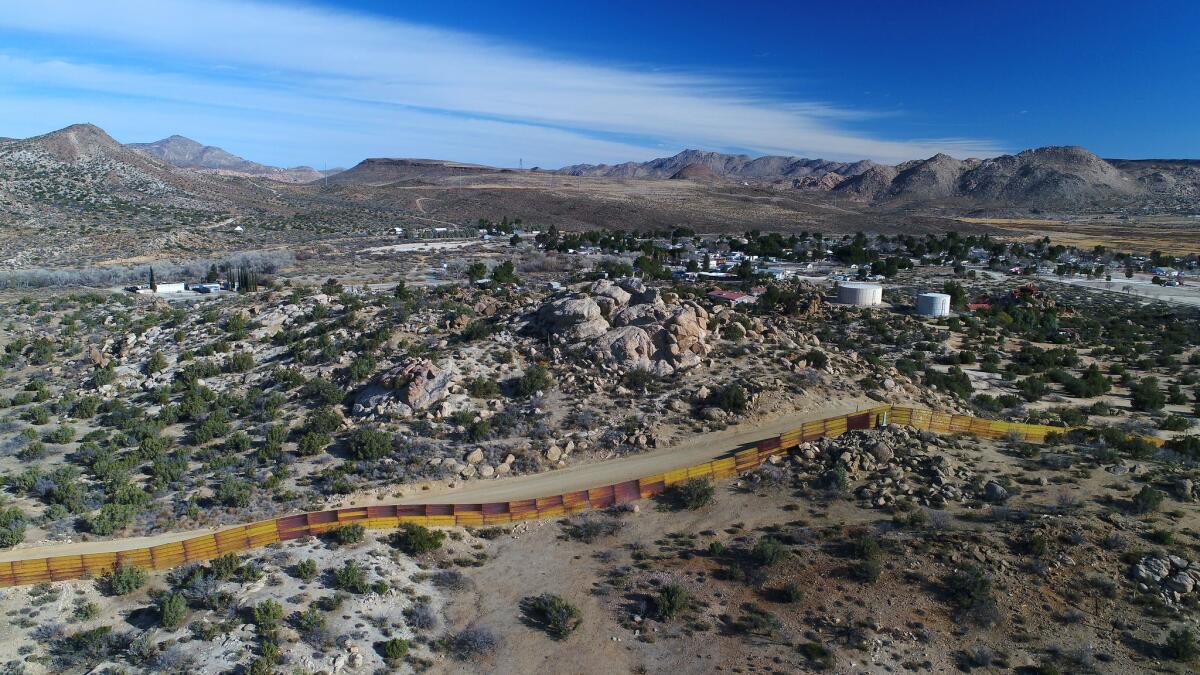 "Way it used to be is that if you sat at the bar, there was a good chance you were sitting next to a smuggler; and then the Border Patrol assumed you were a smuggler. If you talked to friends who were smugglers, they assumed you were one too. So you were guilty by association," he said. "We are all suspect in this town, so they keep an eye on anyone they see."
But Pape said that over time the area got safer as things settled down. He thinks the extra surveillance and barriers along the border helped.
But Pape doesn't have to look any farther than his girlfriend — a 58-year-old immigrant from Mexico who is now a U.S. citizen — to find someone to debate with over fences and walls and the border. Leticia Mejia was 11 years old when she crossed clandestinely in Jacumba in 1971 with her grandmother, who was escaping an abusive husband in Mexico.
She still remembers the smuggler holding the barbed wire for her and her grandmother to pass.
"I just remember the guide walking us though the hills in Jacumba. We took a bus and ended up in San Diego," Mejia said. "For me, it wasn't traumatizing."
She still keeps the bus ticket from Jacumba to San Diego, still legible and almost in pristine condition, in an old wallet. That bus no longer goes through town, Pape said.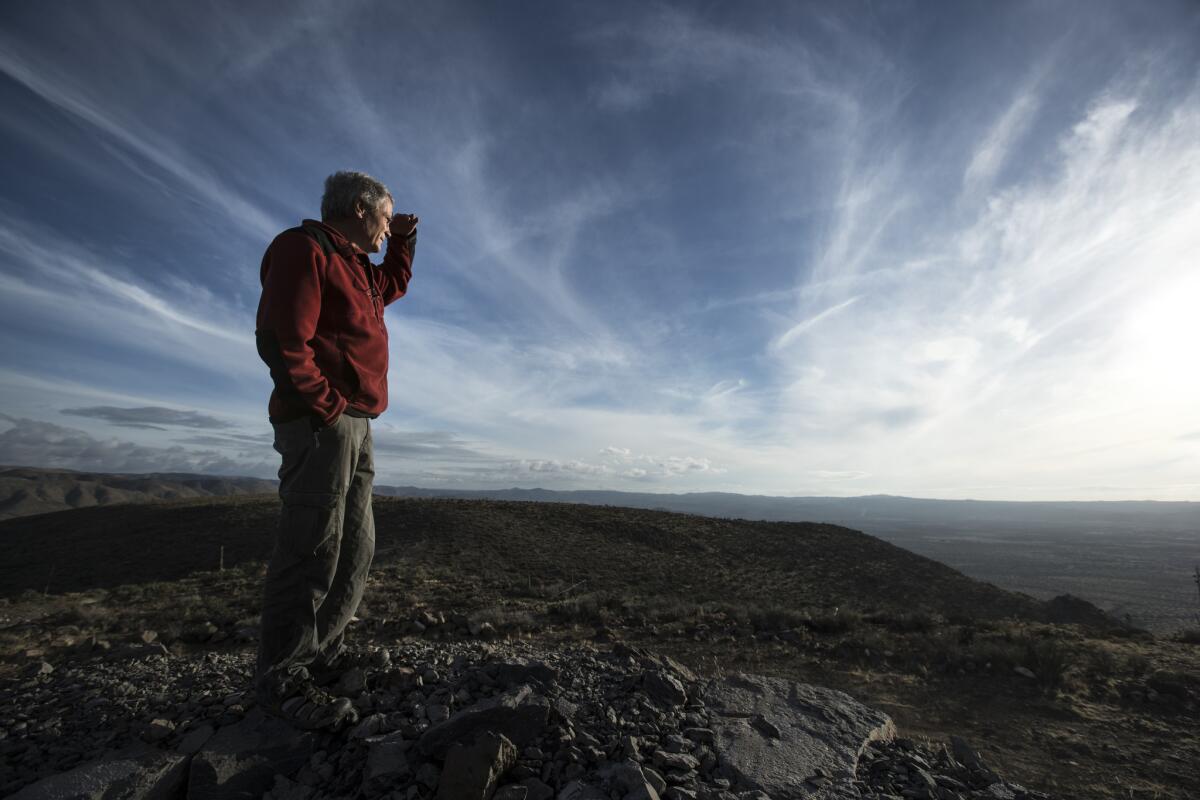 Though Pape and Mejia disagree on the border fence, they agree that the issue could be partly solved if the government made it easier for people to come legally and work in the U.S.
Pape said these days he doesn't often run into people crossing the border illegally — especially during the day.
Sometimes at night he'll see lights flash out in the valley. At times they're headlights. Other times they seem to be from a flashlight, possibly from someone trying to make it to the U.S., or from a Border Patrol agent trying to stop them.
When the sun rises, he'll occasionally find the freshly discarded carpet shoes — the tell-tale sign of someone on a journey north.
Follow Cindy Carcamo on Twitter @thecindycarcamo
Sign up for Essential California for news, features and recommendations from the L.A. Times and beyond in your inbox six days a week.
You may occasionally receive promotional content from the Los Angeles Times.