Simi Valley porn film maker sues N.H. lawmaker, saying man hit him after movie scenes didn't go well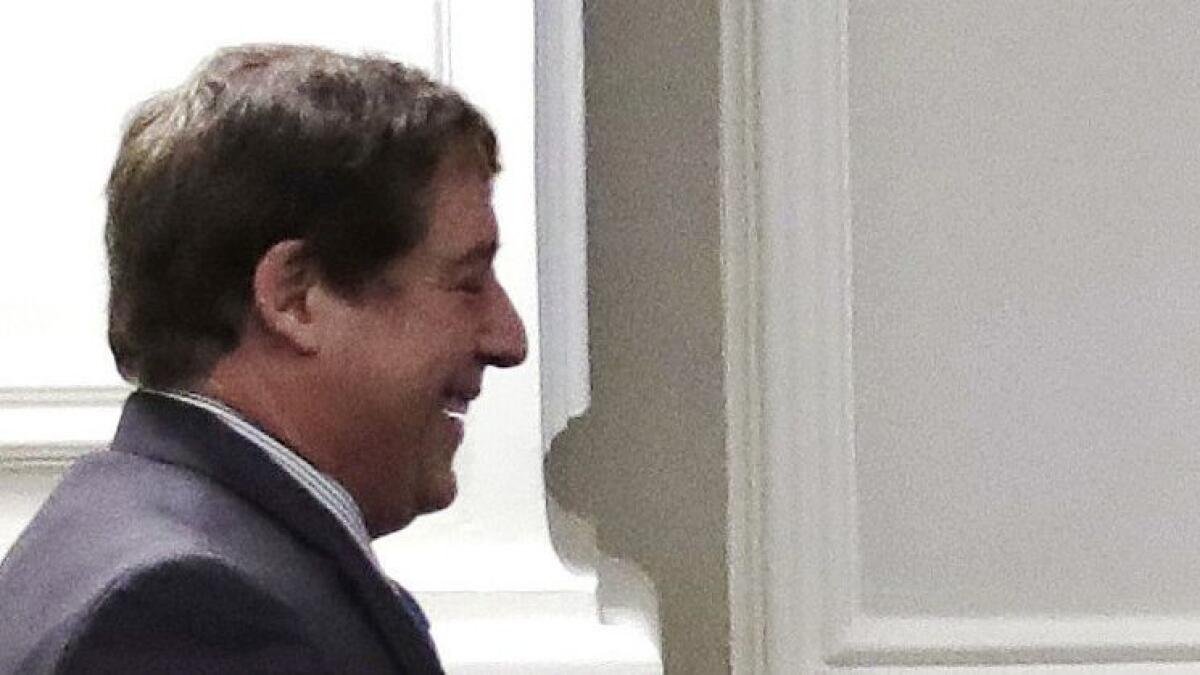 A Southern California adult-film producer filed a lawsuit against a New Hampshire state lawmaker this month alleging that the official assaulted him after having trouble performing while filming sex scenes for an apocalyptic-themed porn film.
Jonathan Carter claims in the lawsuit, filed in Ventura County Superior Court on Friday, that Rep. Frank Sapareto (R-New Hampshire) hit him in the head, face and body at his home in Simi Valley on June 30, a day after they had shot scenes for the movie.
Sapareto, 58, had a starring role in the film called "Creampie Apocalypse" but got angry after he felt his scenes didn't go well, according to the lawsuit.
Carter, who also goes by the name Roy Randall, claims he suffered a concussion in the incident. Sapareto, a Republican who is in the midst of a reelection bid for a seat in the State House of Representatives, has denied the allegations and said he is the victim of an extortion attempt.
The lawsuit alleges that Sapareto and Carter, 38, met online and formed a partnership in early June to make an adult film in which Sapareto would star. The men started Standard Video LLC to produce and sell the movie, according to the suit.
A certificate of formation for Standard Video LLC in New Hampshire lists Sapareto as a member.
Sapareto denied knowing Carter or having any business involvement with the adult-film industry on Friday.
"Wow, that's a great story," he said, laughing. "I haven't heard that one. I thought we were all done going after men."
However, he said Monday that he worked with Carter and invested roughly $5,000 to make tourism videos, but became concerned on his trip to California when Carter told him that he was involved in an insurance fraud case and knew people involved in porn movies.
Sapareto said he dropped off cameras he had bought for the venture at Carter's home, but denied assaulting him.
"I said, 'Here is the equipment, everything is fine, goodbye,' and shook hands and that's it," Sapareto said. "I trusted him and I should never have done that, obviously. In today's age, all it takes is an accusation — everybody is guilty now. He knows that, so he figured, 'I am going to finish this guy's career.' "
Officers issued a citation to Sapareto for misdemeanor battery when he was in California in June, but prosecutors declined to file charges in connection with the alleged attack because of insufficient evidence, according to Simi Valley police.
Sapareto said Carter called him in July to demand money — a claim that Carter's attorney, Eric Dubin, denied. Carter, who makes graphic T-shirts, has not contacted Sapareto since the reported assault, Dubin said.
Carter has about seven hours of video for a film that purported to tell the story of an apocalypse with adult-film actresses searching for the last remaining man, Dubin said.
Emails provided to The Times by Dubin apparently show correspondence between Sapareto's Comcast email address and "Roy Randall" in which the two purportedly discuss name ideas for the film, including "Last Sperm on Earth" and "Armageddon Sperm Donor." The email address is the same as the one listed on Sapareto's campaign website.
"This is a man with a very important position in the state legislature, and his judgment and willingness to lie about this is extremely questionable and troublesome," Dubin said.
In a police report provided by Dubin, an officer writes that Sapareto told him that he met Carter online while seeking a business partner to make an adult film. Sapareto said he told police that Carter — not he — was involved in the porn industry.
Sapareto, who is in his seventh term in the state House, is vice chair of the criminal justice and public safety committee and previously served in the state Senate.
In 2013, he was convicted of simple assault for pushing his girlfriend's daughter, but he served no jail time. He once sponsored legislation to change the simple-assault laws so that any fight entered into by "mutual consent" would be only a violation, not a misdemeanor. That bill failed to pass the Legislature.
Sapareto said he plans to run for state House speaker if he wins reelection next month.
"I imagine this is probably just another bump along the way," he said.
The Associated Press contributed to this report
---
UPDATES:
11:45 a.m.: This article was updated throughout with Times staff reporting.
This article was originally published at 7:35 a.m.
Sign up for Essential California for news, features and recommendations from the L.A. Times and beyond in your inbox six days a week.
You may occasionally receive promotional content from the Los Angeles Times.