A UCLA student's lawsuit aims to push frats to do more to prevent sexual assault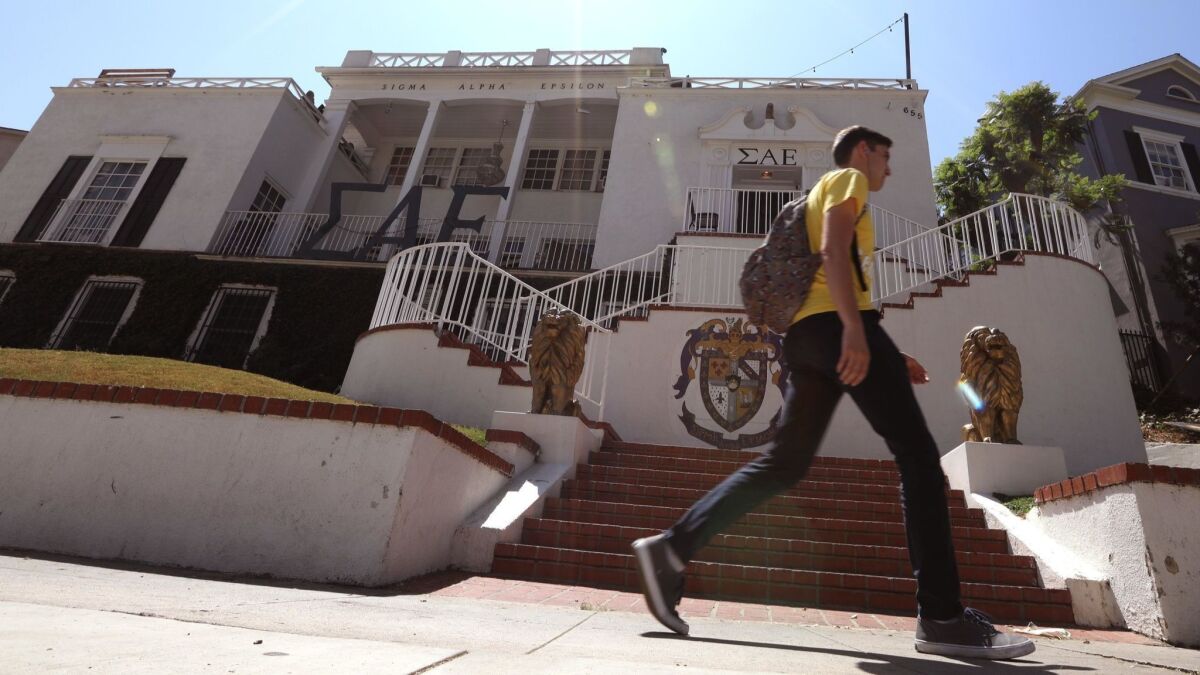 On a cool night in August 2016, two UCLA students went to a fraternity party, got drunk and hooked up.
The young woman said that the young man had sexually assaulted her, and she pushed his fraternity to take action. Six months later, she filed a Title IX complaint with UCLA. The university corroborated her claims, expelled him and in February rejected his appeal.
To the young woman, UCLA had removed an immediate campus danger. But she wanted to do something that would force campus fraternities to do much more to change what she saw as a culture of alcohol abuse and sexual transgression.
So last month, as Jane Doe, she filed a civil complaint, naming her alleged abuser. Her lawsuit sues not only Blake Lobato for assault, battery and intentional infliction of emotional distress but also three fraternity organizations for negligence. She says Zeta Beta Tau, Sigma Alpha Epsilon and the UCLA Interfraternity Council, a student-led governing body for 22 social fraternities with more than 1,600 members, routinely failed to protect her against sexual assault.
Lobato's attorney, Mark M. Hathaway, is seeking a court order to remove his client's name from the complaint — though it already has appeared in articles in the Daily Bruin and other newspapers. He says the sex was consensual and the UCLA investigation flawed, and last week asked a Superior Court judge to order the University of California to overturn the findings and sanctions against him.
The three Greek life organizations declined to comment on the litigation but said they had beefed up safeguards against misconduct.
The woman's complaint alleges that Zeta Beta Tau and Sigma Alpha Epsilon are particularly notorious. Chapters nationwide, it says, have been repeatedly sanctioned or closed for incidents involving alcohol abuse, sexual assault, racism and underage drinking at campuses including Cal State Long Beach, UC Santa Barbara, UCLA, USC, Stanford, Yale, Cornell and Northwestern.
Despite that history, the complaint alleges, fraternities "do little-to-nothing to protect their members and guests from harm," failing to adequately train their members about the risks of sexual and alcohol abuse, to warn their guests about potential dangers or to intervene in dicey situations.
The complaint alleges that Sigma Alpha Epsilon members continued to ply Jane Doe with booze although she was visibly drunk at the fraternity's house party on Aug.12, 2016. It also alleges that the fraternity failed to provide security or supervision.
When she ended up at Zeta Beta Tau early the next morning and ultimately wound up in bed with Lobato, members failed to intervene, the complaint alleges, even though she obviously was intoxicated. She says Lobato sexually assaulted her despite her pleas for him to stop; his attorney maintains that she consented.
Text messages included in the petition to make UCLA reverse its decision show she complained later that day and the next day that he had bruised her entire body and taken advantage of her. Hathaway confirmed the messages were between Jane Doe and his client.
"You physically hurt me and I am messed up from this," read her Aug. 15 text message. "We were both seriously intoxicated.… I have bruises where you grabbed me. You need to accept what happened and what you did.
"I know you would never actually mean to hurt me or anyone," she added.
She did not file a police report, said her attorney, Keith A. Fink. He later advised her that a Title IX proceeding would be more expeditious in removing Lobato from campus and protecting other women from possible harm.
The UCLA Title IX investigator, after interviewing both students and 16 witnesses, concluded that Lobato overcame Jane Doe's will "by use of force, and by intentionally taking advantage of her incapacitation," touching her breasts and penetrating her without her consent.
Hathaway said UCLA didn't provide evidence of the alleged assault to his client before making its finding or allow questioning of Jane Doe. UCLA spokesman Tod Tamberg declined comment on the case, saying Title IX investigations are confidential, but that all sexual misconduct allegations are handled "carefully and impartially" under the UC system's "transparent, consistent process to ensure fairness."
Fink and others say broader and stronger action is needed to protect students. David Easlick, a Virginia-based lawyer who specializes in risk management involving fraternities, said universities need to step in with stricter oversight and discipline. As at UCLA, most fraternities are governed by independent, student-run councils.
Other universities have taken stronger steps than UCLA, Easlick said.
More colleges, he said, should follow the example of Penn State, which took over disciplinary oversight from the Greek governing council after a 19-year-old student died last year during a pledge night party at the Beta Theta Pi house. Penn State also publicly posts annual scorecards for all sororities and fraternities, listing violations of rules involving sexual abuse, alcohol and other misconduct.
"You need to have some kind of school enforcement because you're not going to get it out of fraternities," Easlick said.
Fink said fraternities should hire house managers to oversee conduct — one of more than two dozen reforms being considered by Louisiana State University after a student died from binge drinking while pledging Phi Delta Theta last year. Outside security guards should be required at parties to police underage and excessive drinking, he said, and "pregaming" — getting drunk before a party — should be discouraged if not banned.
UCLA also should widely publicize sexual assaults that occur at fraternities to warn students, Fink said: "You can't have an entirely safe campus, but you can take rational, sane measures to protect the student body."
A UCLA spokesman said university staff trains all fraternity and sorority members to identify and prevent sexual assault and harassment, holds workshops on healthy drinking habits and provides education on how to intervene in potentially harmful situations.
"The UCLA Office of Fraternity and Sorority Life works closely with the Interfraternity Council (IFC) to integrate UCLA student conduct policies and True Bruin values into their respective councils and chapters. The goal is to continually strengthen student safety within the Greek community," Ricardo Vazquez said in a statement.
UCLA could not provide data on how many sexual misconduct claims there have involved Greek life organizations. The Title IX office received 601 complaints between July 2016 and June 2017, about half of them from students and three-fourths of them involving allegations of sexual harassment or sexual violence. UCLA launched formal investigations in 41 cases and substantiated violations of university policy in just over half of them, with a handful more still in process.
Noah Mayer, president of the UCLA Interfraternity Council, said his organization launched several reforms this year to strengthen student safety. Following an alleged sexual assault by a fraternity member, the council in January imposed a six-week ban on alcohol at house events while it created a new risk management policy.
The council now requires fraternities to hire licensed third-party security guards to check IDs at the doors of house parties and issue wristbands to those who are legally allowed to drink. The new policy bars house members from taking visitors to private quarters unless preregistered. At least two fraternity members must patrol each party as "sober monitors" to take care of those who are drunk and make sure that rules are being followed and food and nonalcoholic beverages are available, Mayer said.
The council also requires new fraternity members to attend seminars on such topics as sexual misconduct prevention, the dangers of "toxic masculinity" and how to prevent hazing. Mayer said the council has worked with campus sexual assault specialists on a new guide that tells fraternity presidents the steps they must take when they receive complaints of sexual misconduct.
The reforms have "created a new line of accountability for fraternity parties as well as created a safer environment," Mayer said. "They are a large step in the right direction for the fraternity community at UCLA."
Last week, the North-American Interfraternity Conference approved a ban on hard liquor at house events unless served by a licensed third-party vendor, the Chronicle of Higher Education reported. The conference's 66 members, which includes Sigma Alpha Epsilon and Zeta Beta Tau, voted to implement the ban by September 2019.
One UCLA sorority member, who asked for anonymity because she was not authorized to speak publicly, said the fraternity sexual assault issue was overblown. During her two years at UCLA, she said, no one has ever pushed drinks on her or sexually harassed her during any of the beach outings, parties, tailgaters or dinners her sorority has held with fraternities. She said she doesn't know anyone who has been sexually assaulted and only occasionally hears stories.
"These are really rare incidents and it's not fair to assume this is a regular thing in Greek life," she said.
She conceded that recent reforms are easy to get around. Despite the door checks, she said, younger students can get drinks from older ones once inside. They can drink outside — which could be worse, she said, because they might arrive at parties already drunk and vulnerable to predators.
The best defense against sexual assault, she said, is for women to attend parties in groups and watch out for each other.
"It's pretty easy to prevent it by staying with friends," she said. "It just falls on girls' shoulders."
Other students are pushing for stronger action. In an editorial last month, the Daily Bruin student newspaper, citing the recent lawsuit, urged the university to ban Greek life houses that repeatedly violate Title IX policies, starting with Zeta Beta Tau.
"The time for lip service is over," the editorial said. "UCLA can either take a firm stance against a brutish culture of sexual assault and sexual harassment — or sit on its hands as it has done before."
Twitter: @teresawatanabe
Times staff writers Sonali Kohli and Alejandra Reyes-Velarde contributed to this report.
---
UPDATES:
8:10 a.m.: This article was updated with details about a ban on hard liquor at house events.
This article was originally published at 5 a.m.
---
The stories shaping California
Get up to speed with our Essential California newsletter, sent six days a week.
You may occasionally receive promotional content from the Los Angeles Times.