4 Images
Storm hits Southland
Sergio Merlin of Oxnard takes shelter from the rain as he sells daisies, gardenias and roses from his truck on Vineyard Avenue in Oxnard.
(Stephen Osman / Los Angeles Times)
Pablo Navarro of Los Angeles fishes at Dan Blocker Beach in Malibu as a storm front passes overhead Sunday morning.
(Genaro Molina / Los Angeles Times)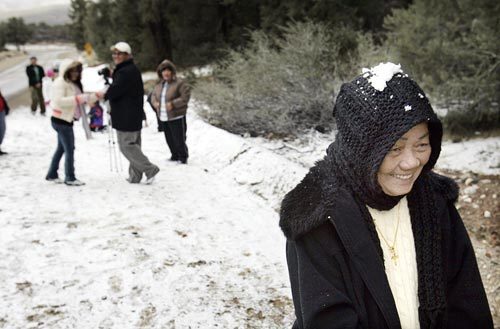 Afriquita Ocampo of Northridge smiles after being hit by a snowball at Frazier Park.
(Carlos Chavez / Los Angeles Times)
Jo Anna Luna rides to the market on the back of her brother Fabian's bicycle as the rain begins to pour in Lynwood.
(Karen Tapia-Andersen)