Southern California storms expected to continue into next week, National Weather Service says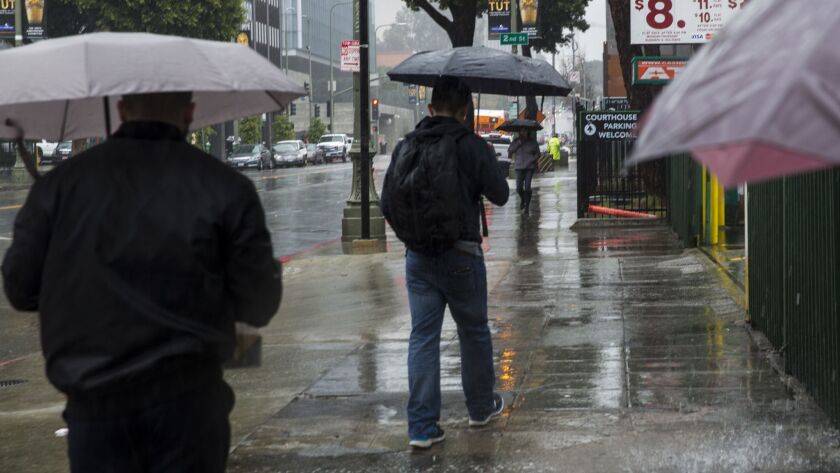 Southern California's soggy week will continue Friday with another rainstorm that is expected to stretch into the weekend, the National Weather Service said.
A storm that is expected to drop about a quarter-inch of rain along the coast and up to three-quarters of an inch in the local mountains should arrive Friday night and bring showers through Saturday afternoon, said weather specialist Stuart Seto.
The cold storm could drop snow levels down to 5,000 feet and dust the Grapevine, though not enough to cause problems, Seto said. The dry weather will return for a couple of days, but the potential for more rain arrives Tuesday night.
"It's not going to last forever, though," Seto said.
Indeed, the current series of storms is a departure from what has so far been a below-average year for rainfall in Southern California.
Since March 1, downtown Los Angeles has seen about 1.21 inches of rainfall — somewhat close to the historic average for the month of 1.39 inches, Seto said.
The rain has been heavy at times and caused problems. On Thursday, Topanga Canyon Boulevard was closed after a mudslide was reported about 1:45 a.m., the California Highway Patrol said. The canyon's fire-scarred hillsides were vulnerable to saturation and gave way, the California Department of Transportation said.
Slopes burned in every Southern California county last year, leaving many areas, and some entire neighborhoods, vulnerable to debris flows in heavy rains.
But outside of significant storms in November, January and this month, big storms have not really materialized in the Southland as they did last year.
Since Oct. 1, downtown L.A. has received 3.13 inches of rain; the historic average is 12.34 inches. Last year, amid the wettest winter in decades, downtown had already received 18.50 inches by this point in the year.
Coastal and inland areas aren't faring much better. Santa Barbara has received 5.25 inches of rain since Oct. 1; the typical average by this point is about 14.5 inches, according to National Weather Service data. Palmdale had received 0.99 inches of rain since Oct. 1 as of Thursday, well below its average of more than 6.5 inches.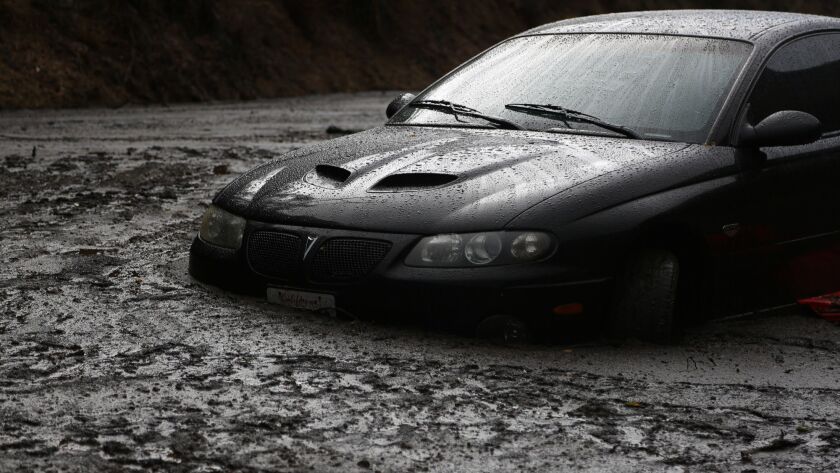 Is this a 'March miracle'?
Even with this week's rain and another storm due next week, and possibly more later, it doesn't mean that California is receiving a "March miracle" of rainfall that will help us for the rest of the year, said David Rizzardo, chief of California's water supply forecasting.
"It's been dry despite a good March, and it's asking a lot to make up for it all in one month, but it's encouraging," Rizzardo said.
This month is considered the end of the state's traditional rain season, meaning that all the rain and snow from now until April 1 is expected to be pretty much it for Central Valley farmers and wildlife that depends on winter runoff filling the state's rivers for the spring and summer ahead.
As of Thursday, many of the state's major reservoirs were in good shape for the year, thanks to last year's storms, Rizzardo said. Reservoirs at Lake Shasta, Don Pedro and Pine Flat were all at or above their historical average for this week.
But those numbers hide the enduring long-term ills California continues to suffer from its stubborn drought.
On Thursday, the U.S. Drought Monitor, a weekly report generated by multiple federal agencies, put 22% of California into its "severe drought" category. A section of Ventura County was considered in "extreme drought," the worst condition anywhere in the state.
The driest parts of the state reach from Ventura County north into Fresno, Madera and Mariposa counties in the Central Valley, according to the report.
Meanwhile, the forests continue to die. In December, the U.S. Forest Service announced that an additional 27 million conifers had died in the state since November 2016. Since the beginning of the drought, the weather and the bark beetle infestation it has fueled has killed 129 million trees in California.
"Even though you have these extreme swings with really, really wet years, it doesn't solve the overall dry picture," Rizzardo said.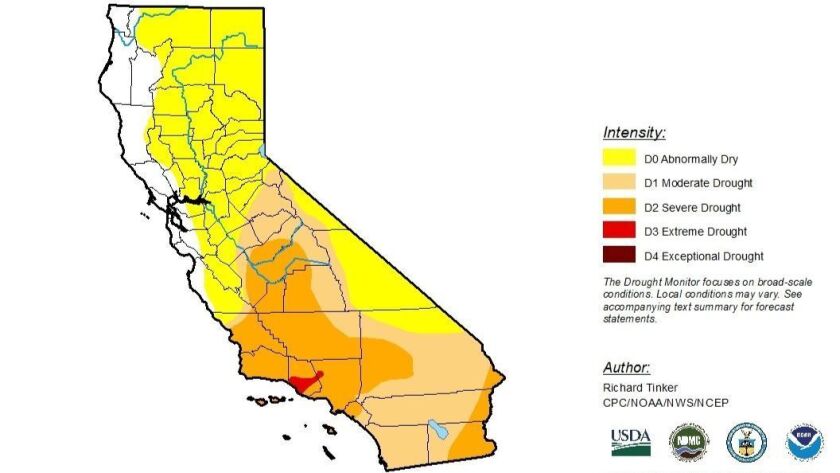 Marching toward a bigger snowpack
If it weren't for last year's winter, the state's reservoirs would be much more parched come this summer, experts say.
About a third of California's water supply comes from the snowpack that builds in the Sierra Nevada every winter, and by the end of February, things were looking grim.
"We were looking pretty bad there…. It was starting to look very similar to 2015 and 1977, which are our historic dry years," Rizzardo said.
On March 1, the statewide snowpack sat at about 25% of average, Rizzardo said. Thanks to storms these last two weeks, it has since climbed to 40%.
More storms could add even more powder to the mountaintops. The National Weather Service predicts that the mountains above Interstate 80 in the northern Sierra Nevada could get up to 5 feet of snow through Saturday.
"Let's say we end up in the 60% or 70% range — that's still below average," Rizzardo said. "The point is, I think just as Californians is, we've got to conserve a lot better."
Twitter: @JosephSerna
---
For reporting and exclusive analysis from bureau chief John Myers, get our California Politics newsletter.
You may occasionally receive promotional content from the Los Angeles Times.