Head of Homeboy Industries backs proposed ballot measure targeting 'overdevelopment'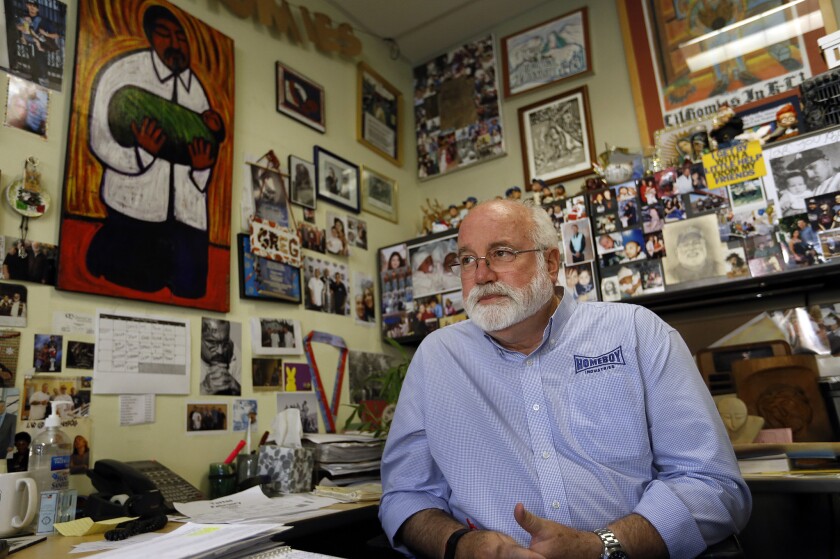 Father Greg Boyle, executive director and founder of the job-training nonprofit Homeboy Industries, on Thursday came out in support of a proposed ballot measure to crack down on real estate "mega projects" in Los Angeles.
Boyle was one of a handful of anti-poverty leaders named as supporters of the measure from the Coalition to Preserve L.A., a group created by the nonprofit AIDS Healthcare Foundation and neighborhood activists.
Backers of the proposal, still in the signature-gathering stage, say they want to halt the city's practice of changing planning, zoning and parking rules for major development projects. They contend the approval of such projects results in a loss of affordable apartment units.
If approved, the measure would impose a moratorium for up to two years on development projects that need an increase in density to win approval.
Boyle did not respond to requests for comment from The Times. But in a statement released by the Coalition to Preserve L.A., he said there is no more pressing issue for former convicts and parolees than "finding affordable housing."
"The Neighborhood Integrity Initiative will provide a moratorium on development and therefore a respite for the poor seeking just and fair housing," said Boyle, whose organization provides job training and other services for ex-gang members and former convicts.
One renters' rights advocate said Thursday that he fears the proposed ballot measure will kill not just mega developments, but also affordable housing projects, which frequently need zoning changes or other changes to planning rules to win approval.
"It's a sledgehammer approach," said Larry Gross, executive director of the nonprofit group Coalition for Economic Survival.
The Coalition to Preserve L.A. also announced its ballot proposal has picked up support from the Rev. Alice Callaghan, founder of skid row service agency Las Familias del Pueblo, and Jeff Dietrich, a founding member of the Los Angeles Catholic Worker, which operates a soup kitchen and other services for the indigent.
Dietrich said he would be OK with a temporary halt to the development of affordable housing if it also stopped construction of luxury high-rises.
"Pretty soon we're just not going to have any working-class people in the city of Los Angeles because housing is so precious," he said. "And it's because of overdevelopment."
Foes of the proposal have already begun warning that it could have a negative impact on the economy. If a moratorium on major development projects goes into effect, an array of unionized workers -- electricians, carpenters, plumbers and others -- will find themselves out of jobs, said Ron Miller, executive secretary of the Los Angeles/Orange Counties Building and Construction Trades Council.
"These jobs allow someone to put his kids through school, through college, and perpetuate the American dream," said Miller, whose group represents 140,000 workers.
Miller said his organization has found jobs for people served by Boyle's group.
Backers of the measure say they hope to put it on the November election ballot.
Follow @DavidZahniser for what's happening at Los Angeles City Hall
---
The stories shaping California
Get up to speed with our Essential California newsletter, sent six days a week.
You may occasionally receive promotional content from the Los Angeles Times.