Task force projects 50,000 more homeless in L.A. County by 2016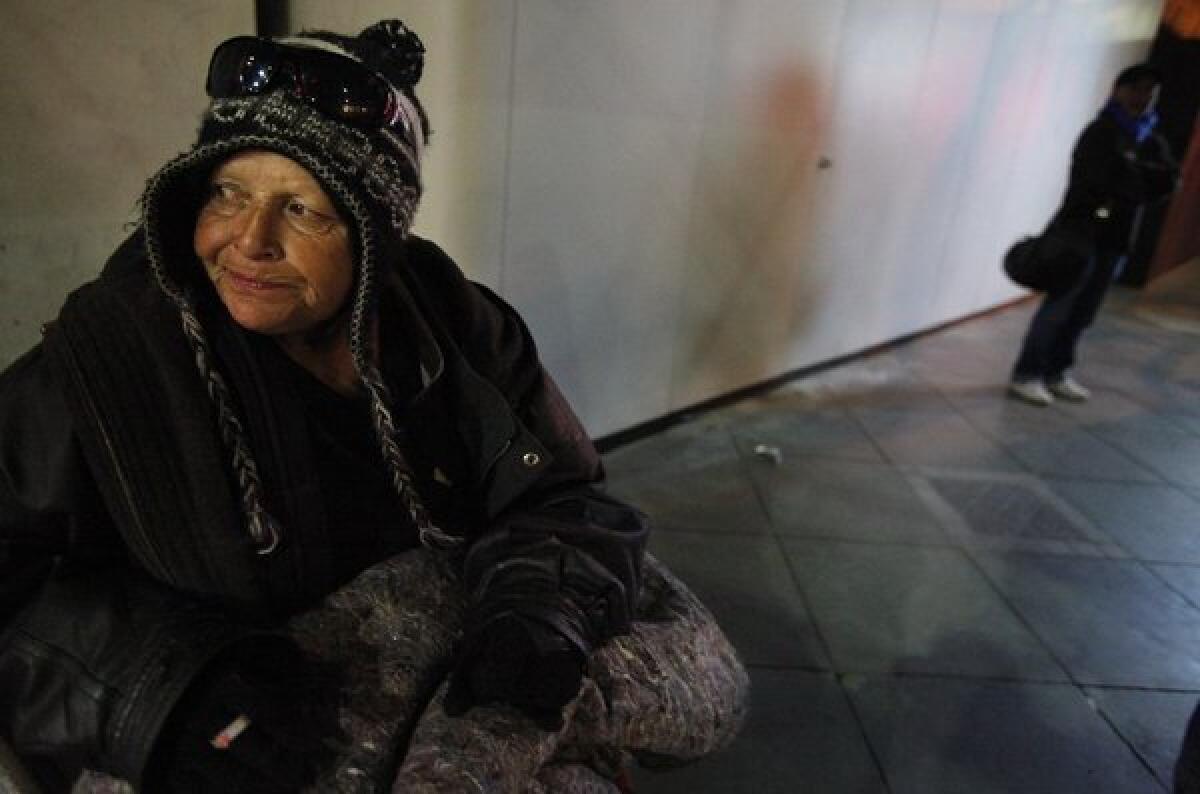 A business group said Friday that 53,000 people, including 33,000 veterans, will join Los Angeles County's homeless ranks by 2016, the deadline the group had set to get former soldiers and chronic transients off the streets for good.
The grim projection came two weeks after the release of a new count showing a significant rise since 2011 in the county's homeless population, from 50,000 to 58,000.
"I took these numbers as hard as any of you," said Christine Marge of the United Way of Greater Los Angeles, which is overseeing the project to end veteran and chronic homelessness in the county. "I still have so much confidence in our ability to do this."
Marge's remarks came at a meeting of nonprofit, foundation and government representatives to assess the United Way's five-year plan to end long-term homelessness. The plan started in 2010.
Federal officials at the meeting said the county, after decades of failed policies, was on the right track, but had been broadsided by the recession, federal sequestration cutbacks and the elimination of state redevelopment housing programs.
"Ending veteran homelessness is really within reach," said Barbara Poppe, who directs the U.S. Interagency Council on Homelessness. "Chronic homelessness is a much tougher nut to crack."
The United Way campaign pledged to double the number of long-term and veteran homeless people housed each month over the next 100 days, in part by spreading a pilot program on skid row throughout the county. The program created a one-stop system for homeless people to find housing and services, which traditionally could only be located by navigating a thicket of bureaucratic rules, applications and waiting lists.
The business group is also coordinating public and private funding for permanent supportive housing, which includes on-site mental health, drug rehabilitation services, and overseeing setting uniform standards for shelters and other homeless agencies.
The United Way group marshaled $105 million in state, federal, city and private funds for its homeless campaign in 2012, and expects to apply $105 million, including $10 million to $15 million in private donations, to the effort this year, a spokesman said. Marge said 9,457 chronic homeless people and veterans had found permanent shelter at the campaign's halfway mark.
ALSO:
Third person is Asiana crash dies
Saudi princess is free on $5 million bail
San Diego mayor apologizes amid sex harassment allegations
Twitter: @geholland
Sign up for Essential California for news, features and recommendations from the L.A. Times and beyond in your inbox six days a week.
You may occasionally receive promotional content from the Los Angeles Times.