L.A. City Council approves development fee to raise money for affordable housing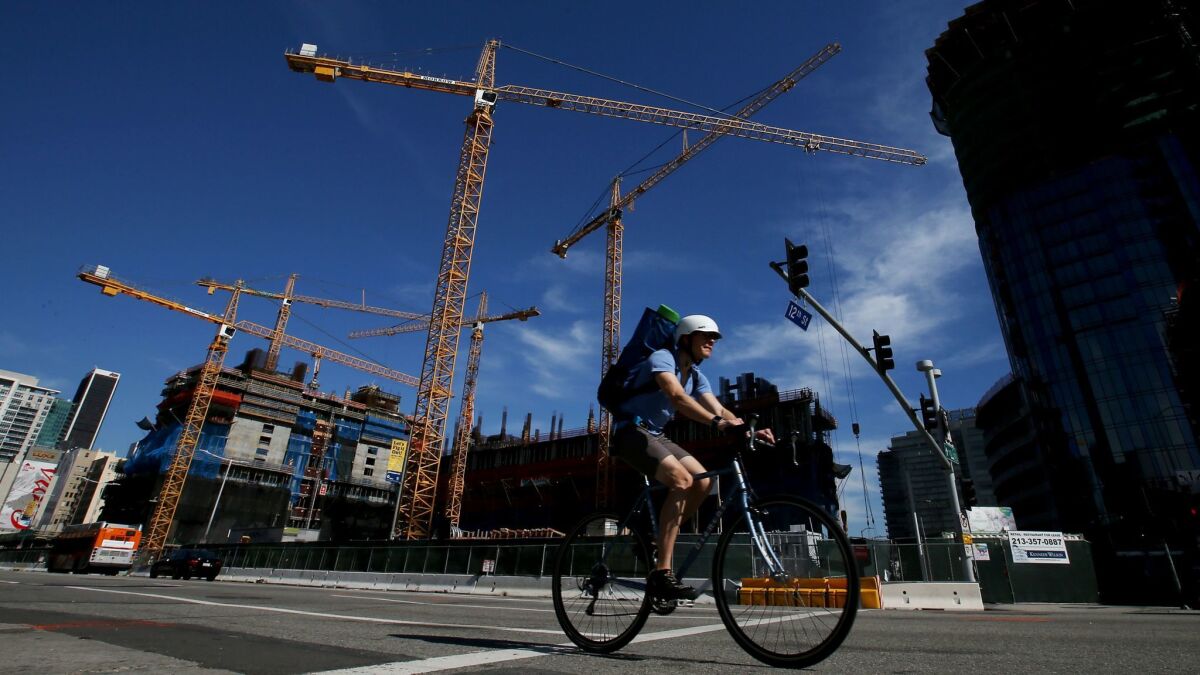 The Los Angeles City Council voted Wednesday to impose a new fee on development to raise millions of dollars a year for affordable housing as the city copes with rising rents and surging homelessness.
Mayor Eric Garcetti has long pushed for the so-called linkage fee, saying it would provide a permanent revenue stream to build housing for low-income residents.
Celebrating with his colleagues outside City Hall after the council vote, Garcetti suggested the fee would help Los Angeles become "not just a city for some, but a city for all."
"Today we see hope in the promise that Los Angeles can continue to grow and indeed must grow," Garcetti said. "That when we see luxury condominiums going up, that we can make sure that there is money paid in to build housing for the rest of us."
The mayor made his remarks near City Hall's lawn, a popular gathering spot for homeless people. As he spoke, at least half a dozen people dozed on the grass or watched Garcetti.
Garcetti's appointees on the Planning Commission in February approved a flat per-square-foot fee. But the council ditched the plan amid concerns that it would discourage development in poorer neighborhoods.
The fee approved Wednesday takes into account both the type of project being built and its location — a formula that officials estimate will raise about $100 million annually when it fully goes into effect in 2019.
Under the measure, builders will pay $1 to $15 a square foot, depending on the type of project and area, with higher fees in "high-market" neighborhoods, including the Westside, and lower fees in areas that include San Pedro and South L.A.
Garcetti announced plans for a linkage fee in 2015 and counted on $20 million from the program in his homelessness budget last year. But the plan was never approved by the council.
Supporters have voiced frustration that city leaders didn't pass the development fee sooner. A city report released this year said L.A. "missed a tremendous opportunity for a robust linkage fee with the recent construction growth."
L.A.'s action follows state efforts this year to tackle California's crippling housing costs. In September, Gov. Jerry Brown approved a new fee on real estate transactions, as well as a $4-billion bond slated for the 2018 ballot, that together could raise close to $1 billion for low-income housing annually.
Supporters say more affordable housing is crucial in Los Angeles, where income levels are not keeping pace with rising housing costs and where the nation's largest unsheltered homeless population resides.
Opponents question the need for a development fee after city voters last year passed a $1.2-billion homeless housing bond and placed affordable housing requirements on some projects. They also argue that the fee will prompt developers to charge more for housing units, or choose to build outside the city limits.
Michael Heslov, a developer who builds in neighborhoods including Westlake, Highland Park and Van Nuys, said "it's more than likely" he'll raise rents in future projects because of the fee.
"It's like anything else," Heslov said. "If the cost of avocados goes up, it gets passed on to consumers."
With Wednesday's vote, L.A. follows Chicago, San Jose and other large cities in charging fees on development. The term "linkage fee" refers to cities' efforts to offset the strain on the housing market for lower-income people caused by market-rate development. In other words, cities are trying to "link" the two issues.
The fee is based on geography, with planners using the city's 35 community plans — designated boundaries that help guide development — to calculate the charge.
For instance, the linkage fee to build a 3,000-square-foot home on a vacant lot in Bel-Air would be $45,000, while in San Pedro the fee would be $24,000 for the same size home.
In cases in which a home or building is torn down and replaced with a larger one, the added square footage is used to calculate the fee.
Several categories are exempt from the fee, including schools, hospitals and public museums. Additionally, residential additions smaller than 1,500 square feet are exempt.
Developers also don't have to pay the fee if they include a set amount of affordable, low-income or moderate-income housing in their buildings.
Ken Bernstein, principal city planner with the planning department, said the city anticipates that developers may offer lower-income housing in their projects to qualify for the linkage fee exemption.
"If developers choose to provide affordable units on-site, that still serves the city's policy goals, to address the housing crisis by producing more affordable units," Bernstein said. "In fact, it may actually generate new units more quickly and help create affordability in strategic locations where new development is gravitating."
In addition to approving the linkage fee, the council agreed Wednesday to study raising the residential development fee in high-market areas to $18 per square foot. The council will also consider Councilman Gil Cedillo's proposal to exempt developments geared toward middle-income earners from the fee.
The councilman, who wants to encourage the production of such housing, said professionals including nurses and city workers should be able to afford to reside in Los Angeles.
"We all have a right and we should have a right to live close to where we work," Cedillo told his colleagues at Wednesday's meeting. "It's good for the environment, good for our quality of life, good for public safety."
The council is expected next year to approve a plan for how to spend the money raised by the linkage fee. In addition to paying for affordable units, the money could fund first-time home buying, workforce housing and the preservation of existing housing projects with expiring covenants.
The city's Affordable Housing Trust Fund collects about $28 million annually from federal grants and other sources. Federal cuts in recent years lowered the trust's balance, said Rushmore Cervantes, general manager of the city's housing department.
The fund helped pay for the completion of 632 affordable housing units last year and 353 units in 2015.
Despite the city's support of a new revenue stream, the construction of affordable housing units in Los Angeles at times is slowed by bureaucratic delays and neighborhood opposition. For example, the city is still seeking to develop or sell eight city-owned properties to fund affordable housing, a plan announced in 2016.
City Councilman Jose Huizar, who chairs the city's Planning and Land Use Committee, defended the linkage fee, saying it's a "good policy" and part of the city's overall strategy for coping with rising homelessness.
"We're in a crisis," Huizar said.
Twitter: @dakotacdsmith
ALSO
Study finds L.A. County saves money by housing sick homeless people
L.A. County now has 58,000 homeless people. So why are there thousands fewer shelter beds than in 2009?
Want to build housing for homeless people? Here's how
---
UPDATES:
3:45 p.m.: This article was updated with new comments from Mayor Eric Garcetti and more details about how the linkage fee will be calculated.
This article was originally published at 1:15 p.m.
The stories shaping California
Get up to speed with our Essential California newsletter, sent six days a week.
You may occasionally receive promotional content from the Los Angeles Times.