Orange County district attorney's office can stay on case despite courthouse brawl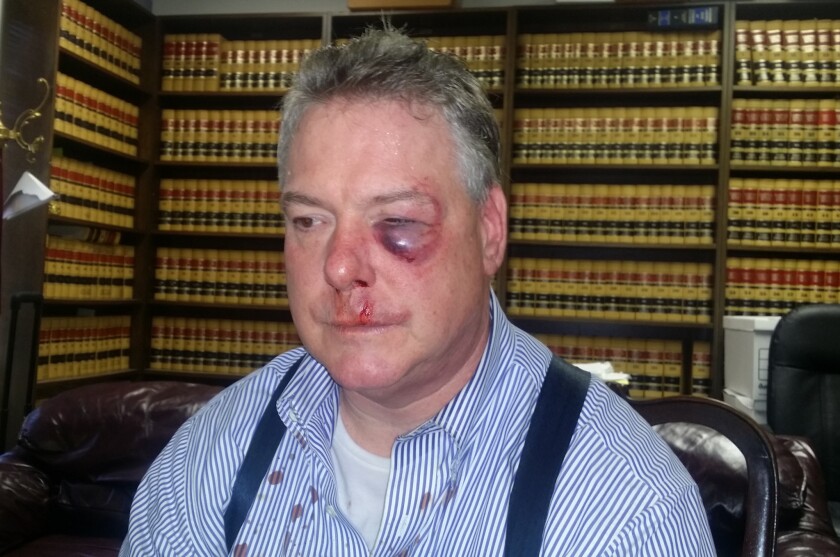 A judge on Friday refused a request to throw the Orange County district attorney's office off an assault case, ruling against defense attorneys who said key witnesses had been intimidated by a courthouse brawl between an investigator working for the district attorney and a lawyer.
Judge Patrick Donahue ruled the prosecutor's office could continue its case against Adrian Arellano Arroyo, who is accused of participating in an August 2014 brawl outside a Lake Forest nightclub.
Last week, a fight erupted in the hallway outside the judge's 10th-floor courtroom in Santa Ana between Dillon Alley, an investigator handling a witness in the Arroyo case, and James Crawford, a lawyer assigned to advise the witness of her rights.
Accounts differ regarding who instigated the fight. Crawford's attorney said Alley threw the first punch; the district attorney's office said it was Crawford. Crawford was left bloodied, and said he intends to sue.
In a court motion, Arroyo's attorneys argued the fight was part of "a pattern of intimidation and dissuasion" that had chilled formerly cooperative defense witnesses.
At a hearing Friday morning, Deputy Dist. Atty. Matthew Lockhart argued that while "it is outrageous that people are fighting out in the hallway," the confrontation did not represent outrageous government misconduct and had not deprived Arroyo of a fair trial.
The incident between Alley and Crawford remains under investigation. No charges have been filed.
christopher.goffard@latimes.com
Twitter: @LATChrisGoffard
ALSO
Anti-Trump graffiti mars Newport Beach neighborhood
Death of high-rise worker in downtown L.A. investigated as possible suicide
Porter Ranch residents displaced by gas leak have one more week to return home
---
The perils of parenting through a pandemic
What's going on with school? What do kids need? Get 8 to 3, a newsletter dedicated to the questions that keep California families up at night.
You may occasionally receive promotional content from the Los Angeles Times.