Some O.C. residents: We want to help the homeless — just don't put them in our neighborhoods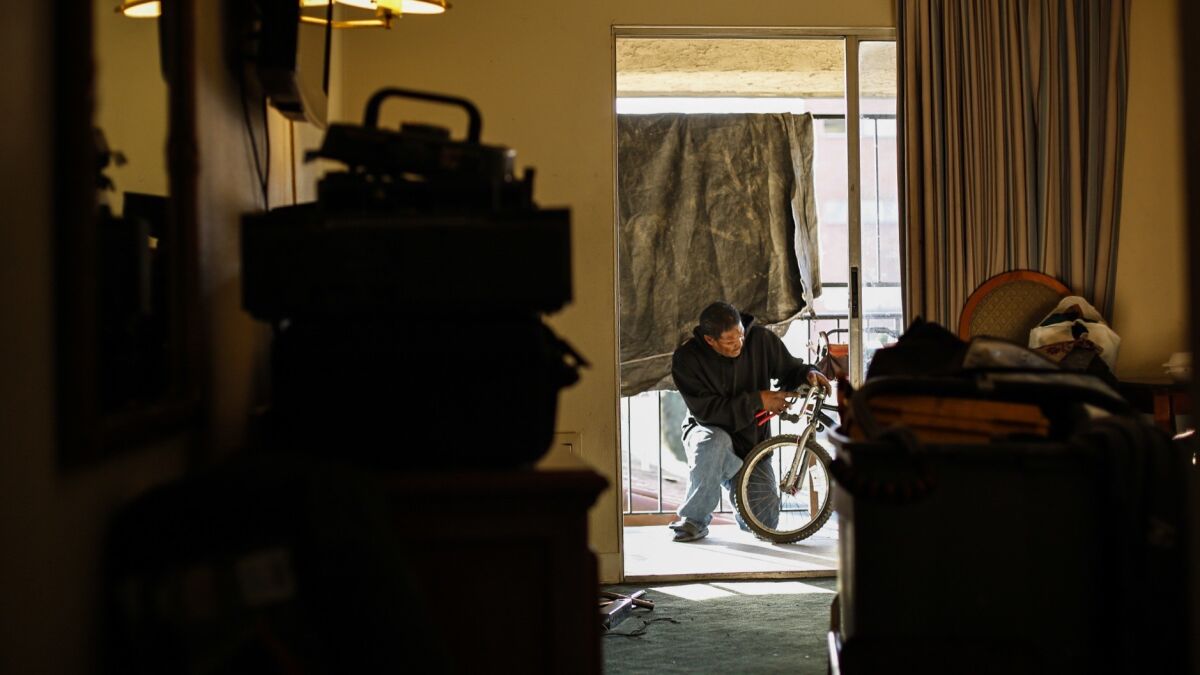 One day after Orange County supervisors voted to spend more than $70 million to house the homeless, residents in three prosperous cities expressed alarm about a proposal to set up "camp" shelters in their communities.
Besides creating permanent housing, the officials' plans call for possible camps in Irvine, Laguna Niguel and Huntington Beach on county-owned land. The Irvine City Council voted unanimously late Tuesday to sue the county to stop the proposal.
"How does this solve the problem?" Mayor Donald P. Wagner said during a special meeting he organized to respond to the county.
The Laguna Niguel City Council also voted unanimously Tuesday to initiate litigation against the county, citing the county's plan to create a homeless encampment just a few steps from a public library, daycare center and elementary school.
"I am stunned that anyone at the county thought it was a good idea to place 100 homeless individuals in tents that are adjacent to not only a residential neighborhood of young families, but also a daycare center where innocent children play and just a few hundred yards from an elementary school," said Mayor Elaine Gennawey. "This is a public safety tragedy waiting to happen and we will do everything in our power to prevent this from occurring."
The county's idea caused some residents to express anger, suggest other locations for the shelters — and to take digs at their much larger neighbor to the north: Los Angeles.
"This freaks me out. I moved to O.C. because I thought it would be a safe place. Now it's getting more and more like L.A.," said Rob Howard, an office manager in Irvine. "Who wants tons of traffic, high prices and all kinds of unwanted people around you?"
Ann Huang, a computer programmer in Laguna Niguel, said: "When we think of a homeless crisis, we think of an urban environment that's overcrowded and full of noise and chaos. You don't think of it happening in a place like O.C."
Huang added: "I understand that we should be sensitive to needy people. But definitely, I'm going to fight any kind of facility that's close to our towns and kids."
Some Orange County residents said they supported moves to help the homeless — as long as they were moved somewhere else.
"Finally, the county is taking action — doling out this kind of money. But they must understand that they can use this money to go buy land elsewhere, maybe the Inland Empire, to relocate the homeless," said Mark Smith, a Huntington Beach renter looking to buy a home near Pacific Coast Highway. "We just can't lower our housing values with this population nearby,"
The Board of Supervisors' vote is part of an effort to wrestle with a growing homeless problem in Orange County.
After a rare federal court hearing Saturday, Orange County officials agreed to extend motel stays "on a case-by-case basis" to homeless people removed from encampments along the Santa Ana River.
The daylong hearing and negotiations marked the latest chapter of an effort by officials, homeless advocates and a federal judge to improve the situation for a growing homeless population in one of the most affluent counties in the U.S.
But as the vote by the supervisors on housing the homeless shows, it's unlikely the plans will please everyone.
Supervisor Shawn Nelson said county officials have limited options.
"I thought it made more sense to have a manageable plan before we start clearing the riverbed homeless population, but no one cooperated," he said. "Everyone points to somewhere else. Every community thinks we ought to solve this crisis, and every community thinks, 'Why not go to another spot?' "
The housing issue took center stage Monday after homeless advocates criticized county officials for not having a plan to help the more than 700 people moved from the Santa Ana River trail encampment into motels last month. Because motel vouchers were only available for 30 days, critics questioned where the homeless would go when they expired.
Smith, the Huntington Beach renter, said he's been reading social media posts about the county's housing plan for the homeless.
"All my friends are saying online that we've got to organize something to go to the supervisors meeting and speak our minds," he said. "We can't let them act on this. Citizens coming together can be powerful."
Last year, Nelson suggested opening temporary shelters at Huntington Beach and Irvine sites — but the other supervisors were opposed.
"Some people are creating a false narrative that these cities are being picked on. But we only have a short list of locations we can use," he said, adding that the Irvine location is not surrounded by residential neighborhoods.
"No one on this board takes glee in making this decision. But we have to have a place for people to go to," Nelson said. "We are exiting these people out of the riverbed with no options for them, and we're obligated to step up."
---
UPDATES:
5:40 p.m.: This article was updated with information about Laguna Niguel.
This article was originally published at 4 a.m.
The stories shaping California
Get up to speed with our Essential California newsletter, sent six days a week.
You may occasionally receive promotional content from the Los Angeles Times.