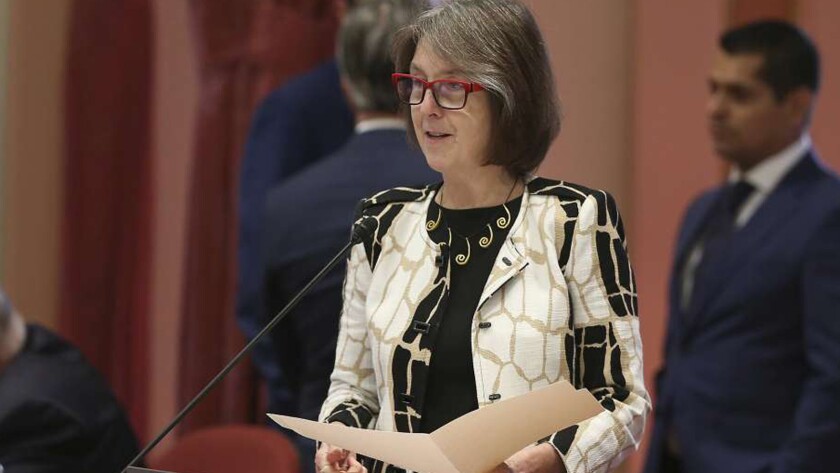 The Los Angeles Times and three other organizations have filed a motion with the California Supreme Court opposing a law enforcement union's last-minute bid to limit the scope of a new law requiring broader disclosure of government records in cases of police shootings and misconduct.
The San Bernardino County Sheriff's Employees' Benefit Assn. has asked the high court to block the release of records for any shootings or other incidents that occurred before Jan. 1, when the law takes effect. The union argues that the law cannot be applied retroactively.
In the motion filed Friday, The Times is joined by the California News Publishers Assn., the First Amendment Coalition and KQED, a public media outlet based in San Francisco.
The organizations contend that the statute, Senate Bill 1421, was drafted to apply to all records in possession of law enforcement agencies, not just those created after the start of the new year.
The news media and open-government advocates had fought for years for such a law. They maintain that confidentiality rules shielding internal law-enforcement investigations often hindered the public's right to know about bad police shootings and other officer wrongdoing, including beatings, sexual assault, perjury and falsifying evidence.
In asking for intervenor status in the matter before the court, the organizations state that, if the sheriff's union request to restrict the law is granted, the news media, 1st Amendment groups and "the public will suffer irreparable injury in that they will be prevented from accessing important information."
The union did not respond to an email sent late Friday seeking comment. In a previous statement, union President Grant Ward said, "We believe retroactive application violates our members' rights and we hope the California Supreme Court will consider the serious issues raised by our legal challenge."
The law's author, Sen. Nancy Skinner (D-Berkeley), has said it should apply to all records. "If the record exists, it's disclosable," Skinner said.
Los Angeles Police Chief Michel Moore sent a letter to Skinner earlier this month expressing concern that complying with the law could overwhelm his department with requests for older records.
Moore wrote that "a retroactive implementation of SB 1421 will be exceptionally burdensome."
Skinner said she would consider modifying the law if compliance proved too difficult.
Meanwhile, The Times and the other organizations asked the court to issue an order prohibiting police agencies from destroying records while the justices weigh the union's petition.
The motion said Inglewood has "already begun destroying records containing information" on shootings that could be disclosable under the law.
On Dec. 11, Inglewood authorized the destruction of internal police records on shootings older than five years. That upended a policy that required the police to keep those records for 25 years after the close of an investigation.
Inglewood Mayor James T. Butts Jr. has denied the move was designed to thwart the new law.
Twitter: @PringleLATimes
---