Judge refuses to block Trump's order to end Obamacare subsidies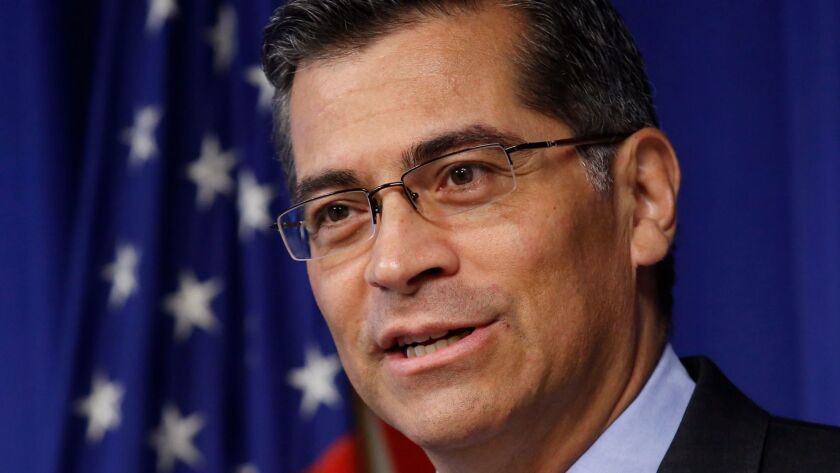 Reporting from San Francisco —
A federal judge in San Francisco refused Wednesday to require the Trump administration to restore healthcare subsidies called for in the Affordable Care Act, saying the president's action is likely to be lawful and will cause little immediate harm.
U.S. District Judge Vince Chhabria, an Obama appointee, appeared to castigate California and 17 other states for seeking to block Trump's action and even questioned their motives.
Why "have all these Attorneys General rushed to court seeking an emergency ruling against President Trump?" he wrote.
He cited the states' predictions of chaos and skyrocketing premiums and rejected them as unfounded.
Most states anticipated Trump's action, he said, and established measures to keep health insurance premiums stable.
"State regulators have been working for months to prepare for the termination of these payments," he said, referring to federal dollars to insurance companies to cover their cost of reducing out-of-pocket expenses for low-income Americans.
"And although you wouldn't know it from reading the states' papers in this lawsuit, the truth is that most state regulators have devised responses that give millions of lower-income people better health coverage options than they would otherwise have had," the judge wrote.
He said the injunction sought by California and 17 other states would be "counterproductive" and relied on predictions that had not come true.
The judge also appeared to be close to rejecting the states' contention that Trump violated the law by discontinuing the payments.
"Although the case is at an early stage, and although it's a close question, it appears initially that the Trump Administration has the stronger legal argument," Chhabria wrote.
Chhabria said Trump's decision to discontinue the payments would have little immediate effect because consumers will receive higher tax credits to make up for increased premiums charged for some plans.
Because of the precautionary measures taken by most states, "the large majority of people who purchase insurance on exchanges throughout the country will either benefit or be unharmed," Chhabria wrote.
"In particular, many lower-income people stand to benefit."
A bipartisan deal reached last week by Sens. Lamar Alexander (R-Tenn) and Patty Murray (D-Wash.) would reinstate the payments for the next two years, but prospects remain uncertain for passage of that legislation.
Many conservative Republicans have opposed the legislation, saying that Congress should take no action to fix Obamacare, which they want to repeal.
Other Republicans have supported the compromise move, in part because the people most likely to be hurt by cutting off the insurance payments are a largely Republican constituency — middle- and upper-income working people who do not get insurance coverage from an employer and whose income is too high to qualify for tax credits.
The money at issue, known as cost-sharing reduction payments, has been one of the more controversial elements of the Affordable Care Act, denounced by Trump and other Republicans as a "bailout" for insurance companies.
In fact, almost the opposite is true — the federal government will pay more to insurers without the cost-sharing payments than with them because of the way the healthcare law works, according to the nonpartisan Congressional Budget Office.
In 2014, after the healthcare law first took full effect, the Republican-majority Congress did not appropriate money to reimburse insurance companies for providing low income Americans with reduced deductibles and co-pays.
The Obama administration decided that the language of the law constituted a so-called permanent appropriation, which allowed it to make the payments without further congressional action, similar to the way many other government benefit programs are funded.
Chhabria questioned whether in fact the law created a permanent appropriation.
"It's a close and complicated question, even if the Administration may seem to have the better argument at this stage," he wrote.
Republican lawmakers went to court and won a ruling last year from a district judge in Washington that the Obama administration payments were illegal. That ruling has since been put on hold pending further action in the case before the D.C. Circuit.
The lawsuit was filed by attorneys general in California, Connecticut, Delaware, the District of Columbia, Illinois, Iowa, Kentucky, Maryland, Massachusetts, Minnesota, New Mexico, New York, North Carolina, Oregon, Pennsylvania, Rhode Island, Vermont, Virginia and the state of Washington.
California Atty. Gen. Xavier Becerra said the state would continue to call for the resumption of the federal subsidies as the case moves forward and expressed hope that it would be resolved swiftly.
Times staff writer David Lauter in Washington contributed to this report.
Twitter: @mauradolan
---
UPDATES:
3:30 p.m.: This article was updated with additional details from the ruling.
This article was originally published at 1:30 p.m.
---
The stories shaping California
Get up to speed with our Essential California newsletter, sent six days a week.
You may occasionally receive promotional content from the Los Angeles Times.