In ruling for victim in UCLA attack, California Supreme Court says universities should protect students
Katherine Rosen, a pre-med student in her junior year at UCLA, was in chemistry lab when she knelt to put something in her desk drawer. A classmate came up behind her and stabbed her in her neck and chest.
She survived the life-threatening injuries, returned to school and sued UCLA for negligence, charging the campus was aware of her classmate's "dangerous propensities" and failed to warn and protect her.
On Thursday, nearly nine years after the stabbing, the California Supreme Court overturned a lower court ruling and decided Rosen's lawsuit could go forward.
Public colleges, the court said, have a duty to protect students from foreseeable violence in classrooms and other places where they have "curricular" activities.
The unanimous decision, among the first of its kind in the nation, put California's colleges on notice that they may be held responsible if they know a student is dangerous and fail to take steps to control him and protect others.
Citing the 2007 Virginia Tech killings, the state high court said public colleges and universities in California "have a special relationship with their students and a duty to protect them from foreseeable violence."
"Students are comparatively vulnerable and dependent on their colleges for a safe environment," Justice Carol A. Corrigan wrote for the court.
UCLA officials knew Damon Thompson, Rosen's assailant, suffered from paranoid delusions and auditory hallucinations, had been barred from campus housing and had told a teaching assistant that he believed Rosen was demeaning him, according to court records.
"Although a criminal act is always shocking to some degree," Corrigan wrote, "it is not completely unpredictable if a defendant is aware of the risk."
The court noted that UCLA had marketed itself as "one of the safest campuses in the country" and developed "sophisticated strategies for identifying and defusing potential threats to student safety."
In fact, a team of professionals responsible for student safety at UCLA already was "closely monitoring" Thompson in the days before the stabbing, the court said.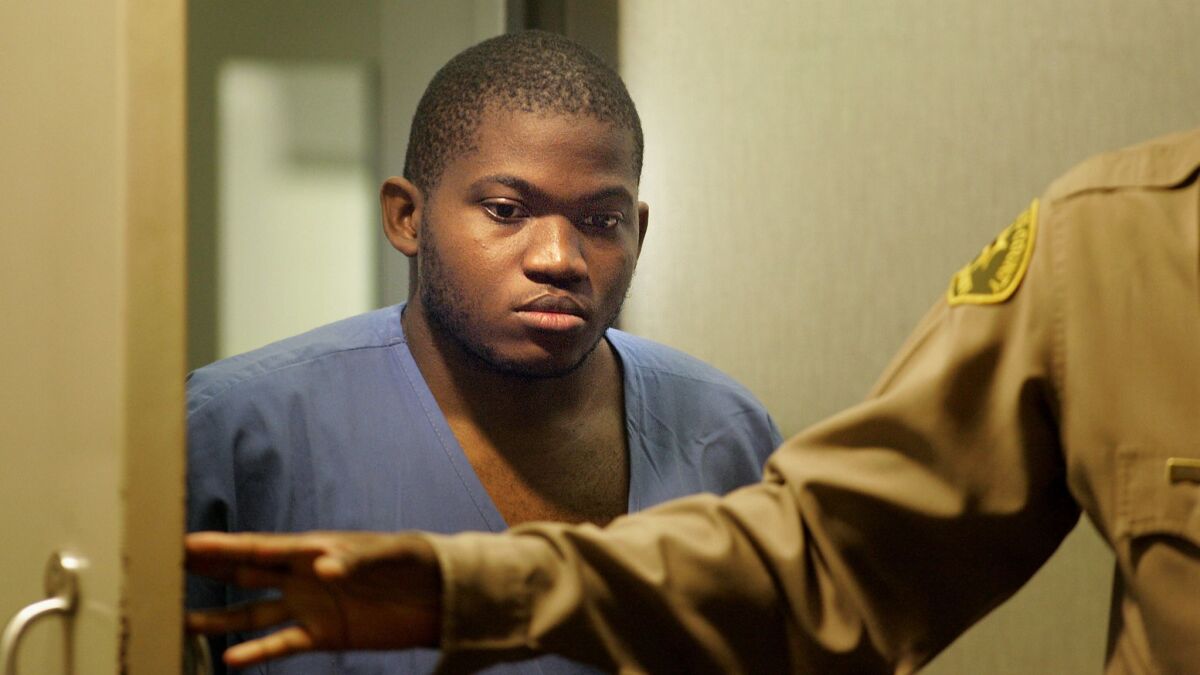 The University of California and other colleges and associations had warned the court that imposing liability would have unintended consequences.
Colleges might stop offering mental health services and students might be afraid to be honest with psychiatrists and psychologists, they argued.
The court acknowledged those concerns as well as fears that colleges might become less likely to admit students with mental illnesses and more inclined to suspend or expel them without justification.
But the court said that it was unlikely colleges would drop mental health services and that students with mental illnesses would be protected by laws barring discrimination against the disabled.
Thompson, who was from Belize, entered UCLA in the fall of 2008 as a transfer student and exhibited worrisome behavior from almost the beginning, according to court records.
Thompson emailed multiple professors and complained to teaching assistants that other students, including Rosen, were maligning him, though there was no evidence of such conduct.
In one email to a professor, Thompson said that if something were not done about his persecutors, he would have to act "in a manner that will incur undesirable consequences."
Campus police were called to his dormitory after he reported hearing the click of a gun. No gun was found. Police said he needed a psychiatric evaluation and escorted him to the UCLA emergency room.
Campus mental health professionals evaluated Thompson and tried unsuccessfully to persuade him to enter a hospital. They diagnosed possible schizophrenia and major depression.
Under California law, people cannot be forced into a psychiatric hospital unless it is shown that a mental disorder makes them a danger to themselves or others or has rendered them gravely disabled.
UCLA doctors believed Thompson did not meet the criteria because he said he was not suicidal and had no plan to harm others.
Although Thompson initially agreed to take psychotropic medication and see a counselor, he eventually discontinued treatment. His condition deteriorated.
In June 2009, he exhibited odd behavior in his campus dormitory and pushed another student, leading to his expulsion from campus housing. He was ordered to resume psychiatric treatment in the fall.
He met with campus doctors at the end of September and agreed to treatment. A week later, he stabbed Rosen.
Thompson, charged with attempted murder, was found not guilty by reason of insanity and committed to a state psychiatric hospital. He has since been deported to Belize, according to Rosen's legal team.
Both Thompson and Rosen were 20 at the time of the incident.
In a concurring opinion to Thursday's ruling, Justice Ming W. Chin said he agreed that colleges should be potentially liable for violence in the classroom, but he disagreed that liability should extend to other "curricular activities" closely related to education.
He said that holding would create confusion because the court failed to identify what activities would be considered "curricular."
A spokesman for UCLA said the campus was disappointed with the court's action and "concerned about the decision's potential impact on higher education in California and beyond."
"The university is committed to providing an environment that is conducive to learning and that provides appropriate resources to support our students in need," said Ricardo Vazquez, the spokesman, who serves as associate director of UCLA's media relations office.
Alan Charles Dell'Ario, who represented Rosen before the state high court, said K-12 schools have long been recognized as potentially liable for school violence. Thursday's ruling expanded that liability to public colleges.
He predicted Rosen would prevail in her lawsuit. UCLA had a violence prevention strategy, "but they didn't do it properly," Dell'Ario said.
"They didn't report this guy up the chain the way they should have, and when they finally figured it out, it was too late," he said.
The ruling in Rosen's case was limited. It did not extend liability for violence committed on campus by a stranger unknown to college officials or for an alcohol-related death at a student party, he said.
Brian Panish, Rosen's trial lawyer, said the decision was the first by a state high court to address the issue since the Virginia Tech shootings and would affect hundreds of thousands of California college students.
Rosen, now a medical student, has emotional and physical scars from the attack, he said.
Rosen said in an email provided by Panish that she hoped the ruling would spur colleges across the country to develop effective strategies to protect students.
"No student should have to fear entering a chemistry lab, or a lecture hall, or a college library in the pursuit of knowledge," she wrote.
Twitter: @mauradolan
---
UPDATES:
4:25 p.m.: This article was updated with additional background and reaction.
2 p.m.: This article was updated with reaction to the decision.
12:15 p.m.: This article was updated with additional details from the court decision.
This article was originally published at 10:35 a.m.
---
The stories shaping California
Get up to speed with our Essential California newsletter, sent six days a week.
You may occasionally receive promotional content from the Los Angeles Times.