Fitzhugh 'Fitz' Fulton, revered military and NASA test pilot, dies at 89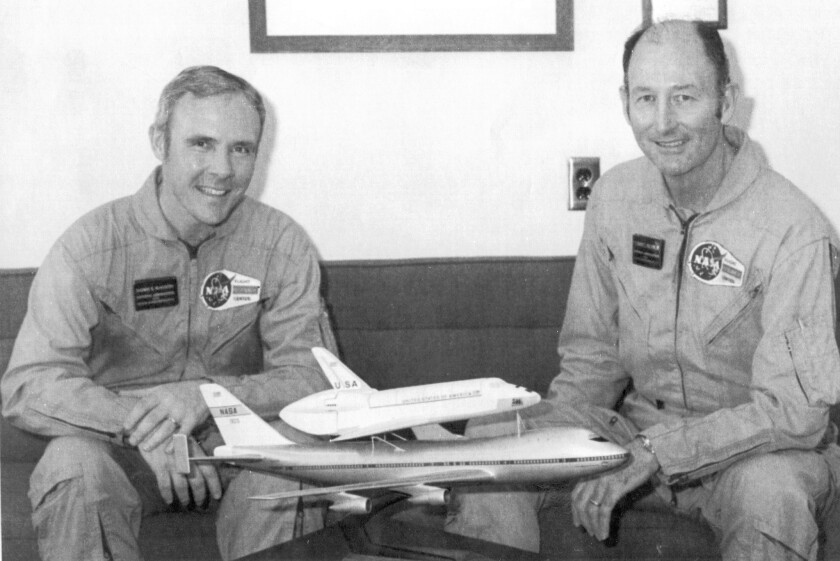 Pilot Fitzhugh "Fitz" Fulton Jr., known as the "Dean of Flight Test" for his involvement in pioneering programs including the space shuttle piggyback flights, died Wednesday at home in Thousand Oaks. He was 89.
The cause was complications of Parkinson's disease, said his daughter, Ginger Terry.
His four-decade career included flying for the military, NASA and Scaled Composites, headed by aviation pioneer Burt Rutan in Mojave.
In 1977, he was at the controls of the specially modified Boeing 747 that flew the first piggyback tests of the shuttle out of Edwards Air Force Base. "It was a good old bird," he said of the 747 that had formerly been used as a passenger jet. "You couldn't even tell there was a shuttle on its back."
In further tests, he piloted the 747 when it carried the space shuttle Enterprise to 25,000 feet, then nosed into a dive to allow the shuttle to launch. The Enterprise was then flown and landed by its own crew.
Finally, after the program progressed to making spaceflights and landing at Edwards, he repeatedly ferried shuttles back to Kennedy Space Center in Florida. "Just a matter of flying low and slow," he told the Los Angeles Times in 1982 after one of those flights.
Fulton, who was born June 6, 1925, in Blakely, Ga., took his first solo flight at 16 — before he had his driver's license. As a teen, he persuaded pilots at an airport near his hometown to give him flying lessons. In exchange, he swept hangars and washed planes.
In 1943, he joined the Army Air Corps, predecessor of the Air Force. His 23-year military career included flying 200 missions during the Berlin Airlift of 1948 and 1949, delivering food and fuel to the residents of West Berlin during the Soviet siege.
He was also involved in the Operation Crossroads atomic bomb tests in 1946, and later served as a combat pilot during the Korean War, where he flew 55 sorties in a Douglas B-26.
In 1952, he graduated from the Air Force's Test Pilot School at Edwards and began flying a myriad of experimental planes.
On April 13, 1960, he landed a B-58 supersonic bomber with seven of its eight tires blown out at Edwards. Two years later, he flew the B-58 to a record-setting altitude of 85,360 feet.
Fulton joined NASA in 1966, where he worked for two decades, flying 60 different types of aircraft from sailplanes to fighter jets. He piloted some of the world's fastest jet planes including the XB-70 and YF-12, each capable of speeds in excess of 2,000 mph and altitudes above 70,000 feet.
During a 1984 research program, Fulton remotely piloted a Boeing 720 from a cockpit on the ground, guiding the plane to a controlled crash on Rogers Dry Lake in the Mojave Desert to test the flammability of a jet fuel.
In July 1986, he retired from NASA and joined Scaled, where he worked for three years, serving as the company's flight operations director and chief research pilot.
At Scaled, he flew the maiden flights of the Advanced Technology Tactical Transport, an experimental military plane, and the Triumph, a twin-engine business jet built for Beechcraft.
Fulton received numerous awards including four Air Force Distinguished Flying Crosses. In 1999, he was inducted into the National Aviation Hall of Fame.
Friends and colleagues said he was not cocky – a reputation that tends to follow test pilots. Instead, Fulton presented himself as a modest Southern gentleman.
In addition to his daughter Ginger Terry, who lives in Denver, he is survived by his wife, Erma; daughter Nancy Grover of Livermore; son James Fulton of Sacramento; six grandchildren, three great-grandchildren and sister Louise Fulton of Santa Monica.
Twitter: @melodypetersen
---
Must-read stories from the L.A. Times
Get the day's top news with our Today's Headlines newsletter, sent every weekday morning.
You may occasionally receive promotional content from the Los Angeles Times.