California measure would allow work permits for farmworkers here illegally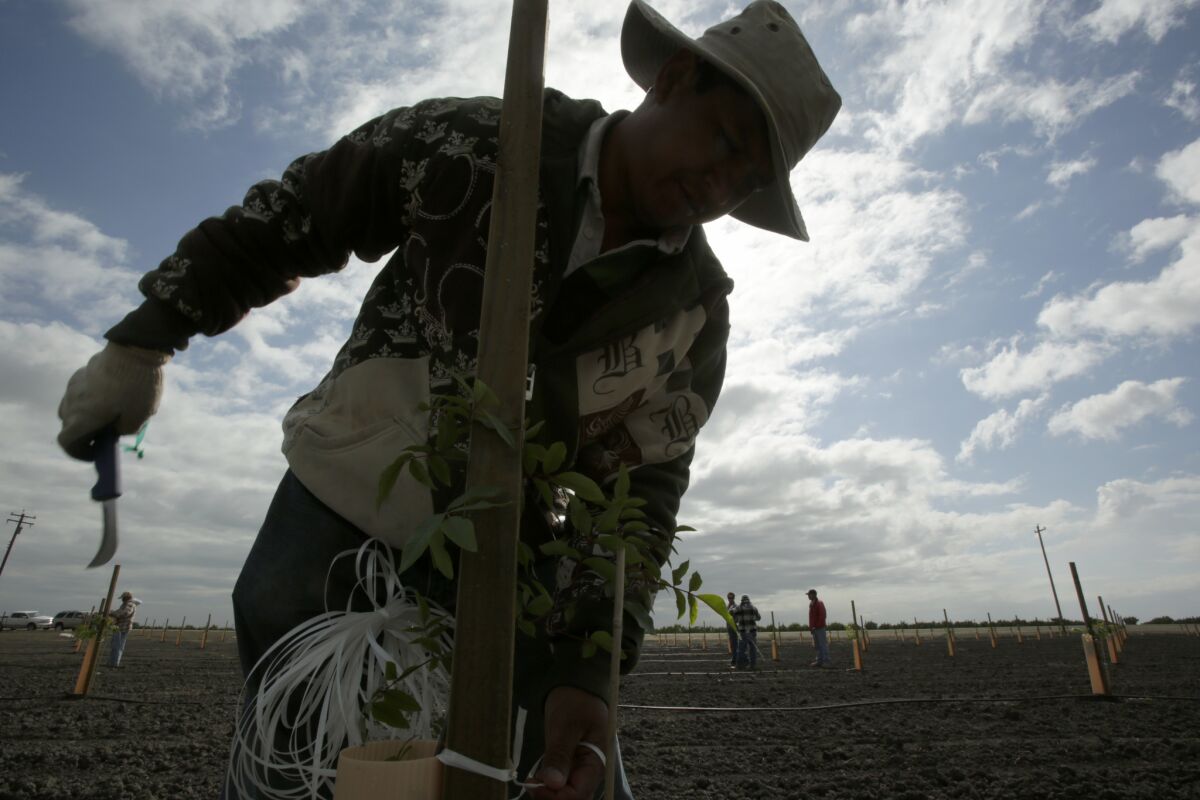 Reporting from SACRAMENTO —
Frustrated by Washington's inaction on immigration issues, California lawmakers are considering a measure to allow work permits for farmworkers living in the country illegally.
A similar effort died three years ago, opposed by immigrant rights groups and the state's powerful labor unions. They preferred a comprehensive national approach to immigration over a hodgepodge of state programs.
But Congress, mired in partisan division, did not overhaul the nation's immigration laws.
"Here we are three years later, and we can't wait any longer," said Assemblyman Luis Alejo (D-Watsonville), who introduced the current bill.
"Different organizations continue to look to Washington. Meanwhile, it's our families back home, especially those working in agriculture, who are suffering the most, with no solution in sight," he said.
The legislation, which is backed by California farmers, sailed through the Assembly in June and is pending in the state Senate, where its prospects are uncertain.
The bill, which Alejo is quick to differentiate from existing guest worker programs, would create a group to seek authority for the proposed program from the U.S. Department of Homeland Security and the U.S. Department of Justice.
Rather than grant temporary work visas to foreign laborers, as some other programs do, Alejo's proposed program would give permits to individuals already residing in the state without authorization and working in agriculture.
The laborers and immediate family members — spouses and children under 18 or enrolled at an accredited institution — could remain in California without threat of deportation. The workers would have be at least 18, have performed a minimum amount of agricultural labor in the state and pay a fee to help cover administrative costs.
Felons and those with three misdemeanor convictions would not be eligible.
California farmers supporting the measure said they have been waiting for Washington to act on immigration for nearly three decades.
They cite a shortage of agricultural laborers in the state and the cumbersome nature of federal guest worker programs such as the H-2A visa that allows foreign laborers into the U.S. to work on farms on a temporary or seasonal basis.
"We are used to being individual businessmen — we see a problem and fix it," said Joel Nelsen, president of California Citrus Mutual.
"The federal government, particularly members of Congress, are reluctant to allow individual states to conjure up 50 different immigration plans, but if they are unable to create a solution, then don't stop us from doing it," he said.
In general, U.S.-born citizens do not want to pick crops, said David FitzGerald, a professor at UC San Diego and a co-director of its Center for Comparative Immigration Studies.
So California farms have to rely heavily on immigrant labor.
"We have a large population of people who came here to work, not to be any kind of a security threat to anybody," said Bryan Little, director of employment policy at the California Farm Bureau Assn., which supports the Alejo measure. "And they came to work in an industry that needs them badly."
One of the two Assembly members who voted no on the bill said he did so because immigration policy lies with Congress.
"I get really concerned with how much the state Legislature wants to get involved with federal issues," said Assemblyman Matthew Harper (R-Huntington Beach). "If people want to get involved in immigration issues, they should probably run for Congress."
Other opponents said existing policies can meet labor needs.
"There are other visa programs available for them, like H-2A," said Joe Guzzardi, national media director of Californians for Population Stabilization. "I know the agricultural industry says it's cumbersome and impossible to work with, but I could say it's cumbersome to file my federal income tax returns.... You are talking about big corporations that are saying it's just too cumbersome."
Many of the labor and immigrant rights groups who opposed the 2012 proposal have not taken a stand on the current one.
Groups such as the California Labor Federation and the Mexican American Legal Defense and Education Fund wrote in opposition to the 2012 bill that it was unlikely to receive the needed federal authority and would give immigrant families only false hope.
The groups have not made that argument this time.
United Food and Commercial Workers, a union that represents about 4,500 farmworkers, including several hundred in Salinas' lettuce industry, was not involved in the previous debate but recently sent Alejo a letter in support of his bill.
Since 2012, President Obama has used his executive authority to advance immigration issues, leading some experts to suggest that a California pilot program would be authorized if the bill passed.
But Utah passed a work authorization program in 2011 that has yet to be implemented four years later. Its starting date has been pushed back twice.
Utah state Sen. Curt Bramble (R-Provo), one of the bill's sponsors, said the delays were an act of good faith as lawmakers held out hope that the federal government would give the program its blessing.
"We weren't looking for a legal battle," Bramble said.
But federal officials have shown no interest in the program, Bramble said. Utah lawmakers are considering repealing the legislation if the program does not receive a federal waiver soon.
Still, "in the absence of federal action," said Bramble, who supports California's effort, "I think it's incumbent upon the states to try to address the issue."
kurt.chirbas@latimes.com
Twitter: @kchirbas
Hoy: Léa esta historia en español
The stories shaping California
Get up to speed with our Essential California newsletter, sent six days a week.
You may occasionally receive promotional content from the Los Angeles Times.